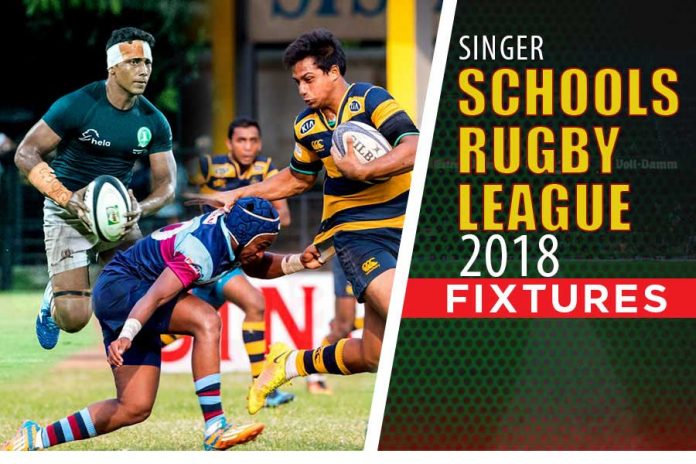 The biggest schoolboy event in the country, the Schools' Rugby League is set to take the country 's rugby frenzied fraternity by storm in March as the league will kick off on the 9th of March 2018.
One of the most celebrated and followed events in the country, the Schools' Rugby League will come alive for a whole new edition this year with the participation of 87 schools across 3 divisions. The league that will see a start during the second week of March will span over a period of four months and will come to a conclusion in June.
The proposed new structure for the Schools Rugby LeaguE..
The top tier competition, which is the 'A' Division competition will be the most anticipated contest where the top schools' teams battle for the treasured Schools Rugby League crown.
According to the Sri Lanka Schools' Rugby Football Association (SLSRFA) the 1st round of games will halt for the holy week during the March 29-31st weekend and for the New Year weekend in April (13th and 14th).
Read about the Captaincy announcements
Similar to last year, the tournament will have the first round in each of the divisions. After the conclusion of the first five weeks, the top 4 of 'IA' and 'IIA' will be retained and the eight teams will compete for the Cup title.
The lower two of each group will then be tied up with the top four of Division 'B' and will compete for the Plate title.
The basis for selecting the host team will be initially based on last year's fixture. If the two teams have not played each other in the past season, they will have to abide by the SLSRFA's host preference.
The groups for the 2018 Schools' Season is as follows:
Division A
IA
IIA

Royal College Colombo

Isipathana College

Trinity College

Wesley College

St. Joseph's College

St. Peter's College

S. Thomas' College Mt. Lavinia

Zahira College

St. Anthony's College

Dharmaraja College

Kingswood College

D. S. Senanayake College
Division B
IB
IIB

Science College

Lumbini College Colombo

Vidyartha College

Prince of Wales College Moratuwa

Ananda College Colombo

Maliyadewa College Kurunegala

St. Benedict's College

Thurstan College

St. Sylvester's College

Mahanama College Colombo

Piliyandala MMV Piliyandala

Richmond College Galle
Division 'A' Fixtures (venues subjected to change)
1st Week 5th March to 12th March

 

Home Team

Visiting Team

Venue

1

Royal College Colombo

Kingswood College Kandy

Royal Complex

2

St. Anthony's College Kandy

Trinity College Kandy

Nittawela

3

St. Joseph's College Colombo

S. Thomas' College Mt. Lavinia

CR & FC

4

Isipathana College Colombo

D.S.Senanayake College Colombo

Havelock Park

5

Wesley College Colombo

Dharmaraja College Kandy

CR & FC

6

St. Peter's College Colombo

Zahira College Colombo

Bambalapitiya
2nd Week 13th March to 19th March

 

Home Team

Visiting Team

Venue

7
St. Anthony's College Kandy
Royal College Colombo
Nittawela
8
Kingswood College Kandy
S. Thomas' College Mt. Lavinia
Bogambara
9
Trinity College Kandy
St. Joseph's College Colombo
Pallekelle
10
Isipathana College Colombo
Dharmaraja College Kandy
Havelock Park
11
D.S.Senanayake College Colombo
Zahira College Colombo
TBC
12
St. Peter's College Colombo
Wesley College
Bambalapitiya
3rd Week   20th March to 26th March

 

Home Team

Visiting Team

Venue

13
Royal College Colombo
S. Thomas' College Mt. Lavinia
Royal Complex
14
St. Joseph's College
St. Anthony's College Kandy
CR & FC
15
Kingswood College Kandy
Trinity College Kandy
Bogambara
16
Zahira College Colombo
Isipathana College
Zahira Grounds
17
St. Peter's College Colombo
Dharmaraja College Kandy
Bambalapitiya
18
D.S.Senanayake College Colombo
Wesley College Colombo
TBC
4th Week 02nd April to 10th April

 

Home Team

Visiting Team

Venue

19
St. Joseph's College Colombo
Royal College Colombo
CR & FC
20
Trinity College Kandy
S. Thomas' College Mt. Lavinia
Pallekelle
21
St. Anthony's College Kandy
Kingswood College Kandy
Nittawela
22
St. Peter's College Colombo
Isipathana College Colombo
Havelock Park
23
Zahira College Colombo
Wesley College Colombo
Zahira Grounds
24
Dharmaraja College Kandy
D.S.Senanayake College Colombo
TBC
5th Week 19thApril to 25th April

 

Home Team

Visiting Team

Venue

25
Royal College Colombo
Trinity College Kandy
Royal Complex
26
St. Joseph's College Colombo
Kingswood College Kandy
CR & FC
27
S. Thomas' College Mt. Lavinia
St. Anthony's College Kandy
Mount Lavinia
28
Isipathana College Colombo
Wesley College Colombo
CR & FC
29
St. Peter's College Colombo
D.S.Senanayake College Colombo
Bambalapitiya
30
Zahira College Colombo
Dharmaraja College Kandy
Zahira Grounds
Second Round Fixtures
| | |
| --- | --- |
| Week | Dates |
| Week 1 | 7th to 13th May |
| Week 2 | 14th to 20th May |
| Week 3 | 21st to 27th May |
| Week 4 | 28th May to 3rd June |