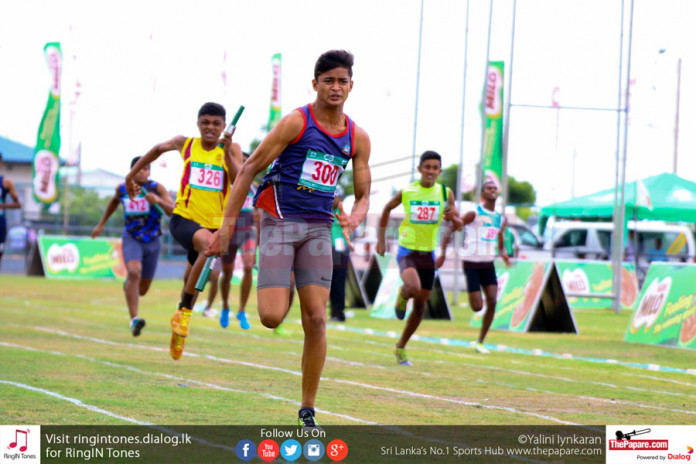 All Island School's Relay Championship which was resurrected last year by the Ministry of Education commenced yesterday (08) in Jaffna at the Duriappah Stadium.
This year Nestle Lanka has come forward with their brand Milo to power the championship, which like last year is very keenly contested by all the participating schools. St. Benedict's College won the Boy's overall championship while Walala A Rathnayake College clinched the girls title in the previous year's edition.
All the 4X100m relay finals for all age groups were held today. Defending boy's champs St Benedict's College got on to a good start winning the U16, 18 4X100m finals, while they were placed second in the U20 category where Maris Stella College, Negombo out ran them.
A Rathnayake College, Walala has been a dominant force in the girl's segment but did not have a good opening day as they were placed third in the U18 final and second in the U20 final. Sir John Kothalawala MV Kurunegala had a good opening day with victories in the U16 & U18 finals.
4X100 Boy's finals
U12 :  1) Trinity College     2) Maris Stella College      3) Rahula College, Matara

U14 :  1) St. Peter's            2) St. Joseph's                    3) Rahula College, Matara

U16 : 1) St Benedict's        2) S. Thomas                      3) Trinity College

U18 : 1) St Benedict's       2)Royal College                  3) Rahula College, Matara

U20 : 1)Maris Stella          2) St Benedict's                  3)Trinity College
4X100 Girl's finals
U12 :  1) Ave Maria Convent, Negombo    2) Mahamaya BV, Kandy            3) St Andrew's BV, Nawalapitiya 

U14 :  1) Janadhipathi BV, Nawalapitiya   2) Dharmapala Vid, Pannipitiya 3) Sumana Balika Vid, Ratnapura

U16 : 1) Sir John Kotalawela MV, Kurunegala 2) Good Shepherd Convent, Kandy 3) Dharmapala Vid, Panipitiya

U18 :  1) Sir John Kotalawela MV, Kurunegala    2) Musaeus Girls College       3) A Rathnayake, Walala

U20 : 1) Ambagamuwa CC            2) A Rathnayake Walala           3) Sumana Baika Vid, Ratnapura