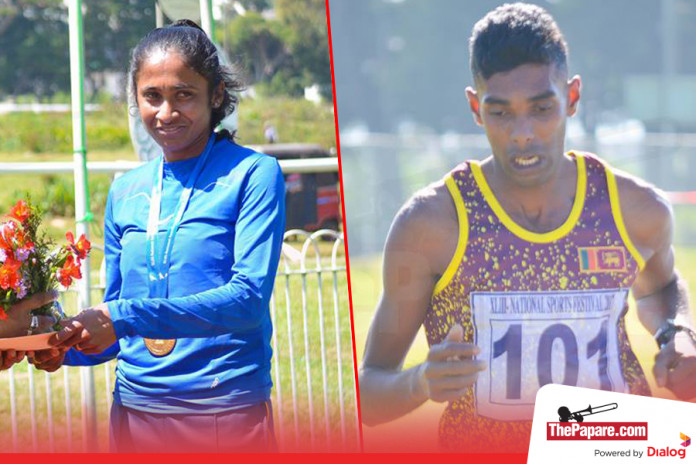 43rd National Cross Country Championship concluded today at the Race course grounds in Nuwara Eliya kicking off the 43rd National Sports festival. The event commenced at 08.30 am with the temperature in Nuwara Eliya registering 13 Celsius.
Organised by the Department of Sports Development under the patronage of Ministry of Sport, 43rd National Cross Country was the pilot event of the National Sports festival 2017. Over 150 male and female athletes participated in the 10000m race representing all the provinces in the Island. The race was flagged off by the Director General of the Department of Sports Development, Mr Saman Bandara.
From the start, long distance runner from Central Province D. L Samarajeewa wasted no time in breaking away from the rest of the runners in the Mens' competition. Smarajeewa was seen increasing his lead as the race progressed and was clearly a class apart. Smarajeewa clinched the pole position with a time of 33:00 minutes.  It was a jubilant performance from Samarajeewa and with this it will be the 04th consecutive year he has clinched top honours as the National Champion having won consecutive National Cross Country since 2014.
M.S Pushpakumara of Western Province clinched the second place with a time of 33:16 and T.ME Tenakoon representing Uva Province clinched the third place with a time of 33:32 minutes.
The women's race proved to be a hotly contested affair with big names with the likes of 2016 Rio Olympics Marathoner, Geethani Rajasekara also taking part in the race. Rajasekara was the National Cross Country champion for three consecutive years from 2013 to 2015. Having focused on the Marathon event for the Rio Olympics in the year 2016 Shaymali Anusha from Uva Province clinched the top place the previous year.
The presence of an Olympic marathoner and the reigning champion did not seem to bother G.T.A Abeyrathne from Southern Province as she clinched the43rd National Cross Country Championship women's title with a timing of 38:33minutes. Abeyrathne made a good start and managed to build her lead over the others as the race progressed. A.T.L Ariyadasa of Sabaragamuwa Province clinched the second berth with a time of 39:21 minutes with last year's champion S.A Lamahewa clinching the third place with a time of 39:53. Geethanin Rajasekara who had a disappointing race had to be satisfied with a 4th place finish finishing the race 2 minutes behind the Abeyrathne with a timing of 40:33 minutes.
The overall championship was won by Central Province with Western and Uva coming in second and third respectively in both Men & Women categories.
Cross country National Championship 2017 – Final results
Women's
01st Place – G.T.A Abeyrathne – Southern Province – 38:33

02nd Place – A.N.L Ariyadasa – Sabaragamuwa Province – 39:21

03rd Place – S.A Lamahewa – Uva Province – 39:53
Overall Championship – Women's    
3rd Place – Uva Province

2nd Place – Western Province

1St Place – Central Province
Men's
01st Place – D.L Samarajeewa – Central Province – 33:00

02nd Place-  R.M.S Pushpakumara – Western Province  – 33:16

03rd Place –  T.M.E Tennakoon – Uva Province –  33:32
Overall Championship – Men's
3rd Place – Uva Province

2nd Place – Western Province

1St Place – Central Province