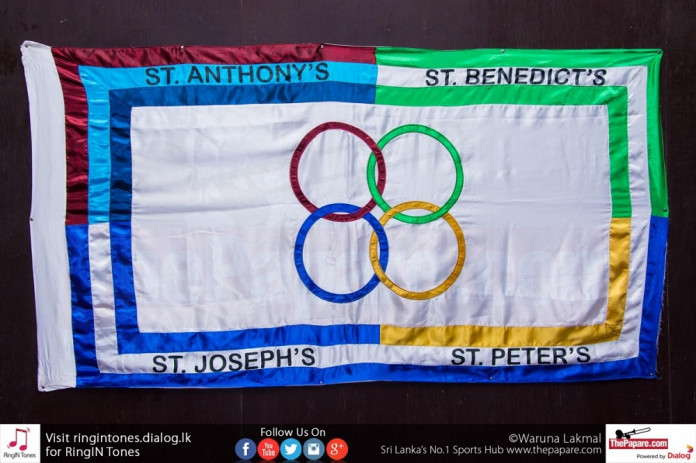 Past and present students of the Saints quadrangular schools , St. Anthony's College Kandy, St. Joseph's College ,St. Peter's College & St. Benedict's College will compete in the "Saints Quadrangular Athletic Championship"  on the 25th and  26th February at St.  Peter's College grounds.
The quadrangular concept was brought forward half a century ago as an initiative by Old Benedictines to foster friendship and fellowship amongst the four catholic schools. Initiated as a cricketing encounter it later included basketball and rugby but was restricted to the past pupils of the four institutions.
In 1985 St Peter's took the initiative of introducing the inaugural "Saints Quadrangular Athletic Championship". The Late Hon. Lalith Athulathmudali, Minister of National Security and acting Minister of Defence attended the event as  the chief guest. The meet was conducted in three age groups; Under 15, Under 17 and Under 19. The hosts of the inaugural meet, St. Peter's College emerged victorious with St. Joseph's College as Runner up.
However due to lack of interest and various other reasons the meet was not continued in the latter years. It was again the Peterites who revived this meet in the year 2015 after a lapse of 25 years. Having not held the meet in 2016, the four schools will compete in the two day athletic carnival where the past and the present students of the schools will create life longs friendships and renew the bonds made in the yester era.
Speaking to ThePapare.com, Chairman – Organizing committee of the "Saints Quadrangular Athletic Championship 2017 " Mr. Sriyal De Silva added that "I thank the Peterites for reviving this meet and the other three schools for continuing the friendly but fiercely contested event and wish it many more years of success.This competition has brought the present and old boys of our four schools, which have common Christian core values together, in a spirit of friendship, brotherhood, cordiality, sportsmanship and healthy rivalry, setting a bench mark for other schools to follow."
This year's meet will have all the main events in under 14,16,18,20 Old Boys open, Over 40 and Over 50 categories in an action packed 2 day event, a keen contest will be held amongst the past and the present students of the schools while the organizers are expecting large participation from the families and well-wishers to support the young and old who will take the tracks to represent their respective Alma mater.