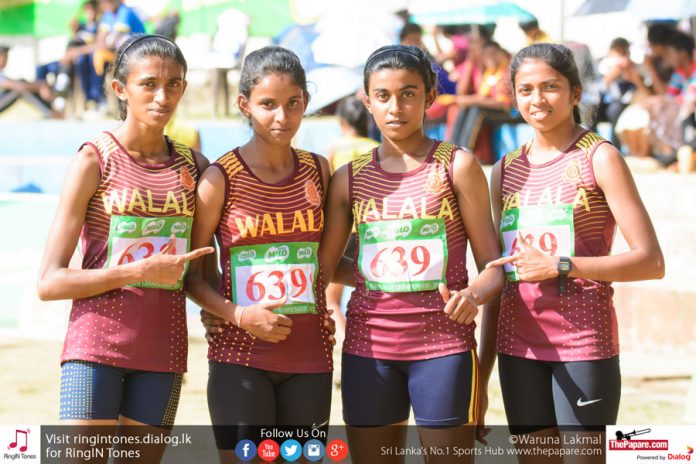 The 2018 edition of the All Island Schools Relay Championship, commonly known as the Schools Relay Carnival, opened in style yesterday(24th) with seven new meet records. 
The 4x100m finals of all age groups were conducted on the opening day and yielded 4 new meet records. New record times were established in both the girls' and boys' U20 finals. Junior Asian medalist Dilishi Karunarathne of Walala A Ratnayake School anchored her Alma mater to gold in the U20 girls' 4×100 final in new record time of 50.6sec.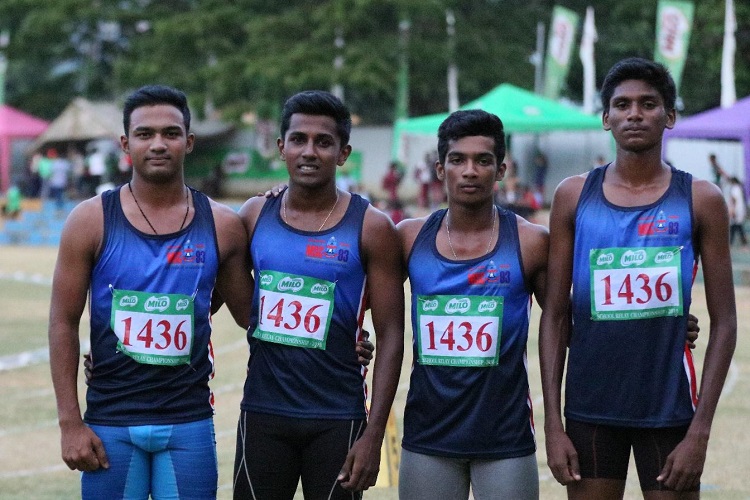 The The Boys' final saw a fast race thanks to the rivalry between Maris Stella College and St. Benedict's College. The Maristonians managed to get the better of Benadictines, clinching Gold with a new record time of 42.6sec while the Ben's despite having an impressive race, had to be satisfied with Silver while St. Peter's College Bambalapitiya clinched Bronze.
Under 12 Girls of Dharmapala Vidyalaya, Pannipitiya came out with a great run of 56.6sec to equal the meet record which was interestingly established in the heats by Musaeus Collage, Colombo. Despite running the record time in the heat Musaeus had to be satisfied with the Silver, finishing a fraction behind the winners clocking 56.7sec.
Benthota Gamini Central College won the Gold in the U18 Girl's 4X100m final clocking a new record time of 50.7sec.
St. Peter's College Colombo ran a new meet record time of 8:31.3sec in the U18 Boys' 4X800m heats and will be the firm favorites to take Gold in the final of the event. Meanwhile, Walala A Rathnayake College U20 Boys' ran a new meet record time of 8:20.8 in the 4X800m heats.