The athletic competitions of the 33rd All Island School Games 2017 commenced today (11th) at the Diyagama Mahinda Rajapakse Stadium.
Individual Championship trophies for the winners and runners up will be awarded to respective age group winners in Under 12, 14, 16,18 and 20 for both boy's and girl's separately.  This year the organizers have introduced a new challenge trophy apart from the senior, junior and overall winner's trophies which are for Boy's and Girl's categories separately.  The best performing mixed school will be the latest addition to the challenge trophies providing the mixed schools a platform to excel.
First day of the 5 day athletic championship was hindered by heavy down pour from the start and almost all the events were delayed due to heavy rain. Only a few finals were worked out today with  many field events postponed till tomorrow due to the rain interruptions. With the new age groups coming into effect for the first time this year, there will not be any new records that will be established this year since it is the first time the competitions are held in the new age groups.
 Under 18 Girls triple jump was the first senior final event that was worked out today. Sathsara Sandeepani of President College Embilipitiya was placed first with a performance of 12.01m and was the only athlete to breach the 12m mark. S.P Karunanayake of Dippitiya Rajagiri M.V. was placed second while Nethmi Meghawarna was placed third.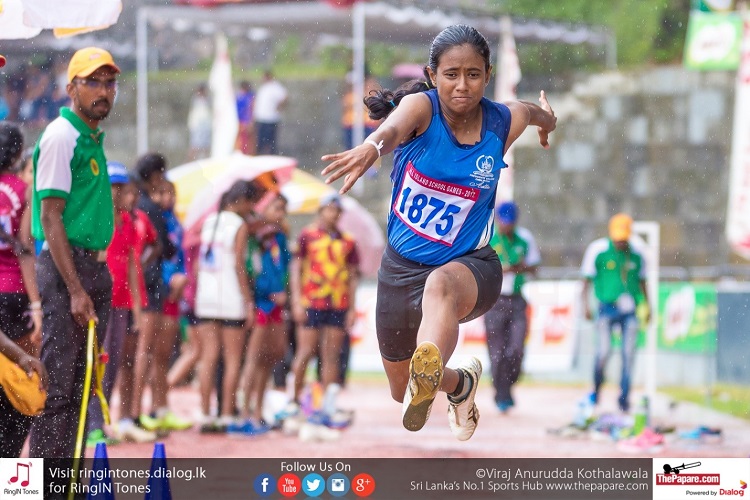 U12 Boys High Jump and U12 Girls Long Jump were the other finals that were worked out today.  In the Boys High Jump Pehesara Thenuja of Vijitha M.M.V Dickwella was placed first with Nipuna Manodya of Maliyadeva College and Prasath Wijesiri of Rajasinghe M.V Ganegoda coming in second and third places respectively. In the Girls Long Jump of the same age category Shihara Sandamini of Good Shepherd Convent Panadura leapt  4.55m while M G Ranasinghe of Ave Maria Convent was a close second recording a distance of 4.53m . W.A Dahamdi of President College Embilipitiya was placed third with a performance of 4.27m.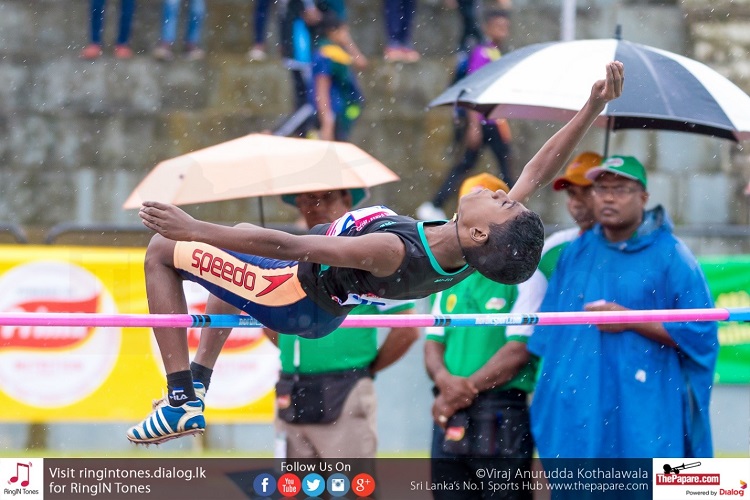 Up and coming high jumping star Purnima Jayamali of Leeds International Pandura asserted her dominance in the U18 Girls High Jump event securing gold with a performance of 1.68m. She was leaps and bounds ahead of the second placed Himasha Cooray of Gateway College and Shenali Weeraperuma of St Lowrance BV Colombo.
Young athletic prodigy Sadeepa Henderson of Gateway college, Colombo won her first Medal of the competition winning Gold in the Under 16 Girls Long Jump event. Promising sprinter Henderson leapt a distance of 5.66m to record the best effort in the event. Sadini Kaveesha of Vijitha MMV, Dickwella was placed second recording a distance of 5.44m while Bhagya Nilmini of Viharagala M.V, Sooriyawewa was placed third with a distance of 5.36m.  Earlier in the day Henderson qualified for the next stage in the U-16 Girls 100m heat, which is her pet event with flying colors.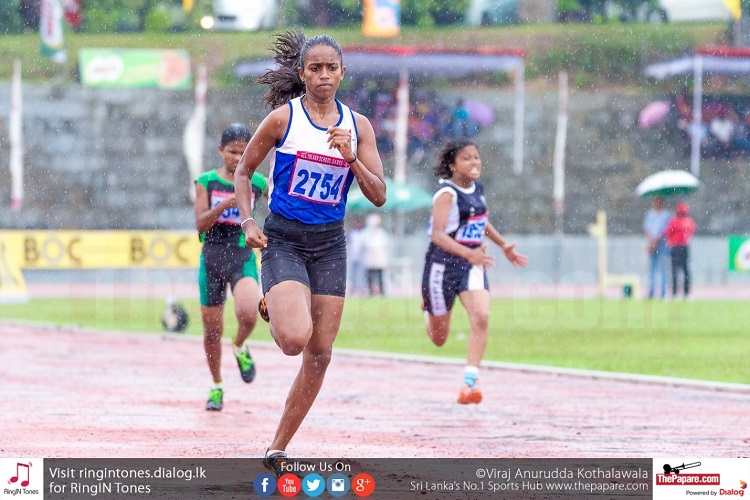 Day 02 of the Championship will be a packed day with several events being moved to the second day due to severe weather conditions that prevailed. Stay logged to www.ThePapare.com as we strive to bring you all the action from the 33rd All Island Schools Games Athletic Championship.
Final Results of Day 01