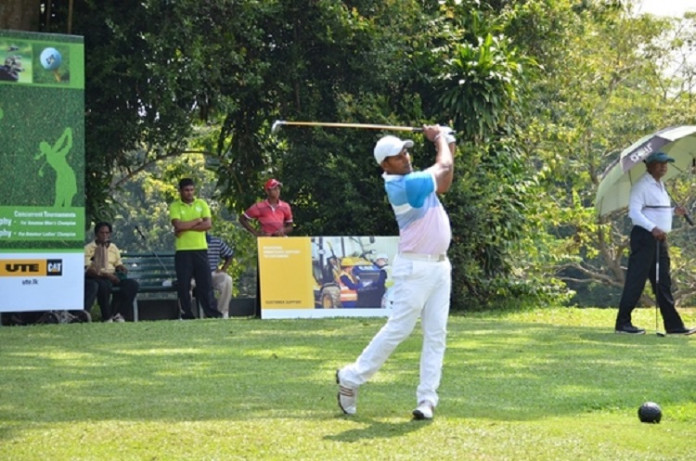 Prabagaran of the Nuwara Eliya Golf Club, the overnight leader by 4 strokes who has shown excellent consistency since the teeing off, maintained his form throughout trying weather conditions which he faced in the concluded 1st round and extended his lead in the Sri Lanka Open 2017, to 7 strokes with an Even Par 71, in the second round of the Sri Lanka open 2017 at the Nuwara Eliya Golf Club with tight competition behind him from golfers of the Royal Colombo Golf Club, Victoria Golf and Country Resort, Sri Lanka Army, Sri Lanka Air Force and the Sri Lanka Navy golfers. On a perfect day for Golf, the weather was bright and sunny although there were no scores under Par.
Prabagaran, Mithun Perera , B A Sanjeewa  & N. Thangaraja returned Even Par 2nd round scores which described the difficulty in scoring on a day with great playing conditions. Players commenting affirmed the extremely tough Pin placements contributed to the degree of difficulty in breaking Par. Nonetheless, B A Sanjeewa managed to pull himself together and pulled off a stunner when he did the impossible by Holing-out in 'ONE' in the Par 3, 15th Hole.
The Cut-off for both the Sri Lanka Open & the CAT SOLAR Pin Fernando Grand Prix, was implemented at 166. In the Sri Lanka Open 30 players made it through to the last two rounds whilst 20 players made the Cut in the much sought after and much to talk about, Pin Fernando Grand Prix which is being sponsored by UTE.
The Sri Lanka Open is not yet sealed in any one golfer's favour as of yet and there still remains much space for a last minute hero to tilt the scales of the final results while it can still have a thrilling finish, with Anura Rohana on the tail of the local star Prabagaran followed by Mithun Perera , B A Sanjeewa & Sisira Kumara who are also lined up behind the local hero and home favourite Prabagaran who holds a Seven stroke cushion from the 2nd placed Anura Rohana where the other three players are a further one stroke behind.
Principal Sponsor of the Sri Lanka Open are Softlogic Holdings while the event is being Co-sponsored by Cat Solar – UTE. The 'indulgence sponsor' IMORICH from Elephant House too have added colour to the unique Sri Lanka Open played since 1970, promoting the top Tour Professional Golfers from Sri Lanka where in the backdrop, Sri Lanka Golf takes a major leap in making plans to take Golf in the paradise island to the next level where it will serve as a major tourism booster for Sri Lanka attracting the "high-net worth" tourists into the country.
The much anticipated final round will be played tomorrow – Friday, 25th of August 2017 in the morning, and will be followed by the Prize giving Ceremony. The overall results as of now with the conclusion of the 2nd round of the Sri Lanka Open 2017 are as follows.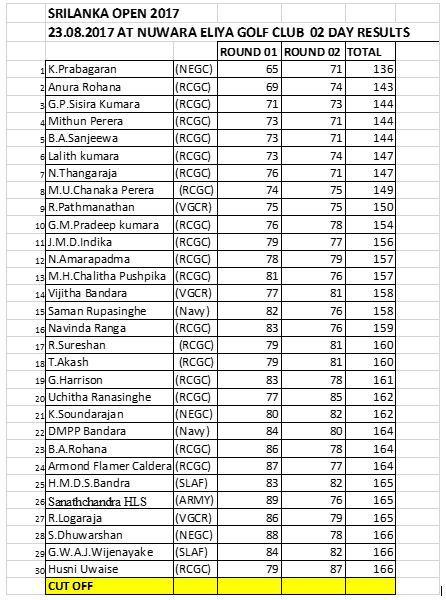 CAT SOLAR PIN FERNANDO GRAND PRIX AUGUST EDITION RESULTS AFTER 2 ROUNDS
144 – G.P SISIRA KUMARA, B A SANJEEWA,
149 – M U CHANAKA PERERA
154 – G M PRADEEP KUMARA
156 – J M D INDIKA
157 – N AMARAPADMA, M H CHALITHA PUSHPIKA
158 – SAMAN RUPASINGHE
159 – NAVINDA RANGA
160- R SURESHAN, T AKASH
162 – UCHITHA RANASINHE
164 – D M P P BANDARA, B A ROHANA, ARMAND FLAMER CALDERA
165 – H M D S BANDARA, H L S SANATH CHANDRA, R LOGARAJA
166 – S DHUWARSHAN, G W A J WIJENAYAKE