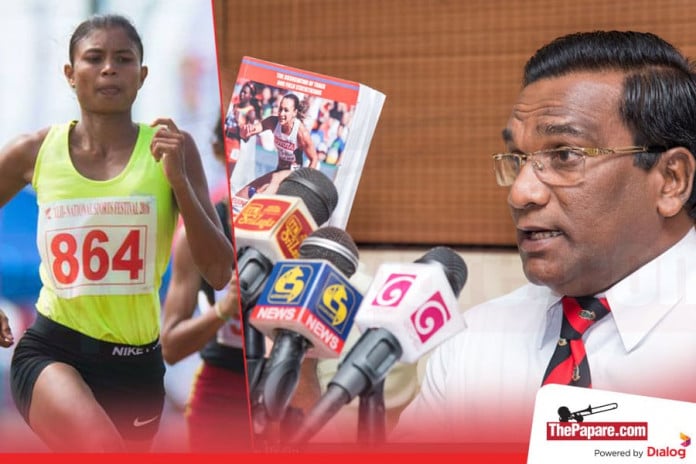 The Athletic Association of Sri Lanka (AASL) held a special media briefing at the Automobile Association Auditorium to explain their stance regarding a much talked about subject after the conclusion of the National Sports Festival in Jaffna.
There has been an opinion and a suggestion made by media organizations, past athletes and some technical officials that Nimali Liyanarachchi's record breaking run of 2:03.5secs in the women's 800m is not valid due to the fact that the electronic timing system was unable for the games.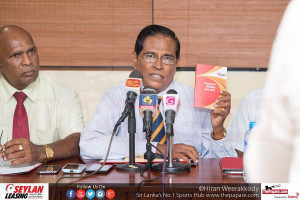 Commencing the media briefing, President of the AASL Mr.Sugath Thilakaratne stated that "We have to make a special statement about the Women's 800m national record that was established at the 42nd National Games held in Jaffna. There have been various discussions about it; although we (AASL) have recognized this as the Sri Lanka record, some parties have claimed that this cannot be recognized as the national record. The ardent followers of the sport and the general public have been misinformed; we believe it is the responsibility of the AASL to correct this". He then invited Mr. P H D Waidyathilake, who was the technical director at the meet, to explain the reasoning why the record was upheld.
Mr Waidyathilaka was accredited as an International Association of Athletic Federations (IAAF) lecturer in 1995, he became Senior lecturer at the IAAF and was only one of 9 in the world to receive that honor in the year 2007. Having officiated in the 2008 Olympics and Para Olympics as an International Technical Official (ITO), he is the only ITO in the world to have officiated in Olympics, Paralympics and Masters Tournaments internationally.
Addressing the gathering Mr Waidyathilaka stated that "" According to many parties I am the first accused so I believe it's my responsibility to clear the doubts, the fact that electronic timing was not available at Durayappah Stadium, Jaffna was a well-known fact before the meet commenced. When Nimali finished the women's 800m with timing of 2:03.5 secs there was a debate whether this can be upheld as the National record. As the Chief Technical Director of the meet I was solely responsible for validating this record and making the final decision"
"I am well aware of the law. A few days back there was discussion in a TV channel where  a technical officer referred to the IAAF 2016/17 technical rule book and stated according to the rule number 261, all 100m to 800m races along with 4X100, 4X200 & 4X400 relays have to be timed electronically for it to be recognized as a record."
RULE 261 – Events for which World Records are Recognised
F.A.T. only: 100m; 200m; 400m; 800m; 100m Hurdles; 400m Hurdles; 4 × 100m Relay; 4 × 200m Relay; 4 × 400m Relay; Heptathlon; Decathlon
F.A.T – Fully automatically timed performances
"However this gentleman failed to note that this only applies to world records. There is no connection with this to National records. When National records are concerned the national body can make a decision with the resources available at the time within certain regulations.
In the same Rule book when it comes to scoring  tables the following has been mentioned ; In the event of hand held time keeping for 100m ,110 hurdles , 100 hurdles ,200m an addition of 0.24secs should be added to make it par with the electronic timing . For 400m an addition of 0.14secs should be added. However in 800m there is no addition to the time as hand timing is considered on par with electronic timing.
We also considered the conditions at the venue, this race was run on a grass track and it is difficult to run faster on a grass track than on an artificial track. There was wind from all directions and some claimed that wind assisted in this race. It is common sense that in 400m and above events this is not a factor. Even if you get an advantage on one side it is countered as the athlete will have to run against the wind on the oval track. Anyone who knows about the sport knows that only in 100m to 200m races including 100 & 110m hurdles the wind gauge will come into play when considering a record. There was never a doubt to confirm this as a national record.  I discussed it with Mr. Kularatna who was the meet director and also the senior statistician and the chairman of selectors Mr. Saman Kumara and came to a decision that Nimali's record was legitimate and was signed off"
There were many who claimed that the decision to award the record to Nimali was not legal in the media with some past athletes also claiming this is not legal. Mr.Waidyathilaka claims that he was unfazed by these claims as the decision was made according to the guidelines.
However the Hon. Minister of Sporty Dayasiri Jayasekara also claimed the record should not be upheld as he has been shown the rule book. "I was not concerned about the opinion of anyone but if the Hon. Minister of Sports claims that this is incorrect and we should investigate further on this, it is our responsibility to provide justification. I straightaway consulted the highest authority in the world for clarification regarding technicalities, Jorge Salsido Chairman of the technical committee of the IAAF via email and he also confirmed that the decision was correct and even they (the Portuguese Athletic Association) accepts hand timing for their national records under their regulations"
Answering a question raised by ThePapare.com as to whether there was a set of regulations that governed these instances in Sri Lanka, Mr. Waidyathilaka confirmed that we do not possess a set of regulations for itself, but use a common standard that is applied all over the world. He went on to provide email transcripts between him and ITO's from England and New Zealand who have confirmed that under their regulations, records in races over 400m can be considered with hand held timing.
Nimali Liyanarachchi has been an athlete who trains in Hambanthota in difficult conditions and has been performing exceptionally well despite the obstacles she has faced. It is disgraceful that certain media organizations are discrediting this ambitious athlete for mere publicity when she should in fact be applauded for breaking a 24 year old record in difficult conditions.