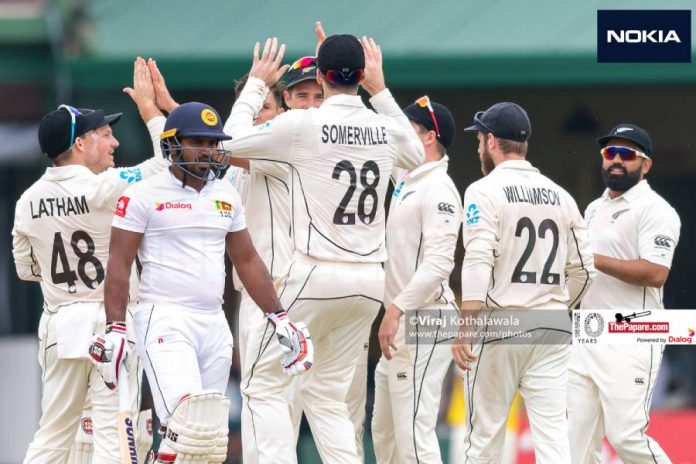 Sri Lanka ended day 2 of their 2nd ICC Test Championship match against New Zealand struggling on 144/6, despite a half century from skipper Dimuth Karunaratne as the visitors took the upper hand at the P Sara Oval in Colombo.
The start of day 2 was delayed by 45 mins due to bad weather, with Colombo experiencing some heavy rain overnight and this morning. Karunaratne resumed on an overnight score of 49* with Angelo Mathews on the other end, yet to get off the mark.
Mathews was the 1st to go, caught behind down the leg side trying to pull a wayward delivery from Trent Boult. With the scalp, Boult went to 250 Test wickets, becoming just the 3rd New Zealander to reach the landmark. The left armer then trapped Kusal Perera right in front of the stumps for a duck in the same over as Sri Lanka slumped to 93/4.
Read: Karunaratne stands tall on rain-curtailed day
Coming into bat in a tough situation, with Boult and Colin de Grandhomme bowling well in tandem, all rounder Dhananjaya de Silva had a bit of luck as the former dropped perhaps one of the easiest catches you'll ever see. De Silva top-edged the delivery which popped harmlessly up in the air, Boult settled under the ball but inexplicably, was unable to hold on to the sitter.
Karunaratne too had a chance off his bat missed, this time by opposition skipper Kane Williamson, albeit a far more difficult chance than that spilled by Boult. Sri Lanka's captain was unable to capitalize on the chance however as he fell shortly after in what turned out to be another double wicket over as Tim Southee struck to remove both Karunaratne and Niroshan Dickwella caught behind by BJ Watling.
>>Photos: Sri Lanka vs New Zealand | 2nd Test – Day 2<<
De Silva and Dilruwan Perera survived an awkward 8-over period before the rain came down at the stroke of Lunch. With no play possible for the next 2 and a half hours, the umpires decided to call off play for the day; just 29.3 overs were bowled during the day.
If weather permits, play is set to commence at 9.45am tomorrow (24th).
Watch Live – New Zealand tour of Sri Lanka 2019 – 2nd Test Match
244/10 (90.2) & 122/10 (70.2)


Batsmen
R
B
4s
6s
SR
Dimuth Karunaratne
c BJ Watling b Tim Southee
65
165
6
0
39.39
Lahiru Thirimanne
c Kane Williamson b William Somerville
2
35
0
0
5.71
Kusal Mendis
c BJ Watling b Colin de Grandhomme
32
70
4
0
45.71
Angelo Mathews
c BJ Watling b Trent Boult
2
29
0
0
6.90
Kusal Perera
lbw b Trent Boult
0
4
0
0
0.00
Dhananjaya de Silva
b Trent Boult
109
148
16
2
73.65
Niroshan Dickwella
c BJ Watling b Tim Southee
0
3
0
0
0.00
Dilruwan Perera
lbw b Ajaz Patel
13
54
1
0
24.07
Suranga Lakmal
c BJ Watling b Tim Southee
10
24
1
0
41.67
Lasith Embuldeniya
lbw b Tim Southee
0
2
0
0
0.00
Lahiru Kumara
not out
5
11
0
0
45.45
| | |
| --- | --- |
| Extras | 6 (b 1 , lb 2 , nb 3, w 0, pen 0) |
| Total | 244/10 (90.2 Overs, RR: 2.7) |
| Fall of Wickets | 1-29 (14.4) Lahiru Thirimanne, 2-79 (32.3) Kusal Mendis, 3-93 (41.1) Angelo Mathews, 4-93 (41.5) Kusal Perera, 5-130 (57.3) Dimuth Karunaratne, 6-130 (57.6) Niroshan Dickwella, 7-171 (74.5) Dilruwan Perera, 8-214 (83.5) Suranga Lakmal, 9-224 (85.1) Lasith Embuldeniya, 10-244 (90.2) Dhananjaya de Silva, |
| Bowling | O | M | R | W | Econ |
| --- | --- | --- | --- | --- | --- |
| Trent Boult | 22.2 | 6 | 75 | 3 | 3.38 |
| Tim Southee | 29 | 7 | 63 | 4 | 2.17 |
| Colin de Grandhomme | 17 | 3 | 35 | 1 | 2.06 |
| William Somerville | 6 | 3 | 20 | 1 | 3.33 |
| Ajaz Patel | 16 | 4 | 48 | 1 | 3.00 |


Batsmen
R
B
4s
6s
SR
Jeet Raval
c Dhananjaya de Silva b Dilruwan Perera
0
9
0
0
0.00
Tom Latham
lbw b Dilruwan Perera
154
251
15
0
61.35
Kane Williamson
c Kusal Mendis b Lahiru Kumara
20
28
2
0
71.43
Ross Taylor
c Dhananjaya de Silva b Lasith Embuldeniya
23
43
3
0
53.49
Henry Nicholls
c Dhananjaya de Silva b Dilruwan Perera
15
46
0
0
32.61
BJ Watling
not out
105
226
4
0
46.46
Colin de Grandhomme
c Lahiru Kumara b Lasith Embuldeniya
83
77
5
5
107.79
Tim Southee
not out
24
10
2
2
240.00
| | |
| --- | --- |
| Extras | 7 (b 0 , lb 4 , nb 0, w 3, pen 0) |
| Total | 431/6 (115 Overs, RR: 3.75) |
| Fall of Wickets | 1-1 (3.1) Jeet Raval, 2-34 (12.5) Kane Williamson, 3-84 (26.2) Ross Taylor, 4-126 (42.3) Henry Nicholls, 5-269 (85.3) Tom Latham, 6-382 (110.2) Colin de Grandhomme, |
| Bowling | O | M | R | W | Econ |
| --- | --- | --- | --- | --- | --- |
| Dilruwan Perera | 37 | 4 | 114 | 3 | 3.08 |
| Dhananjaya de Silva | 5 | 1 | 10 | 0 | 2.00 |
| Suranga Lakmal | 11 | 2 | 32 | 0 | 2.91 |
| Lahiru Kumara | 25 | 0 | 115 | 1 | 4.60 |
| Lasith Embuldeniya | 37 | 4 | 156 | 2 | 4.22 |


Batsmen
R
B
4s
6s
SR
Lahiru Thirimanne
run out (Ajaz Patel)
0
5
0
0
0.00
Kusal Perera
c BJ Watling b Trent Boult
0
3
0
0
0.00
Kusal Mendis
b William Somerville
20
63
3
0
31.75
Angelo Mathews
c Ross Taylor b Colin de Grandhomme
7
30
0
0
23.33
Dhananjaya de Silva
c Tim Southee b Ajaz Patel
1
19
0
0
5.26
Niroshan Dickwella
c Tom Latham b Ajaz Patel
51
161
4
0
31.68
Dimuth Karunaratne
lbw b Tim Southee
21
70
2
0
30.00
Dilruwan Perera
c Ross Taylor b Tim Southee
0
12
0
0
0.00
Suranga Lakmal
c Tom Latham b William Somerville
14
45
2
1
31.11
Lasith Embuldeniya
c Kane Williamson b Trent Boult
5
11
0
0
45.45
Lahiru Kumara
not out
0
3
0
0
0.00
| | |
| --- | --- |
| Extras | 3 (b 0 , lb 2 , nb 0, w 1, pen 0) |
| Total | 122/10 (70.2 Overs, RR: 1.73) |
| Fall of Wickets | 1-0 (0.5) Lahiru Thirimanne, 2-4 (2.2) Kusal Perera, 3-11 (11.3) Angelo Mathews, 4-22 (18.3) Dhananjaya de Silva, 5-32 (21.5) Kusal Mendis, 6-73 (43.5) Dimuth Karunaratne, 7-75 (47.4) Dilruwan Perera, 8-115 (65.3) Suranga Lakmal, 9-118 (69.3) Niroshan Dickwella, 10-122 (70.2) Lasith Embuldeniya, |
| Bowling | O | M | R | W | Econ |
| --- | --- | --- | --- | --- | --- |
| Trent Boult | 14.2 | 8 | 17 | 2 | 1.20 |
| Tim Southee | 12 | 6 | 15 | 2 | 1.25 |
| Ajaz Patel | 19 | 3 | 31 | 2 | 1.63 |
| Colin de Grandhomme | 4 | 1 | 8 | 1 | 2.00 |
| William Somerville | 21 | 6 | 49 | 2 | 2.33 |