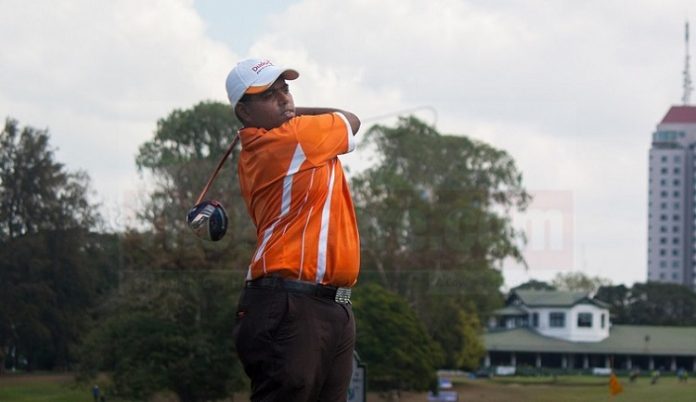 Sri Lankan Mithun Perera, the exceptionally talented son of the legendary Nandasena Perera, captured his 6th Major Title on the Professional Golf Tour of India, as he drove himself to the pole position from the 2nd Round of the Tournament, with a scintillating 7 under par, bogey free 63.

15-Year-old Taniya Minel Balasuriya paired off with Guinness Book World Record…
Mithun then surged in to a clear 3 stroke lead with another Bogey free 5 under par 3rd Round. All this while, compatriot, room-mate and friend Thangaraja was in second place. Thangaraja started Round 4 in dream fashion, firing 4 Birdies in the front nine to overhaul Mithun by one stroke but Mithun kept in touch and kept his cool as usual with a long birdie conversion on the 9th and then a brilliant tap-in birdie on the 12th. Thangaraja made an unusual poor shot on the 14th, which cost him a double bogey, the lead and the tournament, to finish in 4th place just 2 strokes behind Mithun.
In the meantime, top PGTI Tour Pro Digvijay Singh shot a magnificent 8 under par 62 in the crucial final round and sat in the Club House on a 13 under total waiting for Mithun to falter.
Following the footsteps of Tiru Fernando & Thuhashini Selvaratnam, who achieved…
The other power house and senior statesman on the Asian Tour Mukesh Kumar was quietly working his way to the top of the leader board with a closing round of 66, having won the Chennai Open in the last three years (2015, 2016, 2017) on his favourite hunting ground The Madras Gymkhana Club Golf Annexe, in Chennai, to also tie with Digvijay Singh on 13 under par waiting for Mithun Perera to join them for a Sudden-death play-off. The experienced Mithun Perera had other ideas, played conservatively and even though he dropped a stroke at the 17th, Par on the 72nd hole was enough for Mithun Perera to break his massive drought of victories on the Indian Tour. Mithun last won a major title 4 years ago, and at 31 years old, the wine is sweeter now and Mithun Perera did Sri Lanka proud defeating a high profile field to capture his 6th PGTI title. The feature of Mithun Perera's performance at the Chennai Open was his meticulous accuracy off the Tee and the number of regulations earning a total of 17 Birdies with only 3 Bogeys for the 4 Rounds.
Mithun's compatriot Thangaraja finished a very creditable 4th, Anura Rohana Ranked 3rd in the PGTI 2017, finished joint 24th and Prabagaran secured joint 32nd place out of 120 starters.
Mithun Perera's victory spiraled him to 2nd place in the PGTI 2018 Order of Merit behind Syed Saqib Ahmed who finished 19th on 2 under par. Thangaraja is Ranked 8th in the Order of Merit with some consistent performances missing out in a four-way sudden-death play-off in the previous PGTI Tour event, the Golconda Masters 2018, in Hyderabad. Anura Rohana after a slow start in 2018, having earned the Asian Tour 2018 Card, is currently 29th and Prabagaran 55th respectively, in the PGTI 2018 Order of Merit.
CHENNAI OPEN 2018 – PGTI TOUR EVENT – FINAL STANDINGS AFTER 4 ROUNDS
266 (-14) Mithun Perera 68,63,65,70
267 (-13) Digvijay Singh 70,66,69,62, Mukesh Kumar 66,66,69,66
268 (-12) N. Thangaraja 61,70,68,69
270 (-10) Shamim Kahan 64, 69, 68, 69
271 (-9) Sujjan Singh 67,66,70,68
272 (-8) Ranjith Singh 70, 66, 67, 69, Vikrant Chopra 66,65,70,71
273 (-7) Feroze Singh Garewal 68, 66, 69, 70, Veer Ahlawat 70, 67, 63, 73
Order of Merit Leader Syed Saqib Ahmed Joint 19th at -2 (278)
Anura Rohana Joint 24th at Even Par 280 (73, 67, 68, 72)
Prabagaran Joint 32

nd

at 2 Over par, 282(67, 74, 70, 71)
PGTI 2018 ORDER OF MERIT AFTER CHENNAI OPEN
Anura Rohana 29th
K. Pranagaran 55th