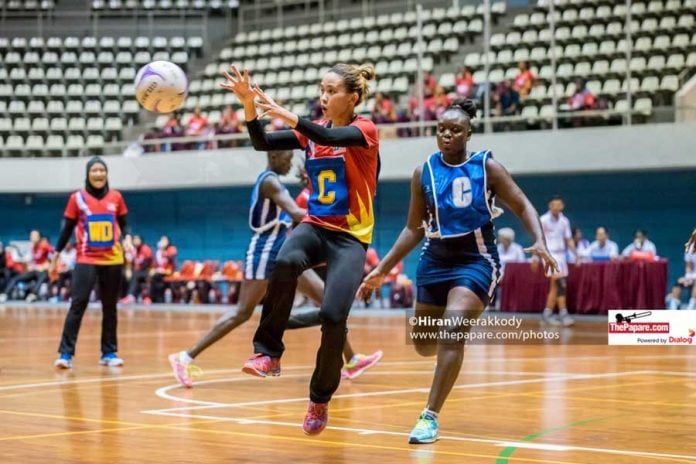 Malaysia defeated Kenya in a thrilling encounter while Sri Lanka recorded a comfortable victory over Sri Lanka Youth on the 2nd day of the Quadrangular Netball Tournament 2019 played at the Sugathadasa Indoor Stadium.
Sri Lanka National Team and the Sri Lanka Youth Team suffered..
Malaysia v Kenya
Malaysia edged-out Kenya 44-42 in a physical game to book their place in the final while also diminishing hopes of Sri Lanka of making it to the final.
A tight 1st quarter ended with Malaysia leading 12-11. Early in the 2nd quarter Kenya fought back hard to equalize and then a 14-15 lead but the Malaysians ended the quarter strong going on a 4-0 run to lead 23-19 (11-8) at half time.
Photos: Kenya v Malaysia | Quadrangular Netball Tournament 2019
The 3rd quarter too was evenly matched with Malaysia managing to keep the 4-point lead with the scores reading 34-30 going into the 4th quarter. After exchanging points early in the final quarter Kenya managed to bridge the gap to 39-38 but Malaysia made it 44-40 with a minute remaining. Even though the Kenyans scored the last two points it was too little too late.
Read More: Thilaka Jinadasa requests for delay in Elections as World Cup draws near
Sri Lanka v Sri Lanka Youth
Sri Lanka eased past Sri Lanka Youth 73-34 in the 2nd match of the day. The inexperienced Sri Lanka Youth got off to a good start only giving a 2-point lead at 8-6 but the National team stormed ahead to end the opening quarter 20-8.
Photos: Sri Lanka v Sri Lanka Youth | Quadrangular Netball Tournament 2019
Sri Lanka Youth in the 2nd quarter managed to score 11-points but gave away another 20-points as they went into half time 40-19. With many substitutions happening Sri Lanka Youth struggled to get into rhythm only scoring 4-points as the seniors took a 60-23 lead with the last quarter to come.
Sri Lanka Youth had their best quarter of the match both offensively and defensively allowing only 13-point and scoring 11-points to end the game 73-34.
>> For more Netball News Click Here <<