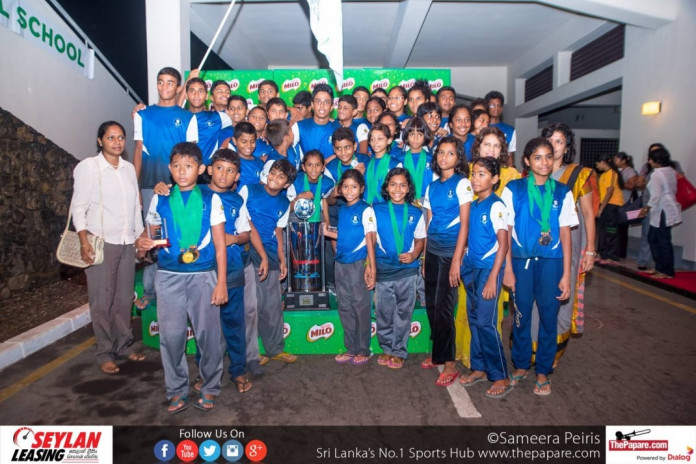 As the inter-international swimming meet came to an end last evening at the Sugathadasa swimming pool, Lyceum Wattala defended their title as champions for another consecutive year.
With the end of the final event on Sunday Lyceum Wattala came first once again with a score of 1267 points with Gateway College Colombo coming in second with 860 points and Lyceum Nugegoda was a close third with 754 points.
The boys 16 and over age group champion this year was Kaveen Weerasinghe from CIS Colombo and the girls 16 and over age, group champion was Thiany Chido Riddihoughy from the Overseas School which obtained 44 and 47 points respectively dominating their age category.
The boys 14-15 age group champion was Stephan Perera from Gateway College and the girls champion in the same age group was Thimali Bandara from Lyceum Wattala as both of them got a score of 49 points.
Kaveen Weerasinghe and Thiany Chido were each responsible for one of the 12 new records that were set during the second day of this tournament. Kaveen set the record for the boys 16 and over 200M Free Style event with a timing of 2:02.85 while Thiany set the record for the girls over 16 100M Butterfly event with a timing of 1:08.84.
Lyceum Wattala was the school to keep an eye out for young talent, as both the under 9 champions Damiru Wickramathunga and Sehanya Jayasinghe were from there who completely dominated their age group with 45 and 47 points respectively.
The 22nd inter-international swimming meet then concluded with the traditional awards ceremony in which all the swimmers were recognized for their outstanding performance.