The Sri Lanka Youth Netball team will be participating in the 8th Netball World Youth Cup 2017, which will start on July 8th in Gaborone, Botswana.
Sri Lanka are drawn in Pool A which includes the reigning champions New Zealand, Samoa, Scotland and Northern Ireland. Sri Lanka qualified for the World Youth Cup after becoming champions in the 9th Asian Youth Netball Championship in 2015.
The Sri Lanka Youth Netball Team will participate in the 8th Netball World Youth Cup to put behind a chaotic..
The 2015 team was led by the vastly experienced goalkeeper Gayani Dissanayake. She had represented Sri Lanka since 2012 and was part of the Youth side since 2009 much like her deputy on tour Thishala Algama. Dulangi Wannithilaka and Gayanjali Amarawansa were also part of the senior pool at the time. Gayani, Thishala and Gayanjali had toured with the Sri Lanka side for the World Cup earlier in the yearas well.
Though the current youth squad does not boast of similar experience, they do have a few exciting school girls and upcoming players who could match the 2015 stars with talent and skill on any given day.
ThePapare.com looks at few of the key players for Sri Lanka at the 2017 Netball World Youth Cup.
Mandira Charuni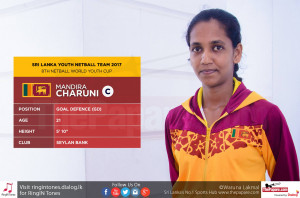 Mandira Charuni plays at Goal Defense (GD) along with the added responsibility of being the captain and is considered as one of the best GD's in the country.
"I believe Mandira is among the top 5 GD's in Sri Lanka," was what Sri Lanka's Asian Youth Championship coach Tamara Liyanage had to say on her.
Mandira was adjudged the Best Defender in the 2016 Mercantile Netball League. She missed out on being in the 2015 Asian Youth Championship winning side due to an injury close to the start of the tournament.
Though she has the height, what she is lacking is the physical build going up against much more stronger players in the international level.
Kaveena Rajapaksha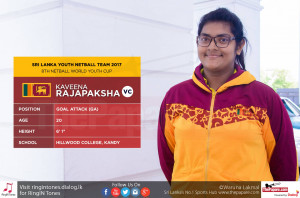 After a stellar performance in the 2017 Asian Youth Netball Championship, Kaveena Rajapaksha has been entrusted with the vice-captaincy.
Playing at Goal Shooter (GS) she scored around 300 goals with an accuracy rate of 90% at the Asian Youth Championship where Sri Lanka crumbled to finish in 4th place.
Hong Kong produced a clinical 2nd half performance to bag 3rd place with a 58-49 win …
However, a month on from the Asian Youth she had been forced to switch positions from GS to GA (Goal Attack). The well-built Kaveena had to improve her fitness, skills and lose some weight to adjust to the new position.
"We completely improved her fitness to fit her into that position and as of now she has adapted into that new position well," Head Coach Amalka Gunthilaka talked about Kaveena's adjustment.
"I only played at GS in school. This is a new experience for me as I have never played as a GA anywhere. I believe I have improved and the coaches have been immensely supportive. My fitness was completely changed. Sir (Ananda Wannithilaka – Trainer) takes me separately as well to improve my fitness," Kaveena said, speaking about adapting to her new position.
What will work against Kaveena will be the fact that she has never played any competitive matches in that position and her heavy built, especially playing in a World Youth Cup. It will be a huge learning experience in her young career.
Mellony Wijesinghe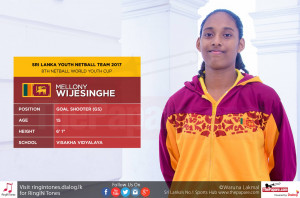 First unearthed by former national coach Hyacinth Wijesinghe, the 6'1" 15-year-old Wijesinghe now studies at Visakha Vidyalaya – a school which had produced many a national player.
Mellony Wijesinghe who plays at Goal Shooter (GS) was adjudged the Best Player in the Milo All Island Netball Championship U16 category.
The whole coaching staff have raving reviews on her. Mellony has been impressive in her practice matches against Army, Navy, Air Force and combined teams. Matching up to the Sri Lanka players who are almost a decade older to her, Mellony has shown she is more capable than her age would suggest. Even the Sri Lanka skipper, Gayani Dissanayake who plays GK (Goal Keeper) had hard time defending her in the practice game.
"She is a natural talent, no doubt on that but we must manage her since she is just a 15-year-old kid. The international level is something she is not used to. This will be a huge experience for her. Even the matches at the World Youth Cup, we need to take a decision on her playing time and rest, so she will be able to give her best," Hyacinth Wijesinghe said exclusively with ThePapare.com.
Sachini Rodrigo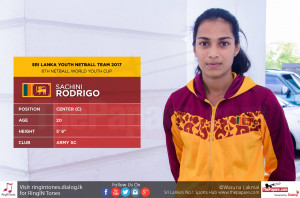 Sachini is the most experienced player in the squad having played more than 10 international matches. She is one of the two surviving members of the 2015 Asian Youth Championship winning side, where she played every match at Center (C) position.
Having played at two Asian Youth's and mentally hardened by the recent controversies involving her, she will be ready to fulfill her responsibilities as one of the senior members of the side. Playing at the pivotal center position the team's attack and defense will revolve around her.
Notable mentions
Tharushi Illangarathna and Suseema Kumari are two of the six school girls in the squad.
Tharushi from Visakha Vidyalaya, who plays at Goal Keeper (GK) is 18 years old. The 5'8" Illangarathna played all the matches in the 2017 Asian Youth Netball Championship.
Suseema Kumari is from Holy Family Convent, Kurunegala – currently the top ranked netball school in the country. Suseema plays at center and has the ability to play a Wing Defense (WD) or a Wing Attack (WA). She was adjudged the Best Player in the 2016 All Island Schools' Games Netball U17 category.