17th LSR Colombo Half Marathon was worked out yesterday (8th) with the participation of over 8000 contestants, representing 47 different nationalities. The Iconic Marathon was worked out in four stages (Full, Half, 10km & 5km) which was competed in 14 distinct categories.

Kenyans who are world leaders in long distance running, yet again dominated the Men's & the Women's categories of the full marathon. James Tallam of Kenya won the marathon clocking a time of 2:23:37 with his compatriots Peter Keter and Amos Maindi coming in the second and the third place respectively.   Eight of the first ten finishers were Kenyan nationals while S.T Gunasekara and Suganda Karunathilaka from Sri Lankan managed to earn the 04th and the 8th places respectively becoming the only non-Kenyans in the first ten.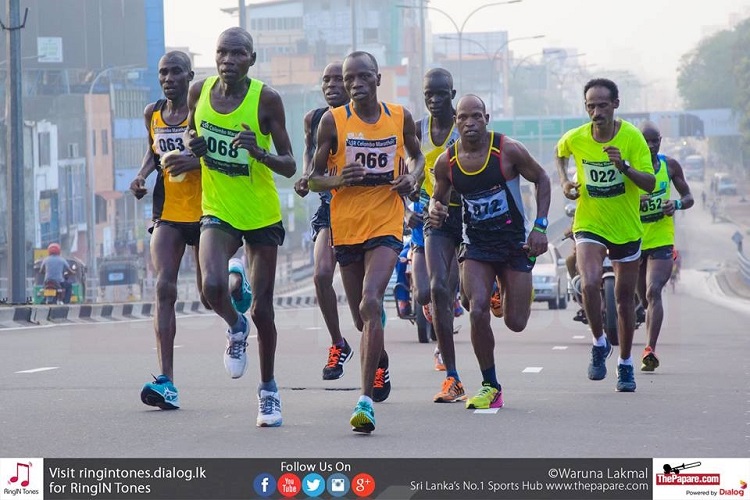 Results of the Men's Full marathon

Mercy Too of Kenya was the winner of the women's Full Marathon which again saw three Kenyans finishing ahead of the rest. Too clocked a time of 2:59:46 with second places Marget Wanigu Njuguna clocking the same time but coming in fractions of a second in behind in the photo finish to be placed second. The two contestants interestingly finished the race hand in hand while fellow Kenyan Emily Jepkoech clocking 3:02:00 to finish third.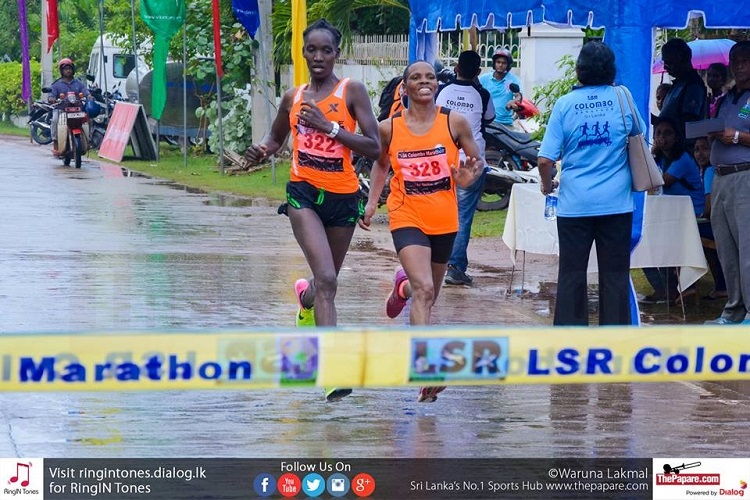 Results of the Women's Full marathon

US based Sri Lankan Marathoner Hiruni Wijerathne clocked a time of 1:23:21 and was placed first in the Women's Half Marathon to become the only Sri Lankan athlete to clinch a top spot in the main categories. Hiruni who represented the Island at the World Athletic Championship earlier this year was aiming at renewing her own National record time of 1:17:34 but failed despite coming in as the winner of the competition.  Kenyan Naum Jepkosgei was placed second while S.D Liyanage of Sri Lanka was placed third.
Women's Half marathon results

In the Men's Half Marathon Hiruni's partner, Venezuelan Luis Orta clinched the top spot in the Men's category with a time of 1:10:39.  U. Vijitha Kumara was placed second while R. Saman Kumara was placed third.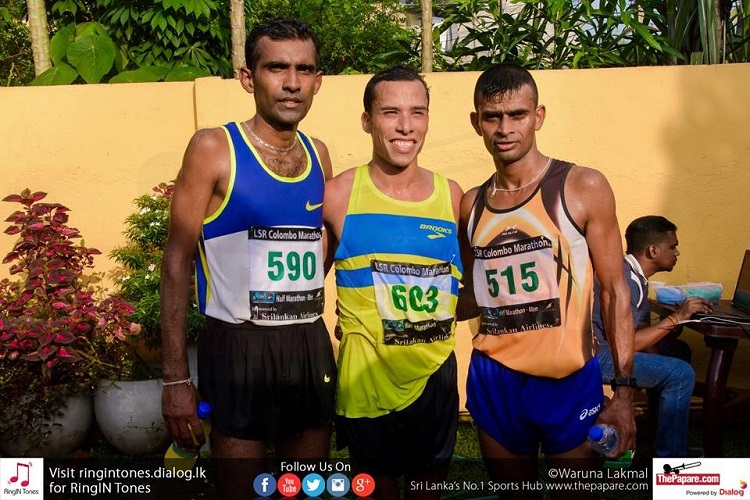 Men's Half marathon results

10Km & 5km Fun Run
There was great enthusiasm shown by the locals who gathered in numbers to take part in the 10km & 5km fun runs. These two races were held around the Torrington square and many competitors competed in bunches representing cooperates, Schools and sports teams.
10 Km Men's results
10 Km Women's results

5 Km Men's results

5 Km Women's results

A separate competition for School Boy's & Girl's Under 18 years of age was held which saw many youngsters who are taking up the grueling discipline of long distance running competing against each other.
5 Km Boy's (School's) results

5 Km Girl's (School's) results