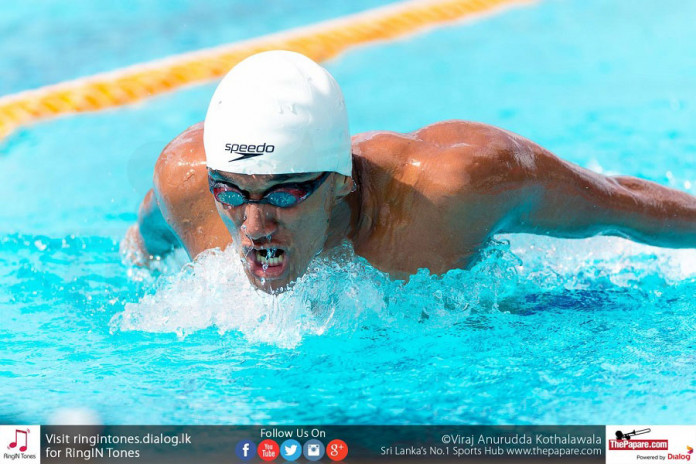 St. Joseph's College Colombo clinched the National Age Group Relay Championship by a whisker in the boys' category while Visakha Vidyalaya took home the girls' title in the championship that was worked off at the Sugathadasa Swimming Complex over the weekend.
The boys' winners, St. Joseph's College won the overall title after a tough fight where Ananda College fell short by just a single point. St. Joseph's College secured a total of 110 points while Ananda College finished on 109 points.
Read also: Mahamaya & Ananda claim inaugural Under19 National Swimming Championship
A total of 20 relays were worked off during a day's period and it was a tight head to head contest between Ananda and St. Joseph's in the boys' title.
The Josephians, although they won only three medals, managed to collect a mass amount of points due to the many teams they enlisted. The boys from Darley road won one gold and two silver medals in the relays.
The gold medal came in the under 18 4X50m Medley while the two silver medals came in the under 14 4X50 Medley and the under 18 4X50 Freestyle.
Ananda College however had a better count of medals winning five in total. They won a gold, a silver and three bronze medals. The gold medal came in the under 14 4X50 Medley and the silver was from the under 13 4X50 Freestyle. The three bronze medals that the school won were in the under 16 4X50m Freestyle, under 18 4X50 Freestyle and the under 18 4X50 Medley.
Visakha Vidyalaya took the girls' championship without a contest accumulating a total of 158 points while with 134 points Lyceum International School Wattala took second spot. Mahamaya Girls' School took the third position with 131 points.
Final standing:
Girls'
Visakha Vidyalaya

-158 points

Lyceum International School Wattala

-134 points

Mahamaya Girls Schools

-131 points

Musaues College

-80 points

Sirimavo Bandaranayake BMV

-58 points
Boys'
St. Joseph's College

-110 points

Ananda College

-109 points

Lyceum International School Wattala

-107 points

Lyceum International School Nugegoda

-102 points

Royal College

-59 points