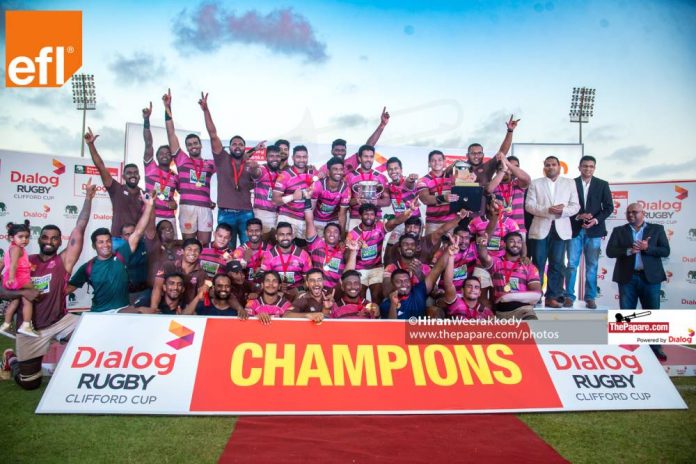 The Dialog Rugby season came to a close as Havelock SC beat Air Force SC 40 points to 21 to clinch the knockout trophy after a lapse of 38 years. Although the scores read 21 – 14 at lemons, Havies steadily extended their lead to win the game, making history at Racecourse, a short while ago.

After earning their spot in the final beating Police SC, Air Force came into the game with the right intentions. And although it was the bottom most team taking on the league runner-up, Havies knew better than to underestimate a resilient team, which helped them in their course.
As Air Force #15 Charith Senevirathne kick started proceedings from left to right, it were the men in pink who opened up the scoring through their experienced scrum-half Mithun Hapugoda. After picking the ball up from the back of a 5 meter scrum, Hapugoda evaded 3 tacklers and touched down besides the posts, as Rizah Mubarak put his team seven points up 4 minutes into the game. In response to the early blow, Air Force made sure they played in the opposition half to equalize and put pressure back to Havies – and they did exactly that!
The Air Force forwards barged their way slowly towards the Havelock red zone and made it count. As Asitha Gayashan was caught illegally trying to prevent the ball carrier to ground the ball over the try line, referee Remi Julian awarded a penalty try in favour of Air Force in the 13th minute.  However, Havies managed to score two converted tries through Zayan Sabar and Chamara Dabare which put the Park club in a comfortable position, only until a wonderful under the post try by Share Madhushan at the brink of half-time changed the whole outlook of the game.
Half time: HSC led 21 – 14 AFSC
The second half got under way as the ever reliable Mubarak slotted in two three pointers extending his team's lead. The Airmen made sure to bridge the gap and stay in the game as Thilina Bandara got his name on the score sheet after marshaling through with the forwards and touching down against the uprights. Senevirathne made no mistake with the conversion as the Air Force was just a goal behind.
But, that was all the Ratmalana lads could accumulate, as Rizah continued adding with his boot. All was lost for the Airmen when Lasindu Karunathilake went over to add the nail in the coffin and seal a Havelock victory. Mubarak added the extras and another 6 more points, as the clock turned red.
Full time: HSC won 40 (4T 4 C 4P) – 21 (2T 2C 1PT) AFSC
Score Breakdown HSC

Tries: Mithun Hapugoda, Lasindu Karunathilake, Zayan Sabar, Chamara Dabare

Conversions: Rizah Mubarak 4

Penalties:  Rizah Mubarak 4

Bookings: Asitha Gayashan

Score Breakdown AFSC

Tries: Ishara Madhushan, Thilina Bandara, Penalty try

Conversions: Charith Senevirathne 2
Player of the Match: Lasindu Karunathilake (HSC)