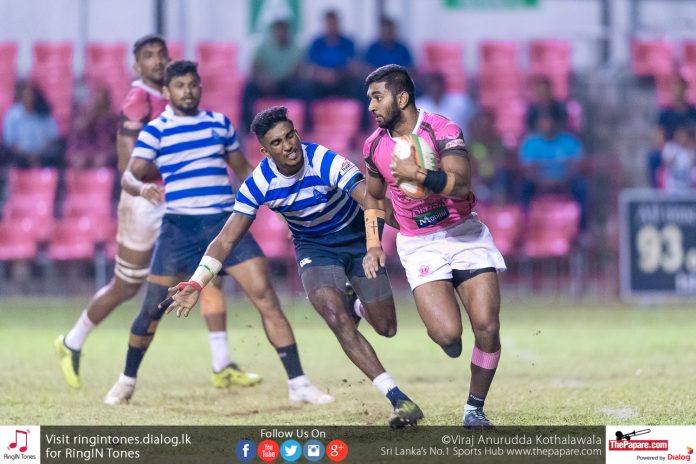 In the beginning, although it looked as if both teams were going to base their game plan on a territorial strategy, towards the end the spectators were rewarded with some quality rugby played by both teams. The end result could not have been possibly predicted, the way things were going and therefore, the spectators very much were on the edge of their seats, until the final whistle was blown with the scoreboard recording the home team a victory of 16 points over 11 points bagged by Navy.

>> Visit the Dialog Rugby HUB <<
Riza Mubarak kicked off proceedings from the Havelock camp-side and in the 10th minute a penalty was conceded by Navy SC of which Riza Mubarak made good use and booted the first points of the game for the home team Havelock SC. (Havelock SC 03-Navy SC 00)
With the re-start being kicked by Navy, Thilina Weerasinghe could not find space for his kick and thus resulted in a penalty for Havies.
After a few phases of play came the Referee Priyantha Goonerathne's genius, through which a TMO review was initiated to call off a try that was taken over the goal line by Nishon Perera. The cause for this was that the pass from Niroshan to Nishon was a forward pass which did not escape the efficient referee's hawk eye.
This penalty which was awarded to Navy came down to a scrum and an unnecessary early shove by Havies gave the chance to Navy SC to kick to touch and calm their territorial sea with booing off the home team back to their side.
Having gained momentum out of this chain of events, Navy managed to sail into the Havelock goal line to record a try through the experienced Navy full back Thilina Weerasinghe. However, this try remained unconverted. (Havelock SC 03 – Navy 05)
With a lovely break through coming by Thilina Weerasinghe again Navy sailed to the Havelock territory and a couple of dangerous blunders almost costed the Havelock side a try by Navy although saved by a high tackle made by Navy's Buddika Piyaratne on Havelock's Nishon Perera. Buddika was sent to sit on the naughty chair by referee Priyantha.
Later on, a try by Nishon Perera, who came breaking through 2 defenders out of whom one was Lahiru Herath, scored a try for Havies bringing Havies back into the lead. (Havelock SC 08 – Navy SC 05)
Half time approached with an unfortunate error forced off the unlucky Navy back line who had numbers to work their way for a try, but missed it owing to a forward pass which also was not collected properly.
Half Time Score Havelock SC 08 – Navy SC 05
The second half restarted with Havelock player Niroshan Fernando bring given a yellow card for "obscene language" according to the new rules of rugby. Without a big delay, Riza Mubarak was again tested by a penalty. However, Riza booted the penalty in and added 3 more points to the Havelock tally. (Havelock SC 11 – Navy SC 05)
Minutes later into the game, Havelock player Senal Deelaka too was caught by the vigilant referee Priyantha who had no second thoughts in giving him too a yellow card.
With these developments, another penalty that was booted in by Thilina Weerasinghe for Navy, added more pressure on to the home team who were now becoming more and more reckless. (Havelock SC 11 – Navy 08)
Later on, Havelock player Shehan Dias too was caught on off side which offered another opportunity to Navy for points and they used it to their best with Thilina Weerasinghe adding another 3 points to their tally levelling the Havelock limits. (Havelock SC 11 – Navy SC 11)
Owing to the rising intensity of the game and pressure, the mid field was heated and this situation saw Charith Silva of Navy being caught throwing a punch at a Havies player and he too was sent to the sin bin.
Havelock SC however, managed to shove their way towards the sailor's territory in a do or die mission which ultimately was fruitful as hooker Prasad Madusanka shoved his way through to the goal line and scored 5 points for his side. Riza Mubarak failed to convert. (Havelock SC 16 – Navy SC 11)
Even after this, the sailors were not taken aback and they kept fighting and playing phase after phase. However, even though they were just a few meters away from the Havelock goal line, the game clock stopped ticking and they had to call it a day leaving the Havelock Park lads victorious and in the 2nd place in the points table of the club rugby league.
Full Time Score – Havelock SC 16 – Navy SC 11
ThePapare.com player of the match : Lasindu Ishan (Havelock SC)
Breakdown

Havelock SC – Riza Mubarak (2P), Nishon Perera (1T), Prasad Madusanka (1T)

Navy SC – Thilina Weerasinghe (1T, 2P)