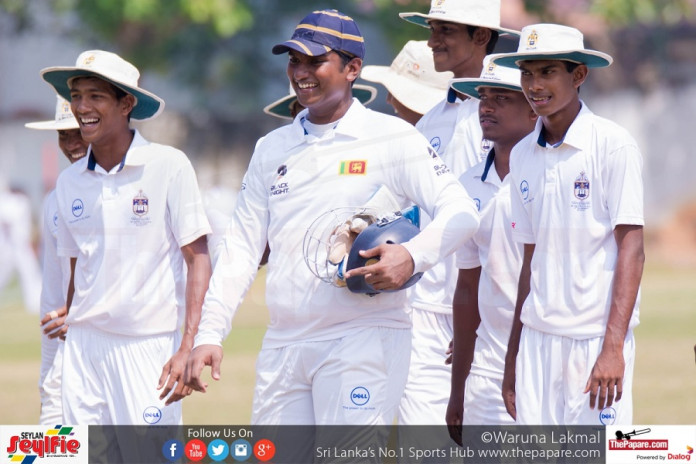 St. Peter's College demolish St. Benedict's College by 8 wickets in a Singer-cup traditional encounter which worked off today in Kotahena.
The hosts resuming day two on 43 for 3 managed only 163 inside 58 overs. Maheesh Theekshana made a solid 62 for Bens, while Chathura Obeysekara grabbed another 5 wicket haul for the Peterites. Skipper Lakshina Rodrigo invited the hosts to bat again, but once again they were troubled by the visitors with quality bowling. The home team were bowled out for 199 in the second innings as Chamindu Wijesinghe stroked a fighting 91, while Sachin Silva, Miflal Ameen and Manelker De Silva took three wickets apiece for the lads from Bambalapitiya.
Chasing a victory target of 65, St. Peter's College got home safely with 8 wickets intact.
St Peter's College – 302/6d (68) Santhush Gunathilake 133*, Anishka Perera 58, Lakshina Rodrigo 58, Manelker de Silva 21, Kavesha Jayathilake 2/60 & 65/2 (7.5) Lakshina Rodrigo 31*.

St. Benedict's College – 167 (57.2) Maheesh Theekshana 62, Kaveesha Jayathilake 33*, Chathura Obeysekara 5/41, Mohomad Ameen 3/45 & F/O 199 (49.2) Chamindu Wijesinghe 91, Maheesh Theekshana 48, Sachin Silva 3/22, Mohommed Ameen 3/62, Manelker De Silva 3/48.
---
St. Joseph's College vs St. Anthony's College
The Josephians got bowled out for a below-par 128 in second day as the home team taking the first innings lead. However the visitors came back strong to restrict the lads from Kandy for a paltry 128 runs. Mohommed Afthar made a useful half-ton, while Harin Cooray captured a five wicket haul as he completed 10 wickets for the match. Chasing a victory target of 178 on difficult conditions the visitors got rattled once again by Sandaruwan Dharmarathne as he claimed 4 scalps to go with his 5-for in the first innings. However the Josephians managed to hold on to a draw as they ended the day on 122 for 8 wickets in a traditional encounter which worked off today at St. Anthony's grounds.
St. Anthony's College, Kandy 176 (49.3) Deon Strauter 32, Nipun Ashok 26, Sunera Jayasinghe 26, Harin Cooray 5/45, Nipun Sumanasinghe 3/26 & 128 (35.5) Mohammed Afthar 60, Harin Cooray 5/41, Nipun Sumanasinghe 3/20.

St. Joseph's College, Colombo 127 (41.1) Dineth Madurawela 54, Virajitha Jayasinghe 4/34, Sandaruwan Dhramarathne 5/39 & 122/8 (58) Dineth Jayakody 31, Harin Cooray 24, Sandaruwan Dhramarathne 4/47.
---
Ananda vs Dharmaraja
Ananda College dominated the traditional game against Dharmaraja College which ended in a draw at Ananda grounds. The hosts made 335 in the first innings, while the visitors got dismissed for 123 runs. The lads from Kandy came back strong in the second innings as Nivantha Herath made a match saving 148 to guide Dharmaraja College to 267 for 7 wickets at close of play.
Ananda College, Colombo 335/8d (63) Kavishka Anjula 105, Asel Sigera 93, Supun Waragoda 57*, Sammu Ashan 31, Gihan Withara 5/141, Navidu Dilshan 2/35.

Dharmaraja College, Kandy 123 (46.2) Sachintha Senanayaka 43, Deshan Gunasinghe 40, Sahan Suraweera 2/15, Sammu Ashan 2/44, Supun Waragoda 2/26, Dileepa Jayalath 2/09 & F/O 267/7 (79) Nivantha Herath 148, Sachintha Senanayaka 71, Supun Waragoda 4/43.
---
Wesley vs Prince of Wales
Prince of Wales College thrashed Wesley College by innings & 16 runs in a group B encounter which concluded today in Moratuwa. The hosts made a formidable 268 in the first innings and in reply to 165 which made by Wesley College earlier in the game. The visitors had no answers to a collective effort by the lads from Moratuwa as the visitors got bowled out for a hapless 88 runs in the second innings to give an easy outright win for the Cambrians.
Wesley College – 165 (60.3) Hasitha Perera 39, Ruchika Dangalle 29, Heshran Wanigasooriya 28, Thisuraka Akmeemana 21, Thilan Nimesh 5/47, Tharuka Fernando 3/32 & 88 (36) Hasith Perera 49, Savindu Pieris 2/06, Tharuka Fernando 2/17, Sanoj Dharshika 2/22, Thilan NImesh 2/31.

Prince of Wales College – 269/8 d (56.5) Sanoj Dharshika 78, Sandun Fernando 56,Vishwa Chathuranga 34, Dilanka Maduranga 31, Ruchika Dangalle 3/67, Movin Subasinghe 3/86.
---
Anuradhapura Central vs Zahira College
Zahira College took the upper hand in the opening day against Anuradhapura MMV in a group C encounter which began today at Zahira grounds. The hosts won the toss and opted to bat first as they posted 218 in 57 overs. Mohommed Shamaz and Mohommed Najad both made valuable fifties in a turning script. In reply the visitors got knocked out for 58 as the skipper Sajith Sameera taking four wickets for the home team. The hosts were 40 for 4 in the second innings at stumps.
Zahira – 218 (57) Mohammed Shamaz 83, Mohammed Najad 60, Dilshan Lakshitha 3/24, Sithum Niluminda 2/20 & 40/4 (14)

Anuradhapura  – 58 (20) Chithraka Hirantha 17, Sajith Sameera 4/15, Hashmi Hussain 2/15.