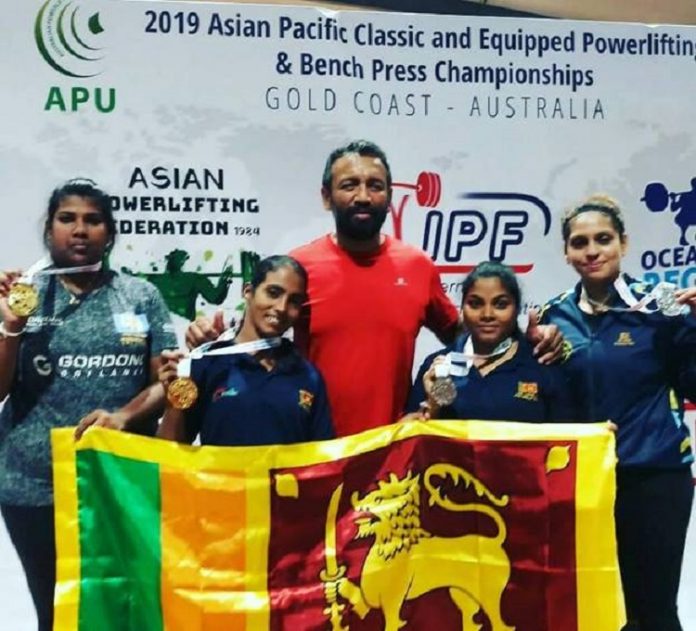 The four female powerlifters of the Sri Lankan powerlifting team, who are currently participating in the Asian Pacific Classic & Equipped Powerlifting Championship 2019 held in Gold Coast Australia started off the competition in style winning four medals on the opening day.
Asian Pacific Classic & Equipped Powerlifting Championship is held over five days in the land down under and will conduct competitions in both Classic and Equipped categories. Classic category does not permit the lifters to use any external support while in the equipped category the lifters are permitted accessories in the likes of bandages and knee straps. The lifters are required to perform three attempts at maximal weight on three lifts: squat, bench press, and deadlift, with the lifter accumulating the highest weight adjudged the winner.
The opening day of the event saw female equipped competition for all categories being conducted.  Sri Lankan lifters competed in 72Kg Open, 63Kg Open, 47Kg Open and 84+Kg Junior category. All four lifters finished in the podium making it an ideal opening day for Sri Lanka.
Four National records tumble as Marian wins Silver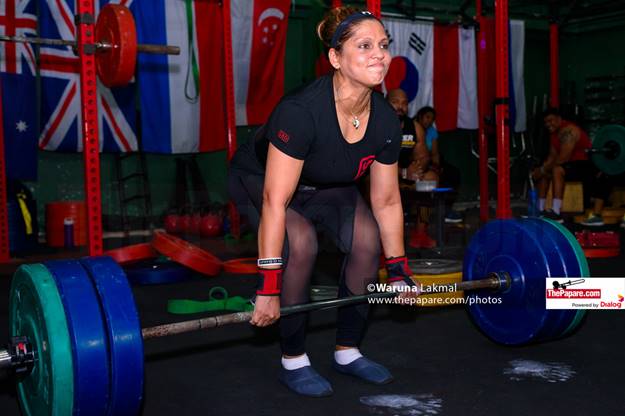 Competing in the Women's equipped 72Kg Open category Marian De Zoysa of Sri Lanka established four new national records en-route to winning Silver medal in the competition. She squatted 125Kg while clearing 62Kg in the bench press and 160Kg in the deadlifts. All these attempts were new national records while her accumulated total of 347Kg is also a new national record for the highest total weight cleared by a Sri Lankan competitor in the Women's 72 Kg category. Marian's total weight was the second-best performance of the competition securing her the Silver medal.
Gold & Silver for the Navy duo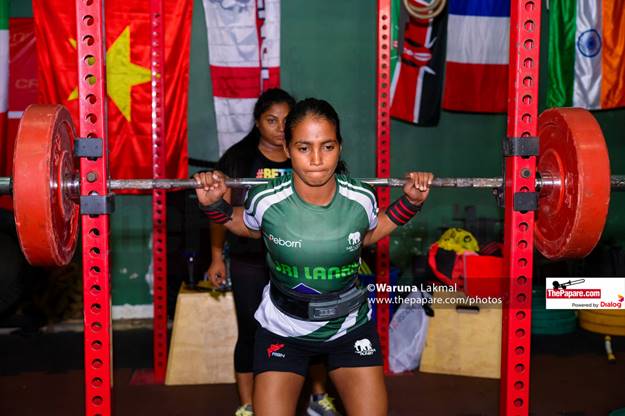 Navy duo Dilrukshi Wickramasinghe and Gayani Randuni won Gold and Silver respectively. Navy and national rugby player Dilrukshi competing in the Women's equipped 47Kg Open category cleared a total weight of 265Kg which consisted of a 110Kg Squat, 45Kg bench press and 110Kg deadlift.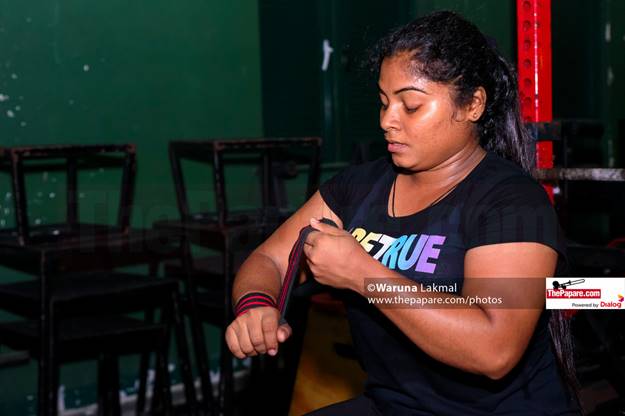 Gayani Randuni also of Sri Lanka Navy, won Silver in the Women's equipped 63kg Open category as she managed to clear a total weight of 285Kg which consisted of a 120kg squat, 45Kg bench press and a 120kg deadlift.
Christeen impress with a Gold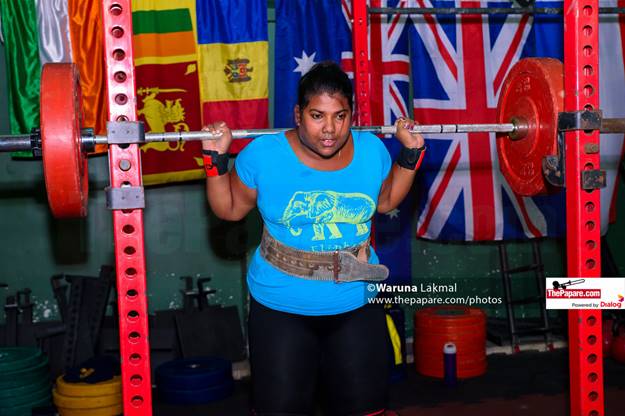 Young powerlifter Shehani Christeen impressed with a Gold medal in the Women's 84+Kg junior category. She accumulated a total of 220Kg which consisted of 80Kg Squat, 40Kg bench press and 100kg deadlift.
Tomorrow which is the second day of the Championship will see the Male athletes representing Sri Lanka in several categories in the equipped segment.