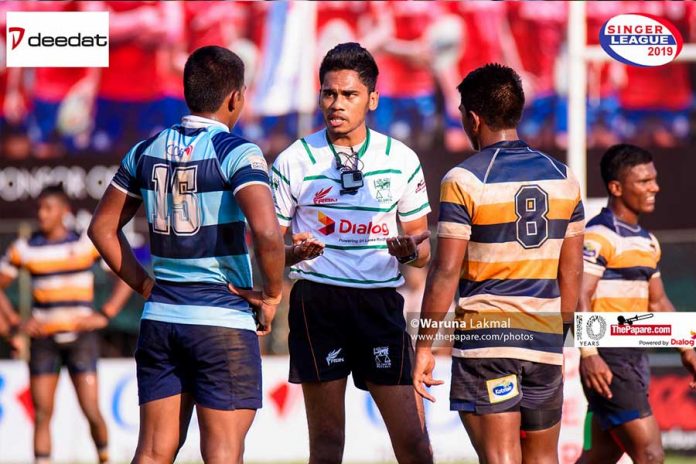 It was another weekend of high octane drama where the promotion-relegation in one group was decided. In the other– deciding who would be bottom of the book, as we roll on to the final week of the first round of the #SSL (Singer Schools League) 1st XV rugby.
So, without any further ado, here are five of my footnotes from the weekend gone by.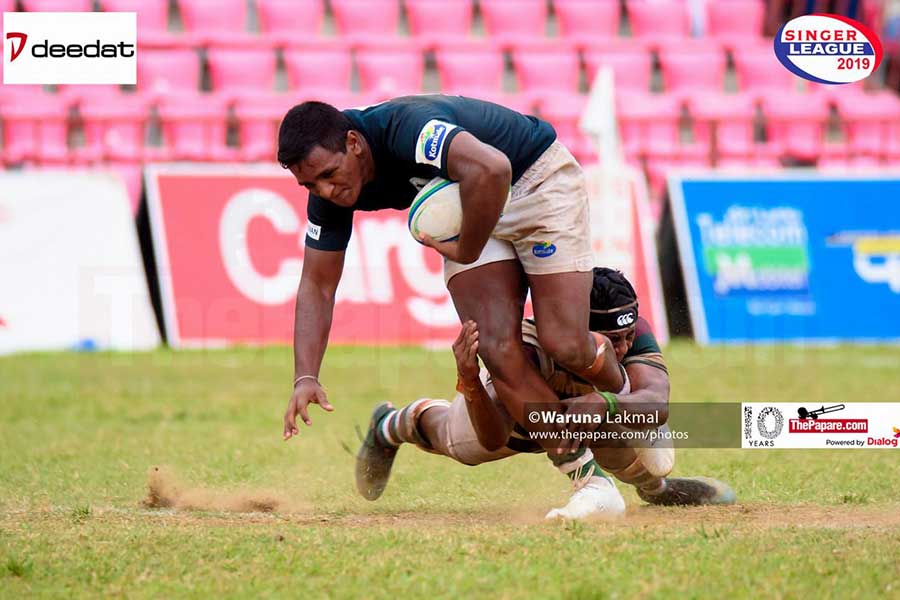 Newfound coaching focus
Being a 1st XV coach with a "high profile" school is a tough gig but very rewarding. Relative to the level of where the game is at in the island nation, it is almost obscenely rewarding for a select few. In other words, over-paying. Schools, their alumni, and their supporters will go to extraordinary lengths to win a title. It would make for a perfect billboard for a master card advert.
"Hiring a schools 1st XV coach LKR XXX,XXX but winning the league: Priceless".
For these coaches, there is much more than just a pay packet to sacrifice but in more ways than one, it almost always comes down to that. Hence why the local rugby community at large were confronted with certain methods and tactics which caused a roller coaster of emotions. Denial, being the most obvious.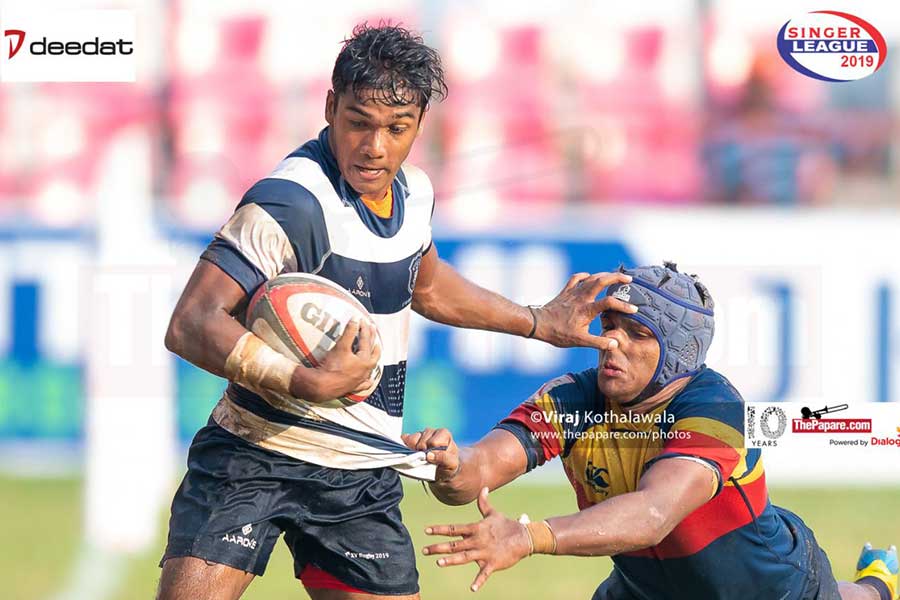 The reason for my elongated intro is to stress on how much focus and responsibility being a 1st XV coach carries. St Joseph's and their long-standing mentor–Nilufer Ibrahim, who "resigned" from CR &FC midway through this season has certainly found his mojo. A renewed and singular focus on the saints, the Josephians alone, has certainly paid dividends.
 Parting ways with the Longden place club in my view is the best thing he did and the best thing to happen for St Joseph's.
Looking at how well he has got his team managing their games with strategic execution, is first class. The evidence against Trinity was that of articulate planning.
It looked slick and very professional. Understanding their strike zones and which part of the field his team is most effective in, is clear as daylight. Pinning Trinity across the face and on the retreat, forcing their forwards to back peddle in the Colombo heat. I suspect that they will only improve and will pull out all their stops when they meet Pathana this weekend.
As a coach, he's grown and leapfrogged by making some personal breakthroughs which in turn have transferred onto his team. Where focus goes– energy flows (Tony Robbins from the art of focus).
What's even clearer is that, as far as coaching goes (in SL), capacity and capability dictates that monogamy will trump polygamy. As far as schools and their administrators who dig deep into their pockets– take note. It's a no brainer. It is in the best interest of your school.
---
2.The goose is cooked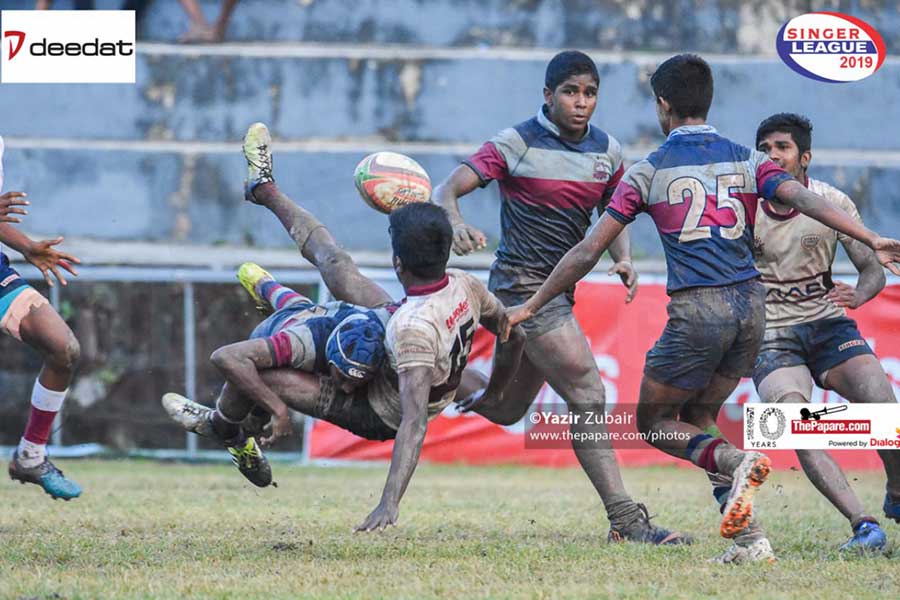 SACK got the sack from the top tier and championship. After their fourth straight loss, it condemns them to the Plate segment and it would be a savage blow for a school with a proud rugby history.
It almost makes me say it with a heavy heart but they deserve better. However, reputations count for nothing and they need to get their ship in shape. Maybe the lower tier will give them that chance.
Win the plate and get promotion back into the top tier again? That's a very likely scenario based on my stats_pert ratings.
Zahira, another side who went four straight in the L (loss) column, will join SACK in the lower tier. Two very competitive sides who have way more ability than their results reflect. This will make for an interesting case of what sauce for the goose?.
---
3.The art of winning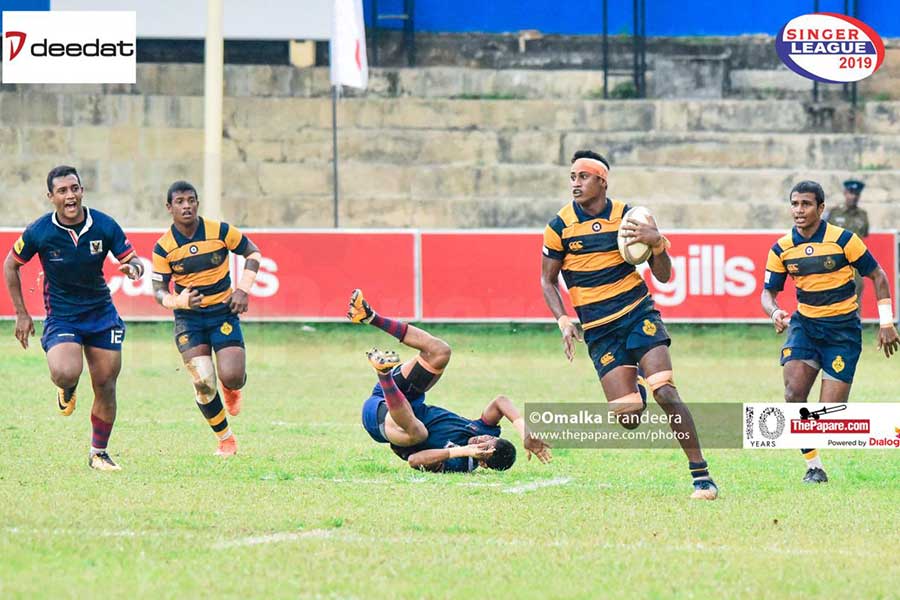 In my week 3 episode of #straighup video segment I made reference to a key matchup and formline where Kingswood would host Royal at Nittawela. It was a "tricky affair" for the defending champs. It proved to be exactly that as Kingswood hussled, wrestled and used their goal kicking to stay within a kiss from reeling them in.
Royal is certainly a big fish and the last 90 seconds of the game underscored this. If we roll back the tape across the last 3 seasons, under coach Dushan Lewke, Royal has mastered the art of ruck recycle. Picking and going when the ball is presented at a ruck, much like a flower at a place of worship. Then there is the one out one back method when they want to change the point of attack, three or four out/deep on occasion in a predictable but effective pattern.
Royal went 31 phases within the last 90 seconds to completely shut out Kingswood who had no idea on how to turn over watertight ruck recycling. It was a complete shut out. To be fair, very few teams around the world could "legally" pinch ball against this kind of clinical accuracy. They back themselves with their systems and processes. A valuable lesson I witnessed Royal learn on their 2017 tour of New Zealand.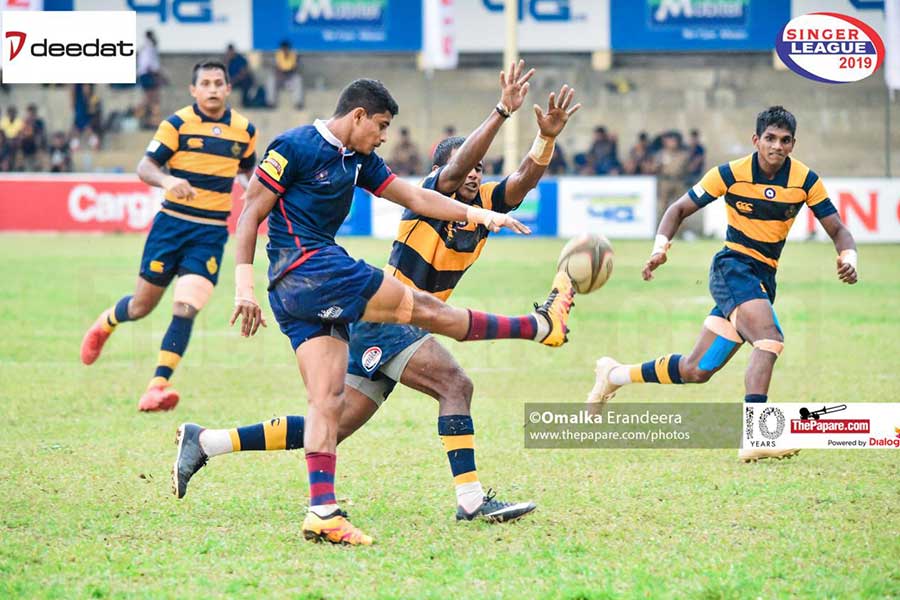 It was the only period in a game where Kingswood was otherwise, mostly, all over Royal. The hosts had almost 70% of possession and took 6 shots at goal (4 were converted). All that was nullified as the Ried avenue mob "T-Rexed" Kingswood in a workmanlike–exhibition, to safely close it out. In my view, it verified what we can expect from them when in a tight run.
It is their art of winning.
---
Pathana wobbles and Zahira's heroics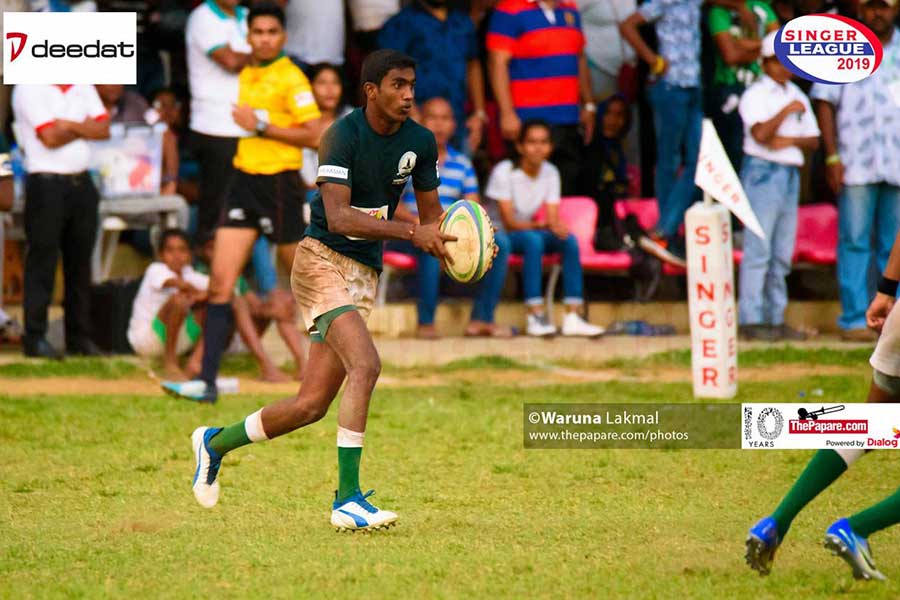 The week before we saw Pathana and their progressiveness come to the limelight. They were slick and looked to attack from almost everywhere. All passes were sticking and their boys were running hard on to passes in their multiples. It was thrill-a-minute stuff.
Fast forward one week but an expectant further progression was replaced by some regressive errors and penalty prone rugby.
There were plenty of handling errors, not retreating from the foot in a ruck situation with the Green machine coming unstuck and running into "traffic jams" (either side of Manilka Ruberu). What this told me was that they were slack in executing their playing patterns and used some ineffective plays.
Strange, from a side of this quality but it just goes to show what pressure and a bit of determination from Zahira did. They played out of their skin but Pathana was classy enough to romp home 17-3. A scoreline which was a lot more flattering than it should have been. It felt more like a 7-5.
---
5.Yellow fever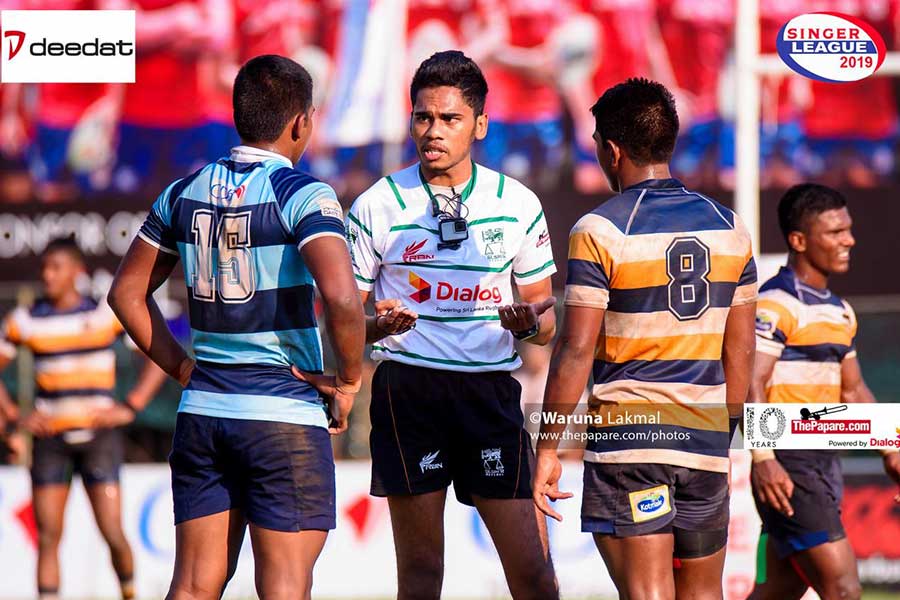 In a game where we had an incredible start, Wesley hosting St Peters at Longden place saw the ball, LIVE in play for 21 out of the first35 minutes. It was an incredible game of end to end rugby. Wesley scored two set-piece tries in the first 20 minutes, matched by St Peter's from broken play. A perfect match up of styles.
A full house and a huge online audience were loving it.
However, as we entered the second half, indiscipline, erratic-ness and crowd restlessness aided and abated the game to deteriorate as four yellow cards were issued. Wesley and then St Peter's took turns to be reduced to 13 men each. High shots (marginal call), a penalty try, intentional knockdowns, and a foot trip made up the wrap sheet. It was a bit unfortunate in an otherwise high-octane encounter.
I have to say, the high shots were more a result of brisk contact. It is a fluid game and sometimes you need to allow for it to flow. Rather than pull up every possible glancing shoulder on trapezius.
St Peter's roared back into contention with an easy win in the end but copping yellows when the heat is on can be a costly exercise, when they meet table-topping Royal next week at Bambalapitiya. Wesley, for their part, were aimless with their kicking in play. An undercooked performance from a side who has promised so much but now fight for survival in the A division.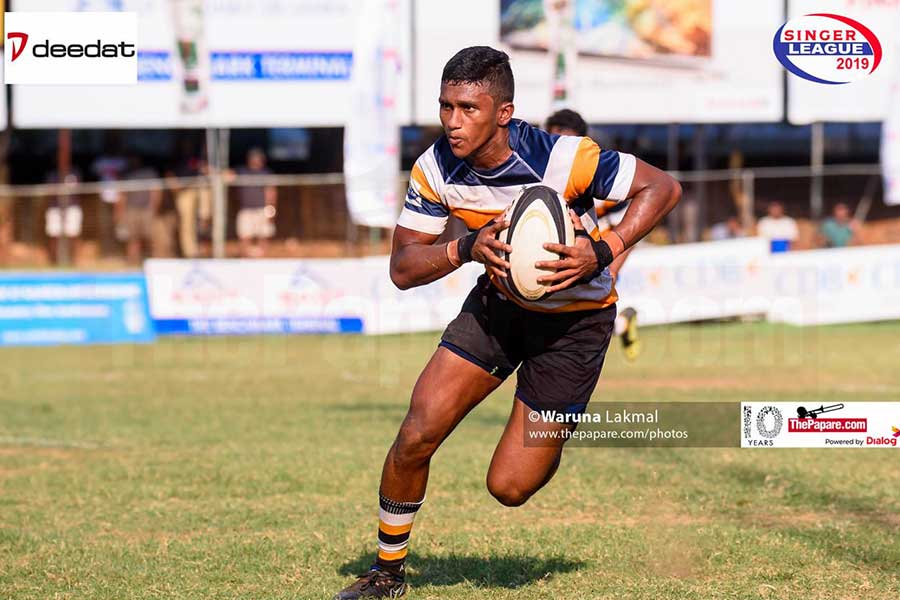 St. Peter's have their ticket for the Cup Championship!
---
Hero of the week:
It goes to Kingswood's skipper Milan "Thanos" Weerasinghe. His exemplary leadership is something I have admired over the last four weeks. Taking five shots at goal and deciding to take the points, when most would have opted for different. It is refreshing to see a young man who knows how and when to lead. His decision making was forthright.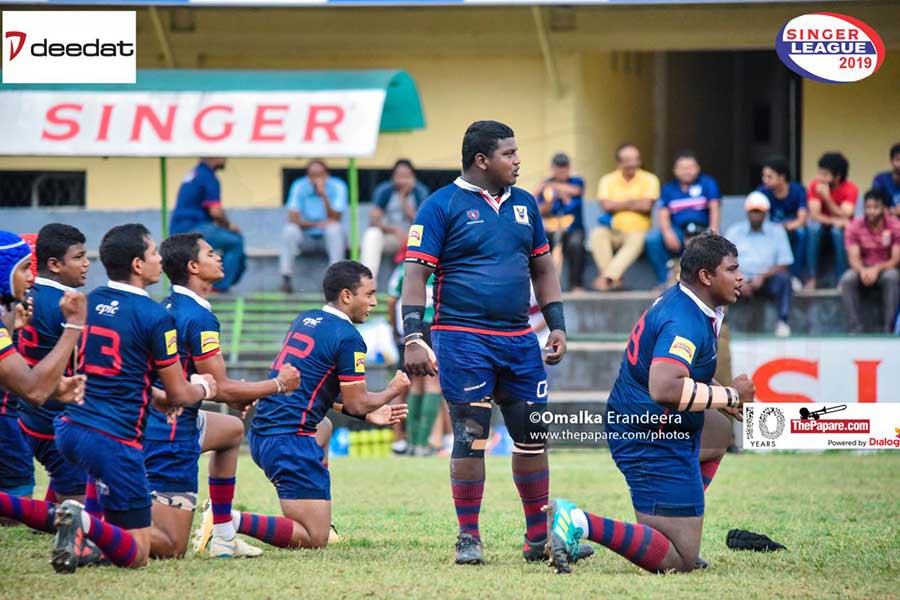 However, it wasn't good enough to get them the win but in my mind, if you're looking for a leader at junior representative level, "Thanos" is your man. Physical presence, great on-field manners, and a terrific all-around player.
Play of the week:
Wesley's first try off a set piece/scrum which was a re-run from their training day off yesterday. They then went on to score another. Putting together 4 tries from set plays inside 21 minutes of rugby. That's the 2 from their last 9 against Royal and 2 more against Peter's within the first 12…(but then the wheels came off).
The verdict:
On Sunday, we "knew" the Clifford cup final was on (Club K/O) contested in front of an abysmal fee-paying crowd which was next to nothing. Across town, there were about 4000+ at a schools game. A promoter's dream– had the two been co-mingled. It was suggested by yours truly.
Be that as it may, it never eventuated. Should have- could have- would have. In the end, it was unanimous. Schools rugby dwarfs the club premiership like Goliath did David. There's nothing like schools 1st XV. It's a one-horse race. To make matters worse, Kandy's non-participation made the K/O as hollow as could be. Should have-could have- would have?
Yes. That's a big yes.
#straightup #stats_pert