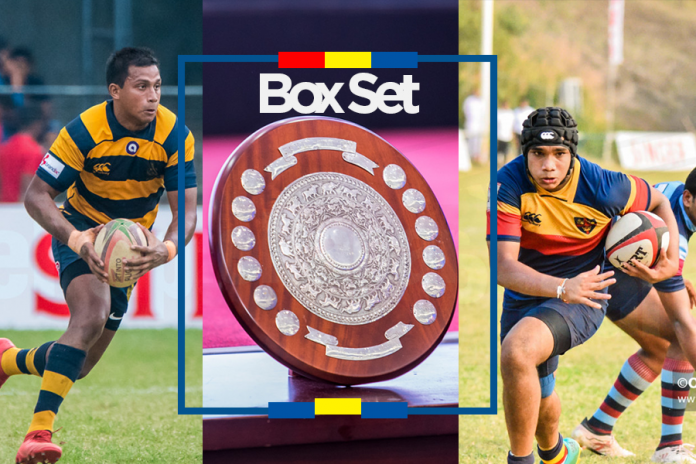 It was week 3 and we are 3 games down. Both Royal and Trinity build up to their all-important blue ribbon encounter in 8 weeks. Trinity was on a short 4 days back up, bouncing off a loss to Isipathana in a high-speed car chase like encounter and Royal, laboring by the beach on a cricket ground which hosted one this season's more glamorous clashes. A whistle fest from start to finish. That being the Michael Gunarathne.
So– how did this week stack up? Let's take a closer look.
Round three- Week 3 March 2019
Trinity beat St Anthony's 35-10 (7T V 1G 1P) @ Home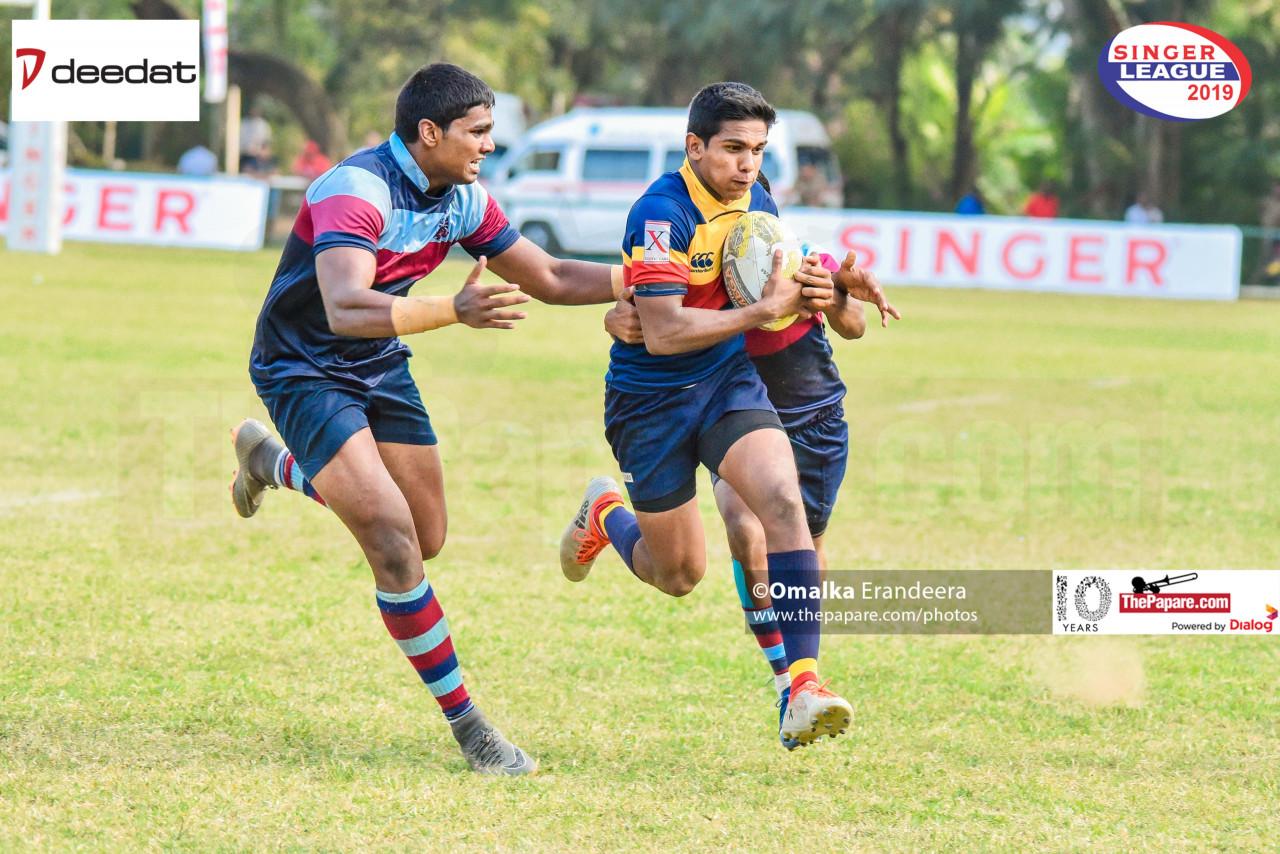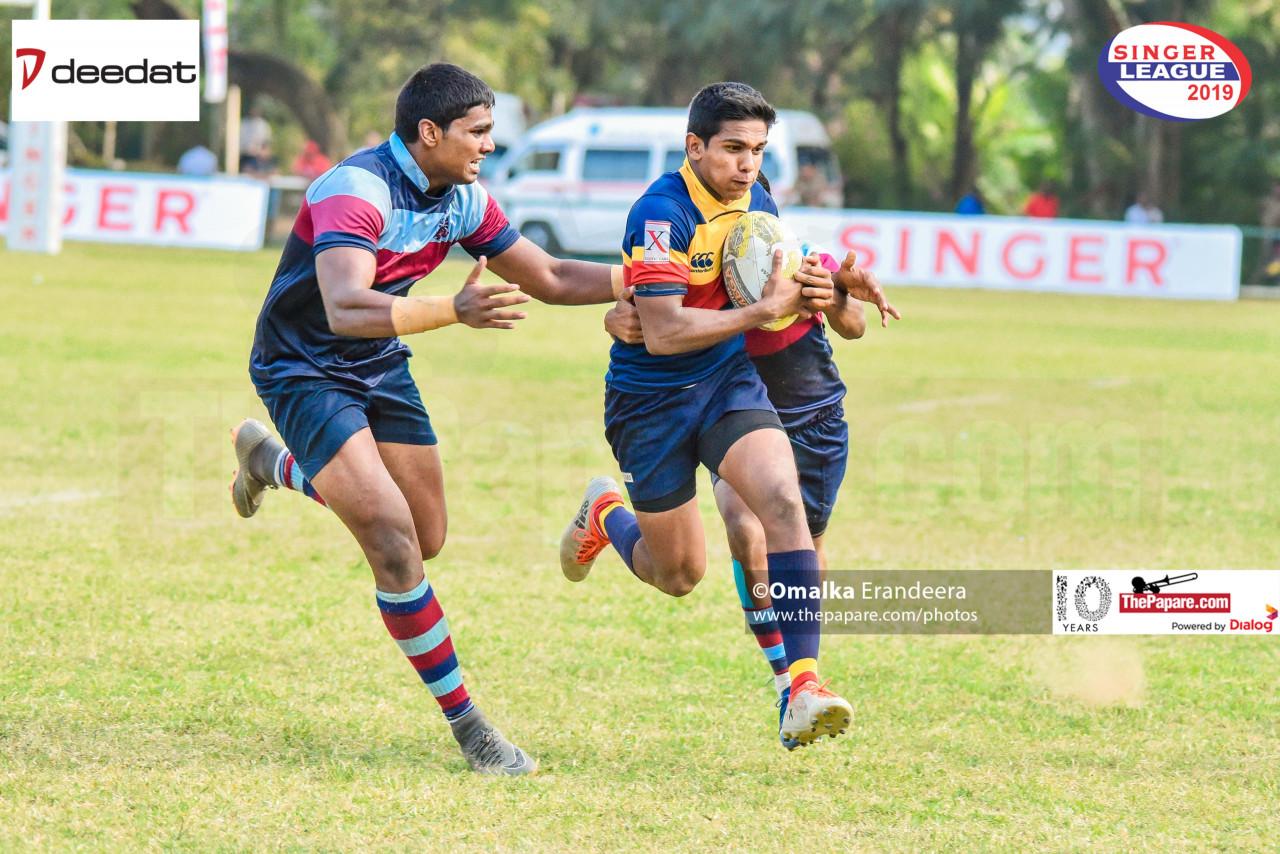 Keynotes and stats
TCK play 140 minutes of rugby between a 96-hour turnaround

TCK scores 7 tries, all of which are UNCONVERETD

35 points, minus 14 (possible): 0% kicking by 3 different kickers at goal

Geeshapa Kulathunge's 61st and 65th min. tries with 2 clean breaks and 4 tackle busts

Reshan Bandarnayake 31+ run meters and 4 key tackle busts

Nimesh Ekanayake with 21+ run meters in 5 ball carries, ave. +4.2m per carry

Their zig-zag carry patterns with 3-3 ruck recycle hitting top gear in the second half

VIDEO watch analysis: The back 3, their work rate and out and out speed.
Glaringly, Trinity scored 7 tries and literally doubled their overall try tally for the season, plus one. The most notable stat is that they failed to convert a single try. A duck egg of a kicking percentage which could come back to haunt them at Bradby time. They bridged a 5-point deficit to come back 30 points inside 35 minutes.
Read More : Bradby Box set
They played an opponent who was markedly different from Isipathana. SACK isn't a side who should cop a 7 try rolling but they did. As the second half started, fitness and superior playing patterns allowed for TCK to roar back into the game.
Division IIA Points Table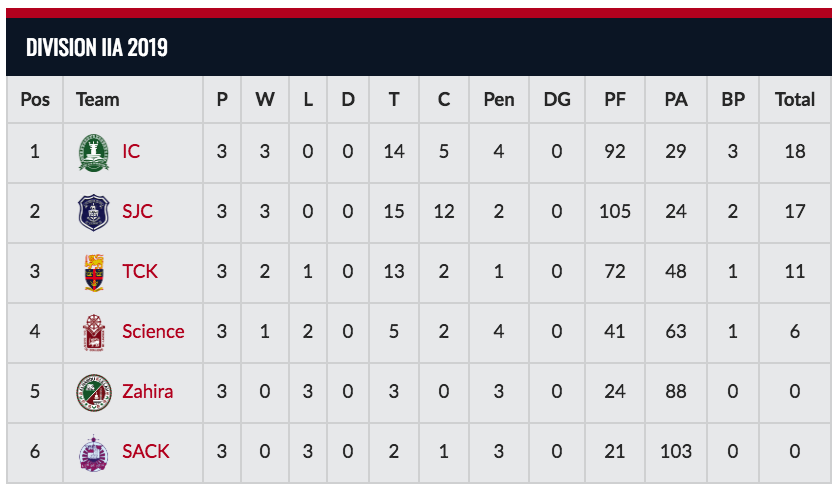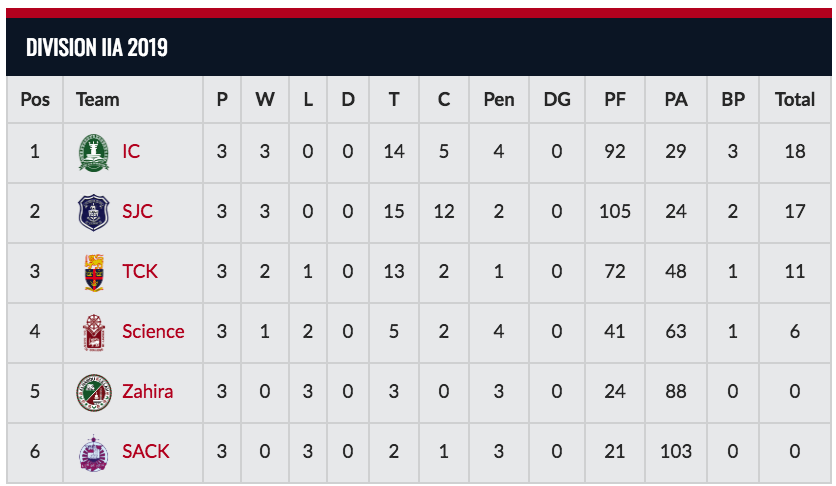 An ability to zig-zag by using pods of forwards by retaining possession, a common denominator in rugby all over the world, SACK started to drop off tackles upon TCK's 6+ phases, allowing for TCK back three and most handsomely, Geeshapa Kulathunga–arguably the SSL's fastest man in a foot race.
"Geesh lightening" … His two tries within four minutes had extreme pace and pure skill, parallel to the sideline. Maneuvering within a 2-meter range of little to no space, he is their ace of spades and game breaker.
Tactical subs: Halfback, Koojana Kulathunga with first five eights Subasinghe, injected an extra boost of pace and skill which propelled Trinity in the second half. They had a near perfect catch and pass stat with a couple of telling movements which forced their outside backs to run a lot straighter. Key form line going forward.
Expert tips: Looking forward to an almost inevitable re-introduction of Lennox Calyanarathne, former Royalist and now Trinty back rower, recovering from injury. Picking him to slot in either openside loosie or No.8.
This game was a potential 49-point score but ended at 35-10. The goal-kicking will need to be addressed and something to look forward to, next week.
Read More : Broken whistles and muddy boots
Royal beat Wesley 24-19 (2G,2T) @ Home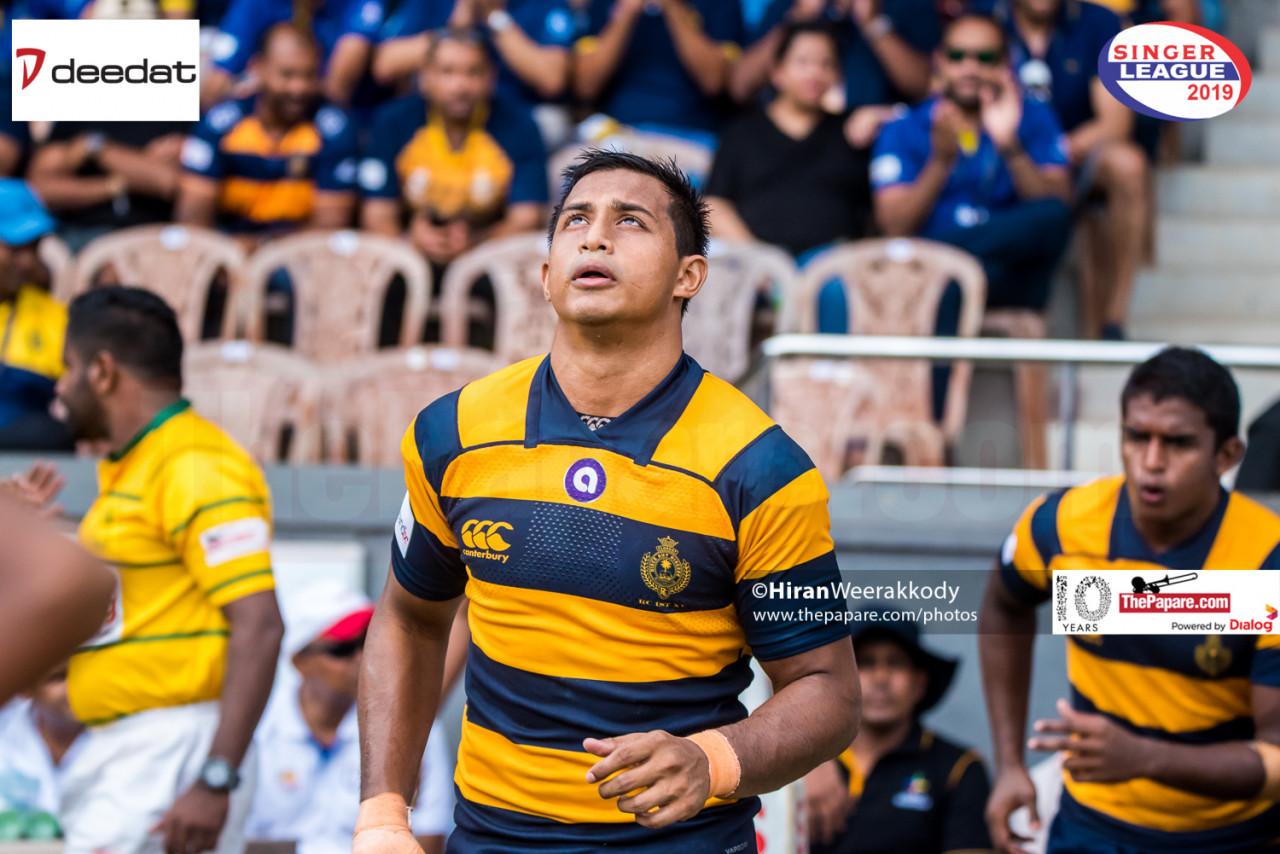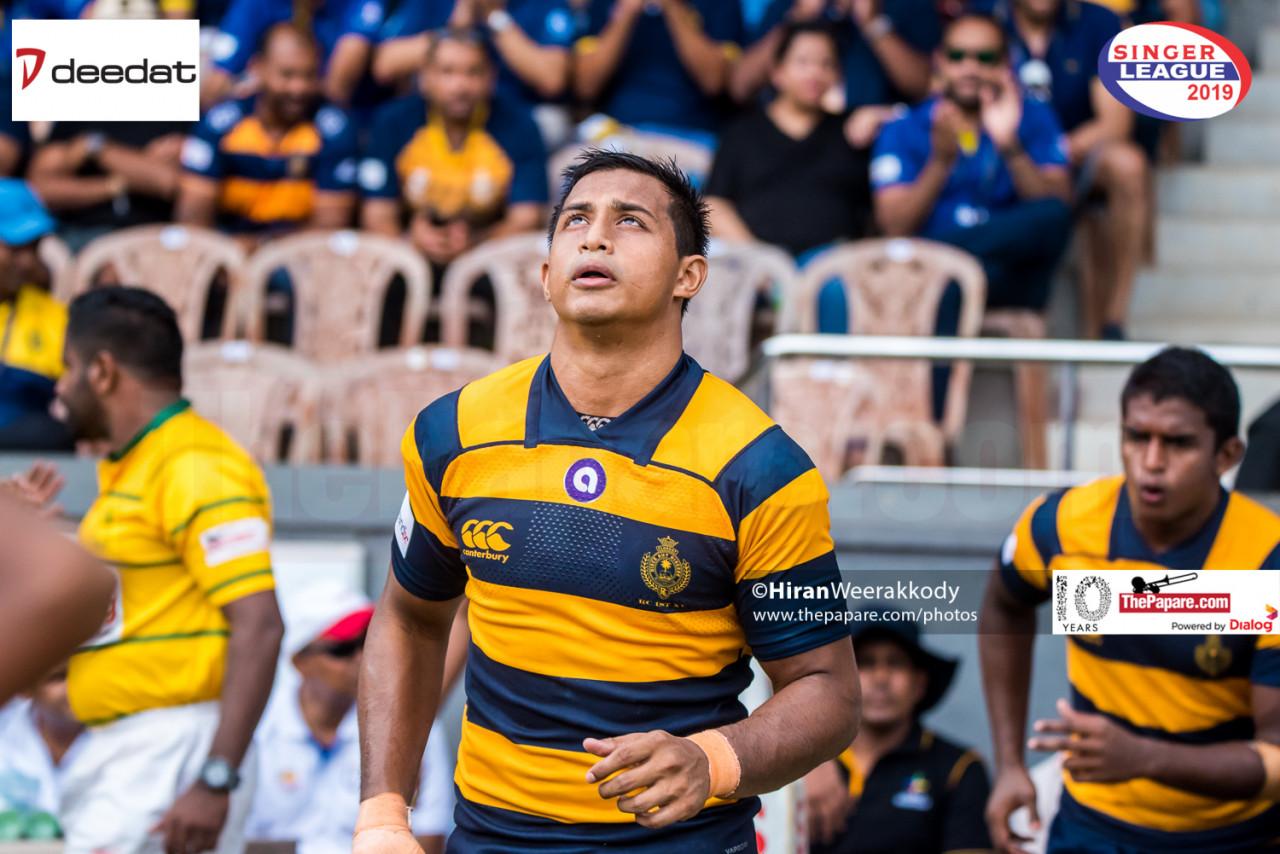 Keynotes and stats:
RC make 9 handling errors either side of half time, 4 in the last 12 minutes

RC in the 34th-minute scored a 51+ run meters, 15 phase try on the stroke of half time

RC make key positional halves changes: Yasojana and Nandila start at 9 and 10

Kevin Samarasekara, last week's Video watch player finishes off with a run around finish

As the rain arrives, RC forwards carry a total of 45+ rucks in the second half

RC miss 3 tackles inside the last 9 minutes, to concede 41+ run meters and 2 tries

VIDEO Watch analysis: Royals pick and go strategy when on a heavy, muddy surface
Wesley has now become a real thorn in the flesh of the Tuskers. They, like a stinging ant, seem to somehow find a way to get into their trunk and cause a bit of chaos. Namely, Murshid Zubair has troubled the Reid avenue team with some stunning passing, kicking and orchestrating from behind the gain line. Key form line– attack from behind the gain line.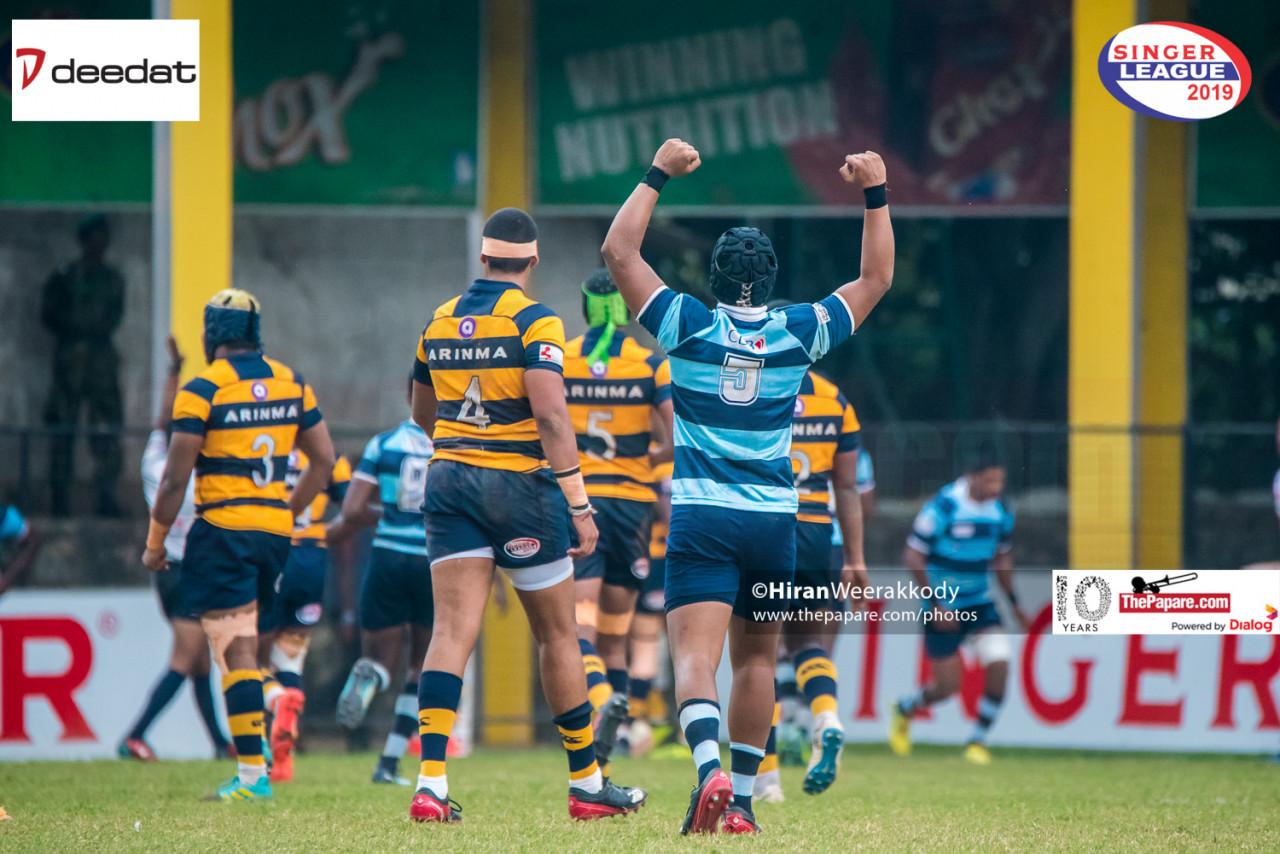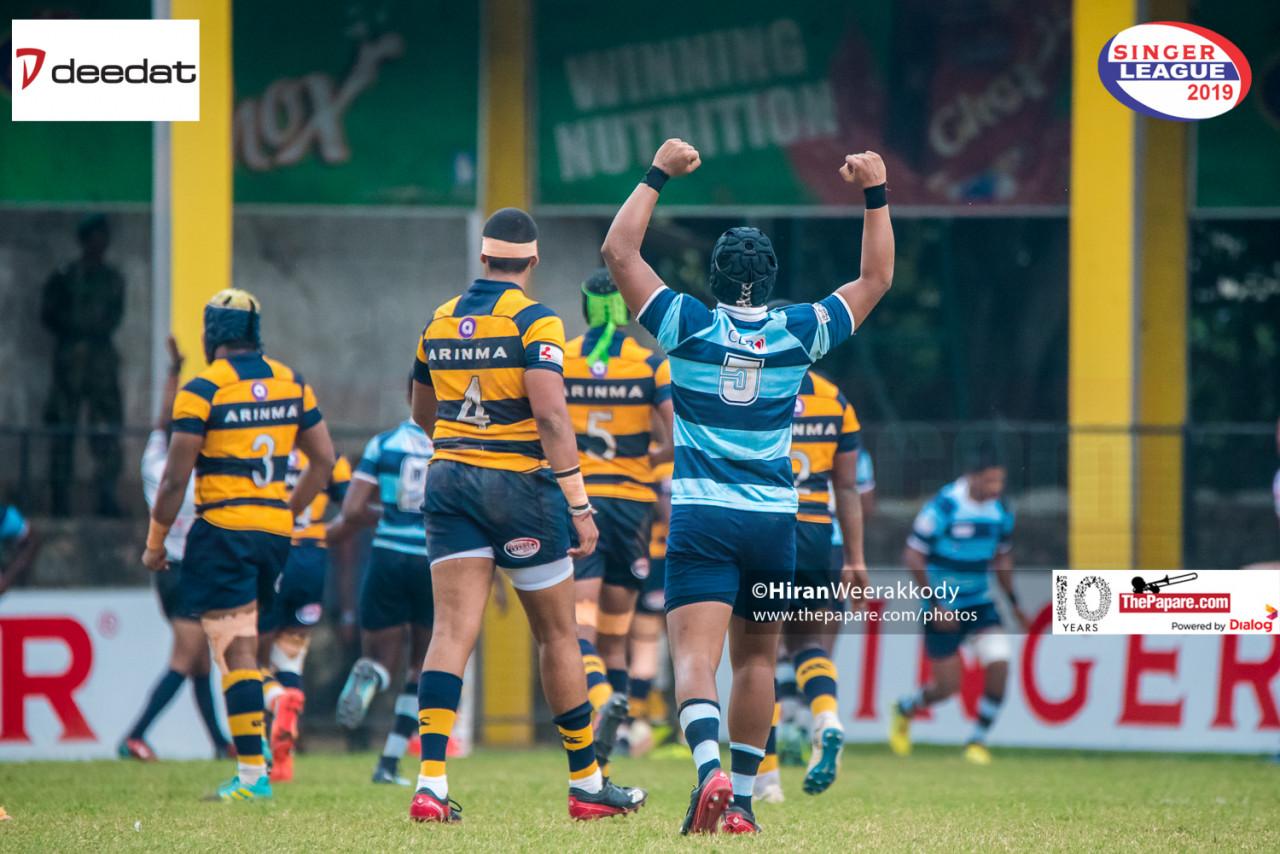 This nullifies to a large degree Royals rush defense. It is in your face as demonstrated by a pile driving 12-13 gang tackle in the 19th minute. It is brutal and uncompromising. Zubair's Sunday master class with his tactical kicking kept Royal pinged in their own 22 for large parts of the first half. He hoofed it from left to right, across their face, and behind their winger. Then it happened, midway through the first 35, Royal got into that mode of ruck recycle and swatted Wesley away for a sustained period. They, when clinical at presenting clean, fastball for their halves, the tries felt inevitable. They were. Tackle busts happened at will and Wesley looked pedestrian.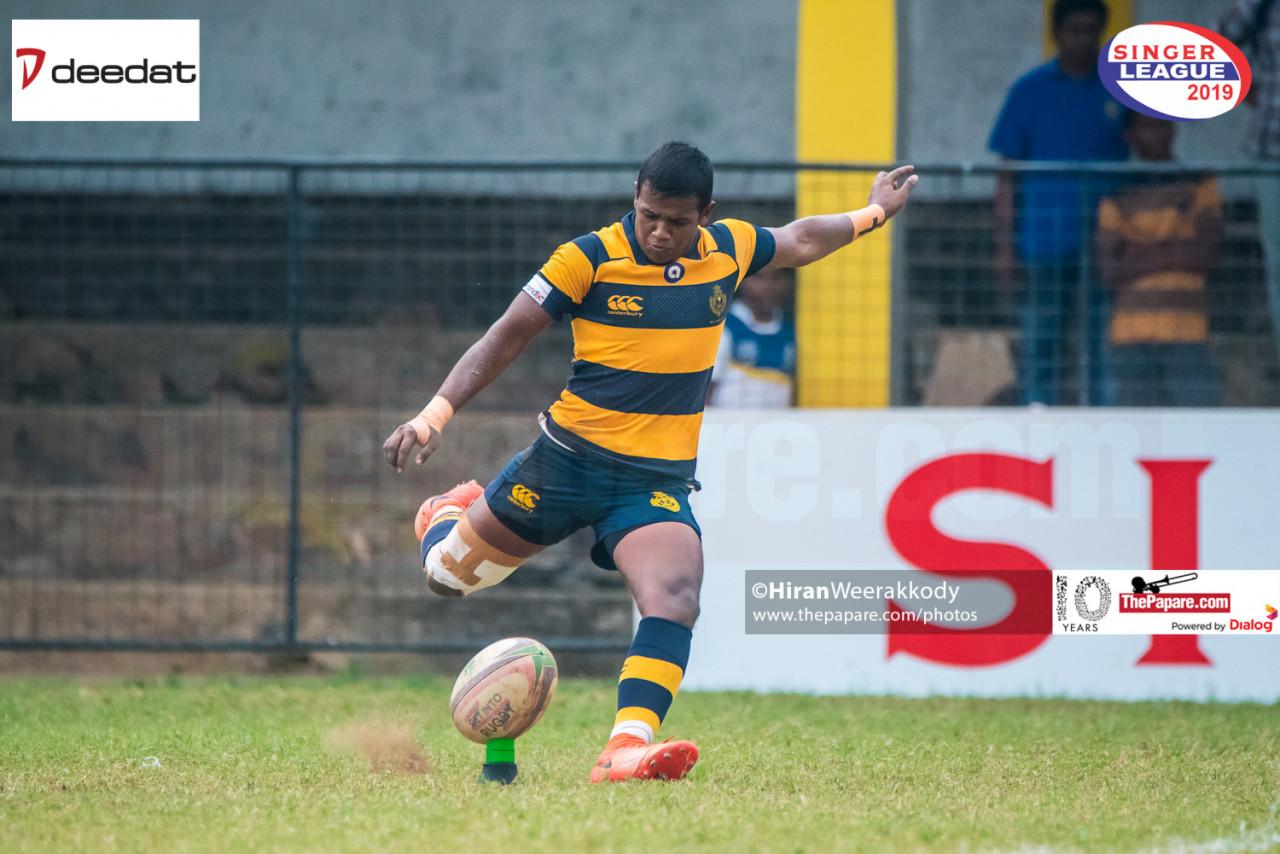 All in all, it was a comprehensive performance until the last 9 minutes. Royal dropped their guard and after picking and going on an irrigated surface, full of mud, they cough up the ball just meters from scoring. Then, that player, yes… Zubair boots it downfield. In the follow-up scrum off a Royal knock on, Wesley goes bang-bang much thanks to Royal's erroneous defense.
Wesley kept getting invited into the game. An uncharacteristic flaw from a usually flawless team in the collision area. Something for coach Lewke to work on.
Read More : Pathana progression and a Royal R(f)umble
This will cause some concern but importantly, Royal got the W. It is week three and whilst seeing more progress, there is much accuracy to be sought. That said, on my ratings and stats_pert key indicators, Royal is comfortably ahead and will only improve for next week. Kingswood at Nittawella. Another "interesting" assignment.
Tactical subs: Lehan Gunarathne coming off the bench to first five eights and playmaker, Nandila pushing back to his pivotal second five (12). The rotation of their front rowers as Sirivikum got a start at loosehead prop.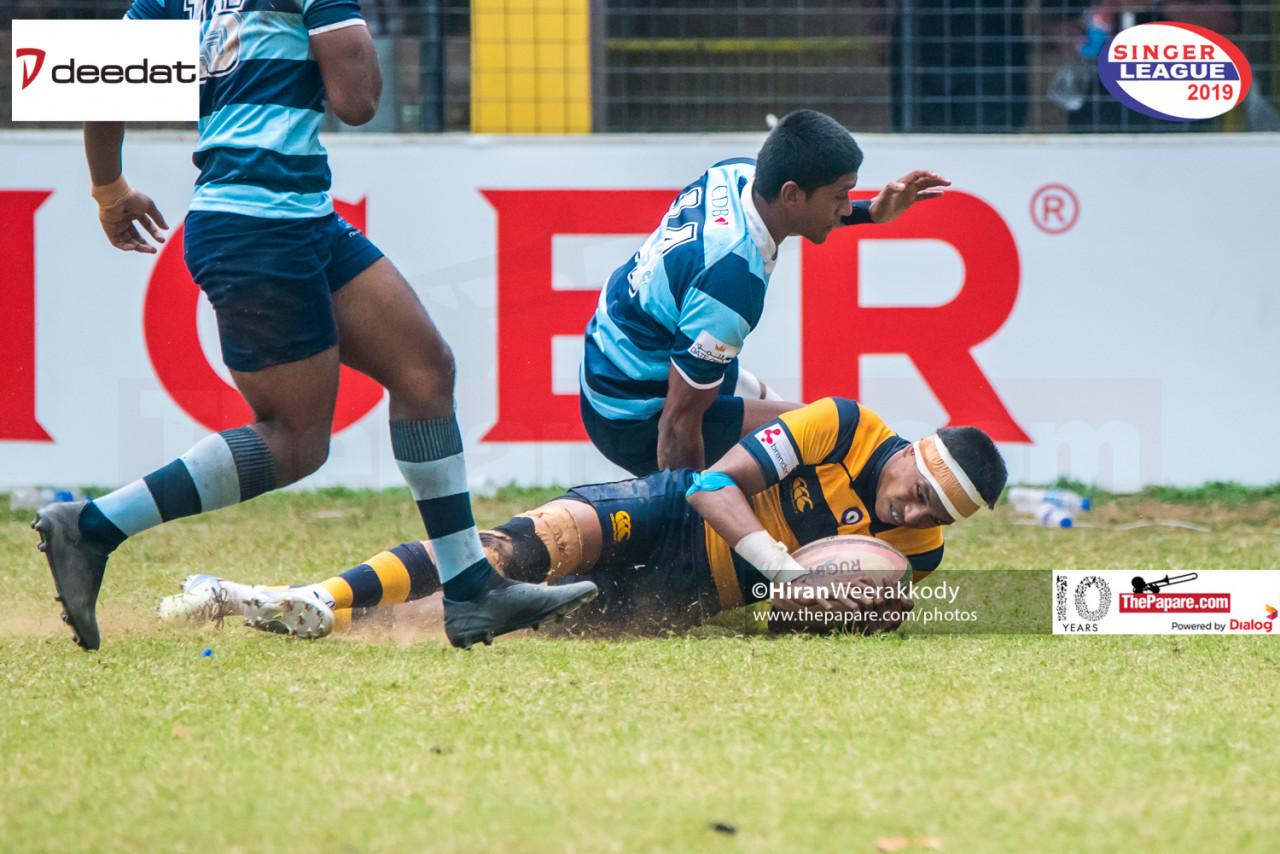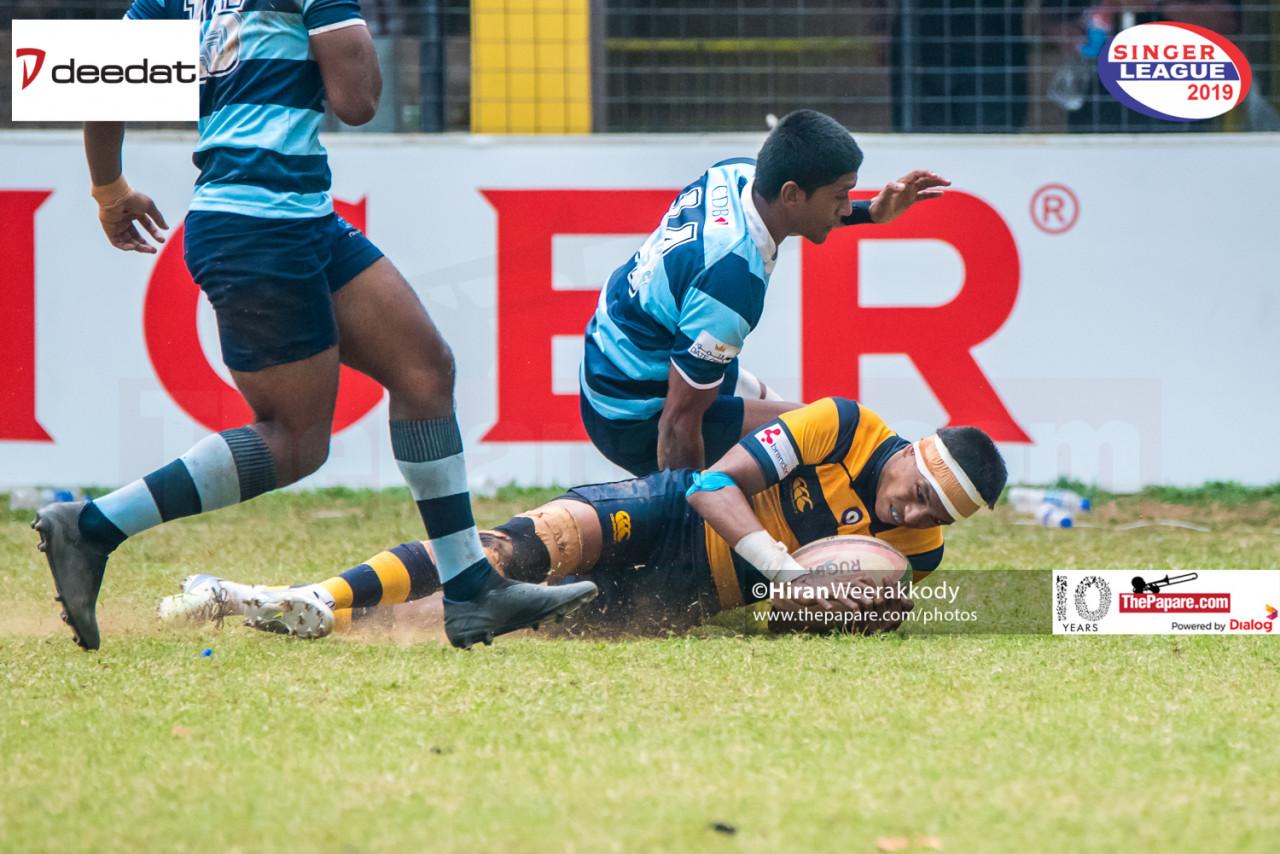 Expert tips: Just like TCK, look for Dulan Gunawardena to really hone in on placekicking duties and improve their conversion rate. Missing 2s and 3s will eventually hurt them and let's hope it's not during the Bradby as they look for a five on the trot.
Points table head to head after week 12: 3 from 3
TEAM FORM Tries Con Pen DG CON% PF PA + /- Ave PPG

ROYAL WWW 17 9 52.9% 103 35 68 34.3

TRINITY WLW 13 2 15.3% 72 48 24 24
Rewind 365: 2018 SSL week 3
Royal beat St Thomas 55-0 @ Home V Trinity lost to Kingswood 21-23 @ Away