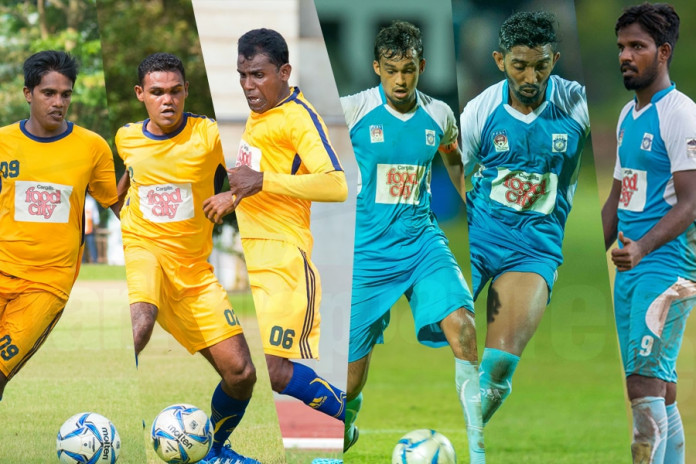 The Cargills Food City FA Cup 2016, Sri Lanka's Premier Football Knockout Tournament which kicked off in January with over 500 teams from all over the country, has now been reduced to just 2: Army SC and Renown SC.
The two top division teams know all about each other and it will no doubt be an entertaining clash when they lock horns in the final on Saturday the 11th of June at the Sugathadasa Stadium.
Road to the Finals
Renown SC, joining the tournament in the Round of 32, got through their first hurdle courtesy of a walkover, when Kalutara Park decided to pull out of the tournament.
They have been very impressive since then, coming back from a goal down to win 3-1 against New Youngs in their Round of 16 clash.
In the quarters they ran riot against Java Lane beating their rivals 5-1.
In the semis, they were pushed to the limit against Saunders SC, needing penalties (4-2) to overcome their cross town rivals after the game finished 0-0.
Army SC, got off to a nervy start to their FA Cup run beating Nandimithra SC in the Round of 32 by a narrow 1-0 margin.
They beat the daylights out of Brilliant SC in the Round of 16, going through with a 12-1 win over the minnows from Ampara.
They let a 2-0 lead against Air Force slip to 2-2 and had to go through 4-2 on penalties in their quarter final game thanks to the heroics of goalkeeper Nilanka Kumara.
Their biggest scalp came in the semis though when the knocked out the defending champions Colombo FC 1-0 in the semis, avenging last year's defeat at the same stage.
Key Players
Renown
Mohamed Fazal, the Renown wide midfielder has been a consistent performer and a constant threat with his play down the right.
Fazal scored in both the New Youngs game and the Java Lane game, and despite missing his penalty in the shootout against Saunders SC, he was one of Renown's best players on the day. His pace and trickery is likely to trouble the Army defence.
Penalty delight for Renown seals FA Cup final spot
Job Michael, the forward also has 2 goals to his name, but will need to make better use of the chances that come his way in the final. If he can improve his conversion rate in the final, Army will have a real problem on their hands.
Fazul Rahuman, the veteran central midfielder is key to the passing game that Renown have now become known for and will need to be at his best in both halves of the pitch, when setting up attacks and breaking up play, if Renown are to beat Army.
Army
Sanka Danushka, the midfielder will be key if Army are to starve Renown of the ball and play their own brand of football.
Saunders were able to frustrate Renown with Sanoj Sameera pulling the strings in midfield and Army would be hoping that their experienced central midfielder can produce a similar performance in the final.
Resolute Army starve holders Colombo FC to book FA Cup final
Sajith Kumara, the forward, is in good form and scored a screamer to edge them past Colombo FC. A player who could add to his tally of 3 goals in the final if given the opportunity.
Mohamed Issadeen, the talismanic forward was forced off the field in the semis with an injury, and Army SC would be praying that he'd be fit for the finals. He has scored an incredible 10 goals so far in the tournament and a fit and firing Issadeen will be a threat for any defence.
Watch Live: Army v Renown FA Cup Final
Previous Meetings
The previous 2 encounters between the 2 teams have ended in 1-1 draws when they faced each other in the Dialog Champions League.
DCL 2015 Super 8: Renown SC 1 – 1 Army SC (Ojinkeya – Sajith Kumara)
DCL 2015 Group Stage: Renown SC 1 – 1 Army SC (Mohamed Fazal – Madhushan De Silva)
Final Say
If recent results are anything to go by it could be a tight game, where Army will have to stop the Renown midfield from playing their passing game if they are to stand a chance. Issadeen's fitness will be crucial to Army hopes, and energy levels in the Renown camp may play an important factor in the game as well with many of their players fasting during the Ramadan period.
All in all it should be an exciting clash this Saturday kicking off at 7:00pm, a game most certainly worth watching. You can catch the action live at the Sugathadasa Stadium or in the comfort of your living room courtesy of ThePapare.com.