Taking a break from his hectic schedule, the 27-year old technically correct right-hander was feeling nostalgic when we got in touch with him to re-live his experience at the 130th Battle of the Blues.
Faahim's match saving knock where he batted for 545 minutes and scored 165 runs and was involved in a 209 run partnership with skipper R Nirushan saved the Thomians from the jaws of defeat.
How would you describe that match saving innings?
Very special. It was my second Roy-Tho.  In the second innings, we were made to follow-on and were on 21 for 2 trailing by 214 runs. The partnership between Nirushan and myself saved the game. Trust me, I never imagined scoring more than 150 runs and batting for more than 9 hours. That amazing feeling being cheered on by your colleagues and been carried away after the match, is a moment to cherish. A special thanks to my parents for having supported me and given all the encouragement who were in tears of joy as I reached this remarkable feat.
What was the feeling in the dressing room at the time the partnership was going on?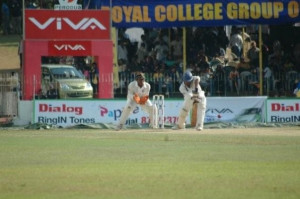 I was told that when Niru and I were batting everyone had to be seated in the same chair and every ball was cheered on with high fives passed among the teammates for every boundary scored. Only during the drinks interval that anyone could get up from their chairs and take a breather. It was great to see the smiles back on the faces of everyone at the end of the day 2.
How did your journey with cricket begin?
I always had the passion for Cricket from young days. It was my uncle who spotted the talent during the days we play on the street with the tennis ball. He persuaded me and got me membership to the school of cricket at SSC where it all began. I consider myself very lucky to be watched under the stewardship of the living great Mr. R. Bertie Wijesinghe and the late Mr. Jerry Gunarathne.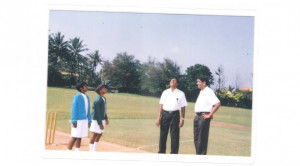 I started playing cricket at my alma mater when I was 10 years old and represented all the junior age category teams in the inter-school cricket tournaments before making it to the second XI. I was by no means a prolific run scorer when playing in the junior age categories and batted in the middle order. I knew that I had to transform and improve my game after my final Under 17 season to have an opportunity to knock at the doors for 1st  XI selection. I was lucky to perform well enough at the 2nd XI level in order to earn a draft in the 1st XI.
In my very first game in the big league, I was able to score a century in the next game, I followed it up with another half century. Our cricket coach at that time was the Late Mr Ranil Abeynaike.  He was the best cricket coach and mentor that I have had and a person that we miss to date. That same week we had a1st  XI game against Mahinda College when I was asked to open the batting for the first time.  I started off well by making a half century on debut and from that point onwards I didn't look back. As I was consistent during the season mustering up 950 runs I got to play the 129th Battle of the blues where the Thomian side was led by Jehaan Thahir. I opened the batting with Jehaan, but it wasn't the best of big matches for me as I was caught behind for a "Duck" in the first over of the 2nd day in our first innings and made 23 not out in the second innings as rain caused the match to end in a draw.
Has being a part of a team, participating in a big sporting event in your school influenced how you work today?
"Yes, very much. Whilst I was working at the audit firm it really did help when I had to work under my senior in-charge. Teamwork was very important as it was a collection of work that was then sent to the client as a report. Planning, getting the job done, working to deadlines and most importantly liaising with senior staff were important aspects that sports taught me. Something that I learnt whilst playing cricket was commitment and determination which also helped me at work. Also, man management and leadership skills were important as well when dealing with certain situations. Cricket and S.Thomas' has helped me with the skills you need to possess at a professional level. I have also learnt not to give up during the tougher times and to keep pushing myself. These little things help hugely when you are an employee in an organisation or an entrepreneur. After all  'Life' is nothing but a test. As they say "When the going gets tough, the tough gets going. May God bless S Thomas.
Could you describe a typical work day in your life?
Currently as I am on a career break in order to complete my professional qualification so the main priority these days is studying.
Anything you would like to say to the present crop of Thomian players?
Enjoy School life as it will never come back again. Once you enter the corporate world there's a lot of work pressure and time will be a constraint. Cherish the moments playing for your school and wear with pride your blazer. Play the game in true spirit and sportsmanship and always remember that when you wear the college crest you are being watched and looked up to as you belong to one of the best schools in the world. Therefore, wear it with pride and honour.
Also, I wish Nallaperuma and his troops the very best and hope that the shield will be back at the school by the sea.