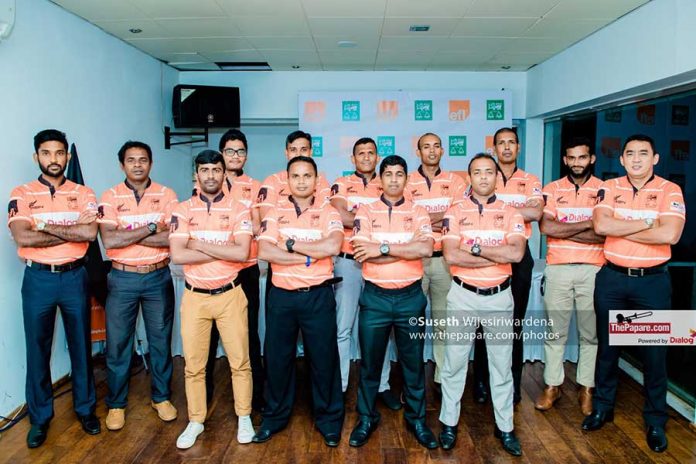 Expolanka Pvt Ltd's leading global logistics provider EFL (Expo Freight) revealed their plans of a partnership with the Referee's Association of Sri Lanka for the  2018/19 Rugby season.
The most vital members of the Dialog Rugby League, the Referees will now be co- sponsored by Expo Lanka Freight Pvt Ltd for the season that will start the day after (9th). A new jersey for the referees for the new season was handed over at a special press briefing held yesterday (7th).
The Referee's Association's main sponsor will be Dialog Axiata PLC while the co-sponsors will be Kandurata (off-field attire), RBN (on-field attire), Sri Lankan Airlines (Official Airline) and ThePapare.com (Media Partner) apart from new sponsors Expolanka.
Photos of Expolanka Holdings – Announcement of its sponsorship of Havelock Sports Club Title…..
The news of the sponsorship was broken earlier this evening at the Havelock Sports Club VIP Lounge with the President of the Referee's Association Mr. Nizam Jamaldeen, the Managing Director- ExpoLanka  Freight Mr. Saif Yoosuf addressing the gathering.
Mr. Nizam Jamaldeen who spoke at the press conference stated the following "We would also like a voice for ourselves as the Referees are an important cog in the wheel of Rugby and we also invite and encourage youngsters to join the referees fraternity!"
One of the leading logistic providers in the country, EFL has been empowering sports for a long time. Expolanka is a well reputed company among the leading companies in the island, making their way into sports in the year 2011 and have since then managed to spread their brand into more diversified sports like Cricket, Football,Badminton, Netball and Volleyball even at the smaller levels. They have been the principal sponsors of the very successful Colombo FC club as well. Expolanka is also the proud sponsors of the Havelock Sports Club for the new season.
Havelock Sports Club will join in partnership with leading global logistics provider EFL…..
"We are very proud that the most important people of the league, the referees, have joined hands with us for the betterment of the future of the sport. We will look to continue this partnership for the successful years to come" 
Saif Yoosuf further added.