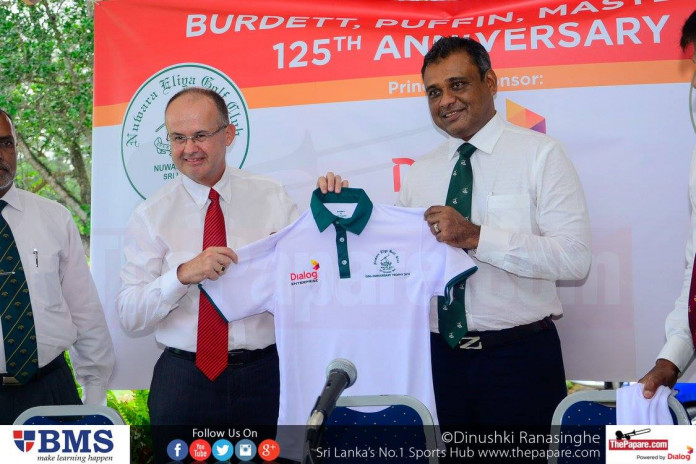 A press conference was held on the 12th of July 2016 at the Royal Colombo Golf Club to promote the 114th Burdett trophy and 80th Puffin Cup which is scheduled to take place on the 17th of July 2016 at the Nuwara Eliya Golf Club.
The chief guests for the press conference were Maj. Gen. Srinath Rajapakse, president of the NEGC, Mr. Firaz Hameed captain of the NEGC, Mr. Primal Wijaynayake captain of the RCGC, Mrs. Rohina Macan Marker captain of the NEGC Ladies, and Mr. Jerrin Hustable Group Chief Officer of Dialog Axiata and sponsor for the NEGC.
The main reason for having this press conference was to highlight that golf has been played in Sri Lanka for more than a century and to inspire people so there would be more people playing golf.
The president of NEGC Mr. Srinath Rajapakse added that the Burdett Trophy is one of the oldest Golf tournaments in the world as it began in 1902; it is said to be older even than the Rider Cup.
This year twelve players will represent each team in which, there would be 4 doubles and 8 singles matches. The RCGC has won 60 times whereas the NCGC has only won 34 times. The major general also said that even though golf is considered a rich man's game, it is their wish to educate school students on the sport in order to bring out the good golfers in Sri Lanka.
The RCGC also introduced the 125th anniversary trophy for the junior division. The tournament will consist of almost 100 competitors.
The Puffins cup tournament which is for the ladies, was first played on the 19th of November 1936 at the NEGC. The first trophy was presented by M.H. Puffin Lushington. NEGC won the 1st encounter against the RCGC. The Puffin cup follows the same format as the Burdett trophy. After 1978 the Puffin was not played because there weren't enough players and was revived on the 125th anniversary of the RCGC. "I deem it a great honour, to be captain of the NEGC", added Mrs. Rohina Macan Marker. Alongside these two tournaments will be the Masters and the 125th anniversary competition.
Mr. Jerrin Hustable announced that Dialog was privileged to host this historic event. He also said that the world should know that this is one of the oldest competitions in world and that Dialog would look to bring it more publicity.