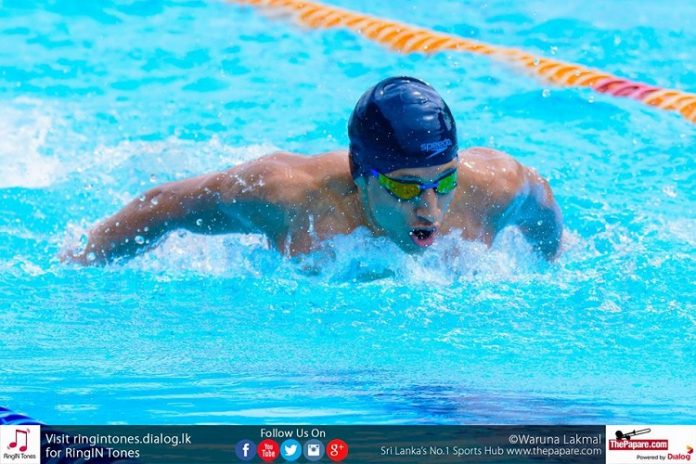 Dharmaraja College broke the solid swimming stronghold that Trinity College has held over the years inching in as the Central Province champions at the Central Province Swimming Meet organized by St. Anthony's College that came to a close this evening at the St.Anthony's College swimming pool. Mahamaya Girls' College emerged victorious in the girls' section.
Dharmaraja College came first in the boy's category with 547 while Trinity College was at second place with 461 points and followed by the host St. Anthony's College with 350 points.
Mahamaya dominated the girl's category securing first place with 646 points while the runners-up Hillwood with 410 points had no chance to stop Mayans. The 3rd place went to Girls' High School with 332 points.
The individual boy's champion, was Reggie Yogarathnam from St. Anthony's College. He won 4 gold medals in 4 events. The girl's individual champion was Dilrukshi Perera from Hillwood College with 4 gold medals in her name. Both these swimmers represent Sri Lanka.
Dharmaraja College managed to out-performed the other schools having a majority of their swimmers placed in every event. H. Karunarathne in the Under 14 age category and J.B Paththandupitiya in the Under 10 age category took four Gold medals each for Dharmaraja as they are the highest point scorers in their respective age categories.
P.H.D.Y. Weerarathne also brought in a lot of points for Dharmaraja in the Under 16 Novices category obtaining 3 gold medals and a silver. Although Dharmaraja College didn't have other individual swimmers dominating all the events, most of their swimmers consistently managed to get placed in the top 3 giving them enough points to come first.
Both the Mahamaya and Hillwood, on the other hand, had been dominating the girl's category from day one winning all the events. But Mahamaya was consistent and they were leading the points table with many other places too.
During the day swimmers like Lahini Costa and Nethmi Gunasekara contributed towards the Mahamaya team points securing gold in their respective events. Nethmi secured 3 gold medals in the Under 12 Age Group while Lahini secured 3 golds in the Under 16 Age Group.