A last minute try by Primesh Dhanushka snatched victory for Police SC against CR&FC by 21 points 18 in the Dialog Rugby League match at Longdon place.
It has been a tough two weeks for the reds as they are still mourning for the loss of their teammate Kokila Sammandaperuma, fondly known as Marco. Before the start of play, both teams and all who were present in the match paid respect with 3 minutes of silence and then the CR management presented Kokila's Jersey to his family. 
It was the home side who opened up the scoring with a converted try by Sumudu Rankothge. Surprisingly, Tharinda Ratwatte was on the bench and it was Reeza Rafaideen who took on the kicking duties as he slotted in the conversion. (CR&FC 7 – Police SC 0)
Police immediately bounced back with two back to back penalties by Janith Chandimal. CR&FC were sloppy from the opening whistle and they kept losing the ball when going in to contact and spilled ample opportunities to add more points. Police on the other hand was pretty much the same when it came to handling errors. However, minutes before lemons, Janith Chandimal added another 3 points to put Police ahead for the first time in the game.
Half time: CR&FC 7(1T, 1C) – Police SC 9(3P)
The second half started off with a bang. Both teams looked much more settled and in control. The reds won back the lead within the first five minutes with a try. It was one of those marauding runs from Omalka Gunaratne who hit the gap at pace and burst through the final defender to find the whitewash. (CR&FC 12 – Police SC 9)
Police came up with a brilliant counter phase where they won a penalty under the post but unfortunately Chandimal couldn't bisect the uprights. However, they came back and this time managed to get ahead once again with a stunningly worked try by the two Silva brothers. Iroshan Silva made the play by pulling off a dummy on the 22m, creating  ample space for himself to run and pop the pass to his brother Sachith who ran-in on the perfect angle on the wings. (CR&FC 12 – Police SC 14)
The next 20 minutes were a repeat of the first half. Both teams looked weary and failed to convert opportunities into points. CR however, conceded two yellow cards back to back with Supun Warnakulasuriya and Himantha Hirushan.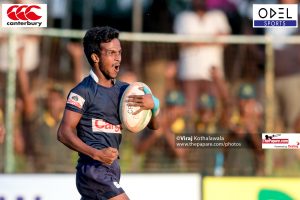 Despite being one man down for the last 20 minutes, they managed to win two penalties and Ratwatte slotted them through to give them a four point cushion going in to the final few minutes.
Police had the ball in possession inside the CR&FC 10m for a few phases and after a long resistance from CR&FC, Police Scrum half Primesh Dhanushka found a way to sneak through to touch down and snatch the win.
Full Time: Police SC 21(2T, 3P, 1C) – CR&FC 18(2T, 2P, 1C)
Player of the Match: Iroshan Silva (Police SC)
Point scorers for Police – Sachith Silva 1T, Primesh Dhanushka 1T, Janith Chandimal 3P 1C, 

Point scorers for CR&FC – Sumudu Rankothge 1T, Omalka Gunaratne 1T, Tharinda Ratwatte 2P, Reeza Rafaideen 1C