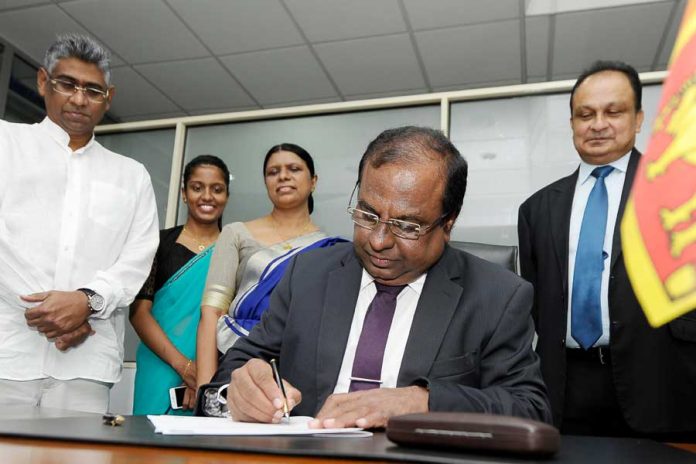 Mr. Kamal Padmasiri, Secretary to the Ministry of Sports, who was appointed as the Competent Authority to run the affairs of Sri Lanka Cricket by the Minister of Sports Hon. Faiszer Musthapa PC assumed his role at the Sri Lanka Cricket headquarters this morning.
Sri Lanka's Provincial Councils, Local Government and Sports..
He was accompanied by the Minister of Sports Hon. Faiszer Musthapa, who introduced the Competent Authority to Sri Lanka Cricket and its employees.
Addressing the employees of the SLC, Minister Musthapa assured his fullest support for the SLC to continue with its current work program.
"All what I am telling you is to continue the good work, you're doing. We are not here to make changes or dictate terms to you'll. We are here because, due to a court order, the elected body could not be elected today. So, we as a country, government and citizens are here to protect Sri Lanka Cricket. My secretary will run the SLC operations, but I will be supervising overall, to see that everything runs smoothly. Because I am responsible to the parliament and the citizens of Sri Lanka,'' said Honorable Faiszer Musthapa.
Speaking during the occasion, Mr. Ashley De Silva, CEO of Sri Lanka Cricket assured his and the team's fullest support to the Competent Authority.
"We had an elected committee and the term of that committee expired from yesterday. So, the Honorable Minister has appointed a Competent Authority to look into the affairs of SLC. As employees of the SLC, we will extend our fullest cooperation to the new authority to run the organization,'' said De Silva.
The Minister also met the heads of departments SLC separately to get an overview of the SLC Structure and discuss the upcoming programs.
ThePapare.com | Waruna Lakmal | 31/05/2018 Editing and re-using..