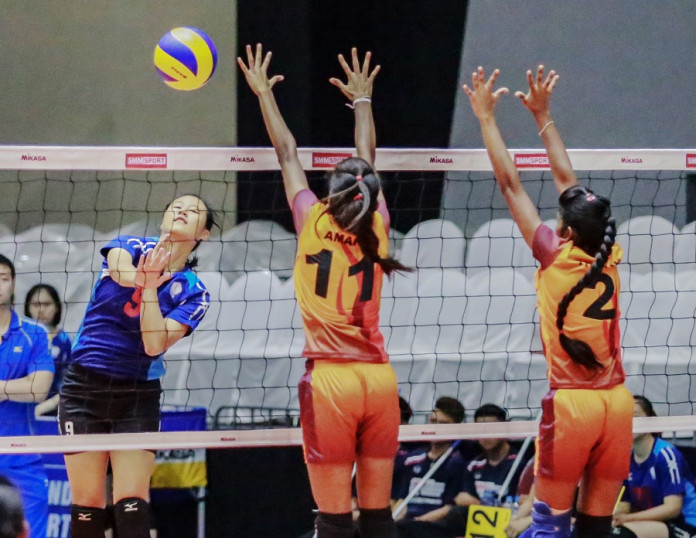 Chinese Taipei registered their first win at the SMM 2nd Asian Women's U23 Volleyball Championship following a comfortable straight-set 3-0 (25-15,25-14 ,25-10) victory over Sri Lanka at The Mall Korat MCC Hall in Nakhon Ratchasima, Thailand.
Chinese Taipei showed complete dominance to win the first two sets 25-15, 25-14. The Sri Lankans tried to make a comeback in the third set, but their determination was not successful as they found their opponents' tactics and effective serves too difficult to handle.
The 2nd Asian U23 Women's Volleyball Championship is scheduled to commence on 13th of May at…
With good serves and solid defence, the Taiwanese girls were more dominant in this set to lead 13-3 and 24-9.Chinese Taipei allowed the Sri Lankans one more point before ending the third set 25-10.
Chinese Taipei head coach Ming Hui Lin expressed his satisfaction over his team victory after the match,
"I am quite satisfied with my team but they still need some improvement. We will try to get better in each match. My girls are still young and they didn't play well in the first set. But I tried to let them play and things got better in the next two sets," he said.
"We trained only 3 weeks before this tournament because some of my players just finished from playing at the university and high school."
"Against Australia tomorrow, I think it is going to be a tough game. They are a very tall team. We have to try to put pressure them on our good serves and spike touch more," he added.
Wang-Ling Tseng and Tzu-Ya Chen contributed 10 points each for Chinese Taipei while Senewirathna top scored for Sri Lanka with only 5 points.
Sri Lanka will next face Kazakhstan, while Chinese Taipei take on Australia in their Pool C preliminary match on Sunday.
In the other matches Malaysia defeated New Zealand 3-0 (25-23, 25-12, 25-12) & Kazakhstan defeated Australia in a thrilling 5 sets (25-13, 25-15, 23-25, 22-25 & 15-11).