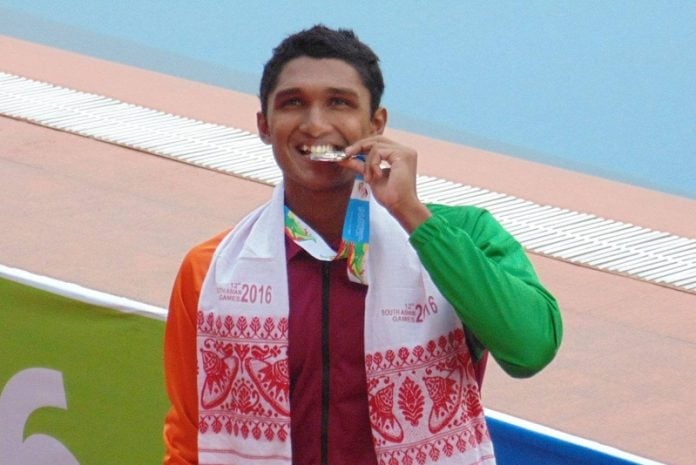 Three new national short course records for Anandian Cherantha de Silva, 20, at the 7th Singapore National Short Course Swimming Championship 2017. The young lad is currently training under the professional guidance of Miguel Lopez at the Thanyapura Aquatic Facility in Thailand, through a sports scholarship.
In the recently concluded 7th Singapore National Short Course Championship 2017, de Silva managed to overthrow fellow Lankan Matthew Abeysinghe from the driving seat in the 100m free style event by marking a new record of 49.29 sec as opposed to Matthew's 49.75 held since 2015. Second record is of the Butterfly stroke as he managed to outswim himself with a record of 1.57.99 sec overriding his previous record set earlier this year of 2.04.22sec. Keeping it under 2 minutes was the biggest barrier in his strides which in turn turned to be his biggest achievement.
The third and final record is one that brought glory to all as he demolished the 50m Butterfly event by being crowned in three mini categories; New National Short Course record for Sri Lanka, New National Short Course record for Singapore and New Championship Short Course record of Singapore. De Silva held the 50m Butterfly record at 23.96sec in the preliminary rounds and he was 48 milliseconds faster in the final, setting the bar at 23.48 sec.
After being recognized as the country's top swimmer, de Silva took his career to international heights, resulting in wins at the South Asian Games (SAG). He set national records in the 50m, 100m and 200-metre Butterfly. De Silva trained in Sri Lanka and other countries such as the USA whereas the Sri Lankan government sent him across globe to gain exposure for his home country. The FINA scholarship programme introduced de Silva to Thailand in 2015 and was renewed again in 2017 when he was selected as Sri Lankan's most deserving swimmer. The Sri Lankan curriculum operates on a point system, where the fastest swimmer is awarded the most points and the scholarship.
Cherantha's primary target is to qualify for the 2020 Summer Olympic Games in Tokyo. No Sri Lankan swimmer has qualified for the Olympic Games yet – he aims to be the first.
"I want to expose Sri Lanka to the whole world even more." Cherantha de Silva
While wishing the young stallion the best of luck in his journeys, we invite you to stay logged on to ThePapare.com for more exclusive news and updates on our swimmers quests around the globe.