An unbeaten century from ever reliable Roscoe Thattil secured the title for John Keels Holdings B team as they beat Kanrich Finance by 7 wickets in the final of Fair & Lovely Men MCA B Division 50 over Tournament today at the MCA grounds. 
JKH won the toss and elected to field first in the final. High on confidence the JKH bowling got into their rhythm without any problem. Sachitha Jayathilaka broke through the opening stand of 32 runs. The second wicket fell at 52 but after that Kanrich Finance resurrected their innings thought a wonderful partnership between Navindu Nirmal and Tharushan Iddamalgoda.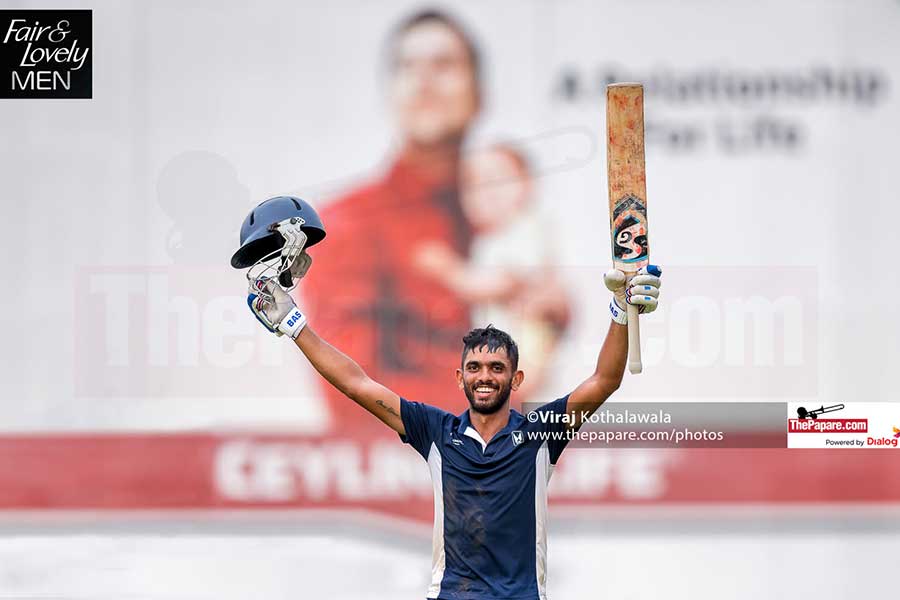 The pair added 67 runs with Iddamalgoda scoring a brisk 43. After the wicket of Iddamalgoda, Kanrich batsmen failed to support Navindu who was batting brilliantly on the other end. The lower middle order failed and it was only Nirmal who was scoring from one end. He remained unbeaten on 79 as Kanrich posted a below or score of 213 for 7. Sachitha was yet again the pick of the bowlers with 3 for 38.
The reply was precise and somewhat a walk in the park for the champions. But the start wasn't all that pretty for them. Kanrich opening bowler Poorna Chanuka bagged two back to back wickets to restrict JKH to 31 for 3 in 7.3 overs. Then entered the inform Roscoe Thattil. He started from where he left off in the semi final. Himself and Ashen Silva put together a flawless partnership of 186 runs. Roscoe accelerated his way to a century in just 122 balls while Ashen remained at 86.
The pair steers JKH home in the 42 over and registered a huge win by 7 wickets to become the champions.
Kanrich Finance's Innings
Batting
R
B
S Thiwanka
lbw by T Rathnayake
29
47
S De Silva
lbw by S Jayathilaka
12
31
T Iddamalgoda
c A Silva b M Amarasinghe
43
59
N Nirmal
not out
79
99
P Maduwantha
(runout)
2
7
D Senevirathne
c R Kodithuwakku b S Perera
0
5
R Sayer
c S Perera b S Jayathilaka
7
10
R Assalarachci
b S Jayathilaka
14
25
C Devinda
not out
15
18
Fall of Wickets:
1-32 (S De Silva, 10.2 ov), 2-53 (S Thiwanka, 17.2 ov), 3-120 (T Iddamalgoda, 30.3 ov), 4-124 (P Maduwantha, 32.3 ov), 5-125 (D Senevirathne, 33.4 ov), 6-138 (R Sayer, 36.2 ov), 7-165 (R Assalarachchi, 44.3 ov)
| Bowling | O | M | R | W | E |
| --- | --- | --- | --- | --- | --- |
| A Cader | 7 | 1 | 30 | 0 | 4.29 |
| M Amarasinghe | 10 | 2 | 49 | 1 | 4.90 |
| S Jayahilaka | 10 | 2 | 38 | 3 | 3.80 |
| S Perera | 8 | 0 | 36 | 1 | 4.50 |
| R Thattil | 2 | 0 | 13 | 0 | 6.50 |
| A Silva | 3 | 0 | 15 | 0 | 5.00 |
| T Rathnayake | 10 | 3 | 29 | 1 | 2.90 |
John Keells 's Innings
Batting
R
B
M Maduranga
c D Senevirathne b P Chanuka
10
16
R Kodithuwakku
c D Senevirathne b C Weerarathne
9
9
A Silva
not out
86
97
A Peiris
b P Chanuka
5
9
R Thattil
not out
103
121
Fall of Wickets:
1-9 (R Kodithuwakku, 2.4 ov), 2-22 (M Maduranga, 5.4 ov), 3-31 (A Peiris, 7.3 ov)
| Bowling | O | M | R | W | E |
| --- | --- | --- | --- | --- | --- |
| C Weerarathne | 7 | 1 | 20 | 1 | 2.86 |
| P Chanuka | 7 | 0 | 43 | 2 | 6.14 |
| P Maduwantha | 9 | 0 | 39 | 0 | 4.33 |
| R Sayer | 7 | 1 | 47 | 0 | 6.71 |
| S De Silva | 2 | 0 | 14 | 0 | 7.00 |
| T Iddamalgoda | 3 | 0 | 11 | 0 | 3.67 |
| C Devinda | 4 | 0 | 20 | 0 | 5.00 |
| R Assalarachchi | 1.5 | 0 | 14 | 0 | 9.33 |
| D Senevirathne | 1 | 0 | 9 | 0 | 9.00 |