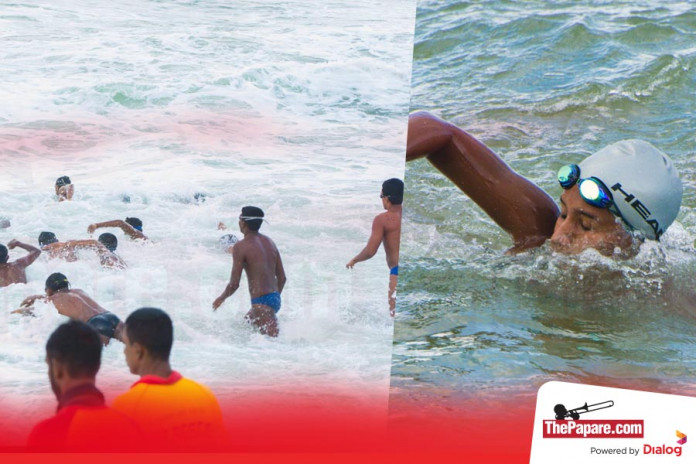 Two seconds separated the victor and the runner-up as Sri Lanka Army's Vimal Kumara snatched the 6th Open Water 5km Sea Swimming Championship marking a start to the swimming calendar for the year of 2017.
The Open Water Swimming Championship took flight for the 6th consecutive occasion at the Galle Face Green on Saturday the 27th of January with the participation of over 80 swimmers from around the country including swimmers from the triforces and schools.
Army's Vimal Kumara finished the 5km with a timing of 1:04:11 to take the first spot in the Men's Open section and coming just a second later was Eshan Sovis of St. Joseph's College with a timing of 1:04.12.
The third and fourth places were taken by D. M. Gunasena of Sri Lanka Army and M. A. Induwara respectively. The top four finishes came after a lapse of ten seconds while the 5th swimmer arrived two minutes later.
With the majority of the participation dominated by the Soldiers, Sri Lanka Army took the top spot in the overall team scores list securing a total of 67 points. In second was Lion Swimming Club with 23 points.
Navy's Wijerathne wins the Women's race
Sri Lanka Navy's R. W. M. Wijerathne finished the women's race with a timing of 1:09:57 and coming in second was S. K. Biyanka of Dharmasoka College Ambalangoda.
With a record participation of 59 swimmers in the Men's category, it was disappointing to see only nine swimmers enlisted for the Women's title.
The Open 5km kicks off the aquatic action for the 2017 calendar year and it is expected to be succeeded by the 10km Open Sea Swim that is expected to take place in a fortnight.
Despite Wijerathne finishing first, Sri Lanka Army topped the overall standings list in the Women's list with 23 points in total. In second place was Mahamaya Girls School with 22 points.