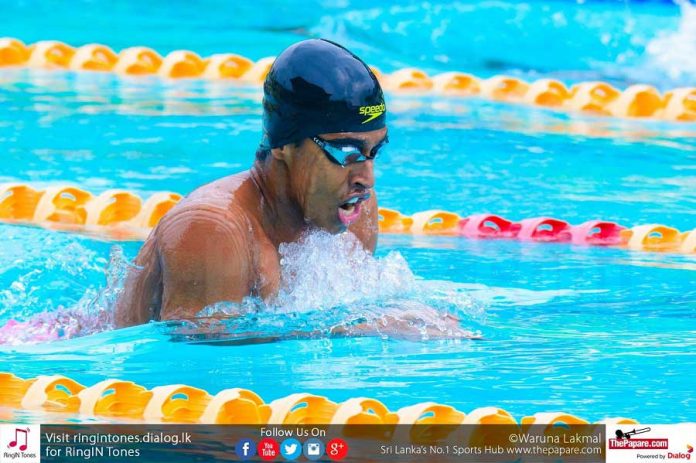 Ananda College broke the solid swimming stronghold that St Joseph's College held over the years inching in as the schools' national champions at the National Schools swimming tournament that came to a close last evening at the Sugathadasa swimming pool. Visaka Vidyalaya emerged victorious in the girls' section.
Ananda College came first in the boy's category with 114 points but St. Joseph's College was not far behind with 107 points at second place. Nalanda College trailed at third with 60 points.
Visakha dominated the girl's category securing first place with 133 points while Sirimavo Bandaranaike Vidyalaya was at second place with 99 points and followed by Mahamaya College Kandy by 93 points.
The individual boy's champion, however, was Akalanka Peiris from St. Peter's College which was ranked 7th on the leaderboard. The girl's individual champion was Sandu Savinidi from Visakha Vidyalaya.
Photo Album – All Island School Games – Swimming – (Day 3)
Ananda College managed to outperform St. Joseph's by having a majority of their swimmers placed in every event as every point mattered. M P Cooray was one of the crucial swimmers in the Under 16 age category for Ananda getting gold in the 200 LC Meter Individual Medley with a timing of 2:27.99 as well as the 200 LC Meter Freestyle event with a timing of 2:10.77.
Sadev Senarathna also brought in a lot of points for Ananda in the Under 16 age category obtaining gold in the 100 LC Meter Butterfly clocking in at 1:00.68. He also secured first place in the 50 LC Meter Freestyle with a time of 25.87 as well first place in the 50 LC Meter Butterfly event clocking in at 26.55. Although Ananda College didn't have individual swimmers dominating all the events, most of their swimmers consistently managed to get placed in the top 3 giving them enough points to come first.
Visakha, on the other hand, had been dominating the girl's category from day one winning all the events. During the second day, Ganga Senevirathna Visakha brought 2 gold medals for Visakha in the under 16 category winning the 200 LC Meter Freestyle and the 100 LC Meter Backstroke event clocking in at 2:26.79 and 1:12.25 respectively.
During the day other swimmers like Shehanthi Gunawardane, Gihini Nawela, Sandu Savindi contributed towards the team points securing gold in their respective events. Shehanthi secured gold in the Under 18 200 LC Meter Freestyle event with a timing of 2:19.10, Gihini was placed first in the Under 20 200 LC Meter Freestyle event with a timing of 2:37.06 and Sandu secured first place in the Under 18 50 LC Meter Butterfly with a timing of 31.09.