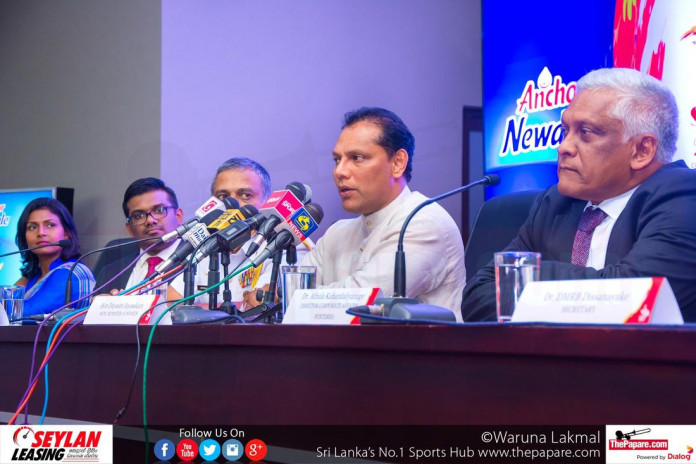 Taking the aquatics initiative forward, the Ministry of Sports will be funding the construction of swimming pools in each of the districts as a part of the 2020 visionary way forward for the Tokyo Olympics.
The Hon. Minister of Sports, Dayasiri Jayasekara expressed these views at the press conference held at the Ministry of Sports for the launch of the South Asian Aquatic Championships.
"We will be looking at building a swimming pool each in of the districts around the country. We will select one main school and go ahead and link other schools to it so they can use the pool as well"
In this initiative, the Ministry intends to build a swimming pool facility in one school and provide access to the school children around the vicinity for training. Since one school cannot handle putting up an individual facility all by themselves due to the heavy financial cost involved, this methodology will prove beneficial to many individuals.
Currently, swimming is primarily distributed around Colombo where almost all schools have their own pool facility. In addition to Colombo, the other major stakeholders in swimming are from the districts of Kandy, Galle and Gampaha. The idea of this initiative will extend the reach swimming gets to an all island audience.
The primary drawback for many schools has been the lack of a swimming facility and with this move, many schools will be encouraged to take up the sport. The lack of proper swimming educators is also another point brought forward during the press briefing and the Ministry along with the national body for aquatics, the Sri Lanka Aquatic Sports Union will be looking to bring down foreign educators to educate the coaches in the country.
"We have a plan of bringing down foreign coaches who will educate about the sport to the coaches and they can later train the school individuals." the minister added.
The Sri Lanka Aquatic Sports Union takes on the five disciplines of aquatic sports such as swimming, diving, water polo, synchronised swimming and open water swimming. The establishment of this initiative will encourage more athletes to emerge up the ranks and also help the widespread of water polo.