The second day of the 95th National athletic championship was worked out today (01st September) at the Diyagama Mahinda Rajapakshe Stadium.
10 finals were completed in the morning session with 5 finals scheduled for the evening session. The second day produced two New Sri Lanka Records (NSLR) and two New Meet Records (NMR).
Anitha breaks her own record, Yes… AGAIN!!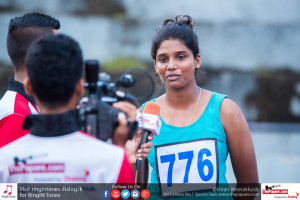 The first National record of the meet was by the Vaulting queen of Jaffna, Anitha Jagathiswaran who bettered her own previous record of 3.46m by a centimeter to establish the new national record of 3.47m. Anitha who has managed to revive the Women's pole vault event in the country is aiming Asian qualification mark of 3.50m. S P Ranasinghe of SL Airforce was placed second while  C. Herena clinched the Bronze.
READ: Jaffna's vaulting Queen Anitha soars to a new height
---
Ajith Karunathilaka Surpasses 7000 points in the Decathlon for the first time in SL Athletic History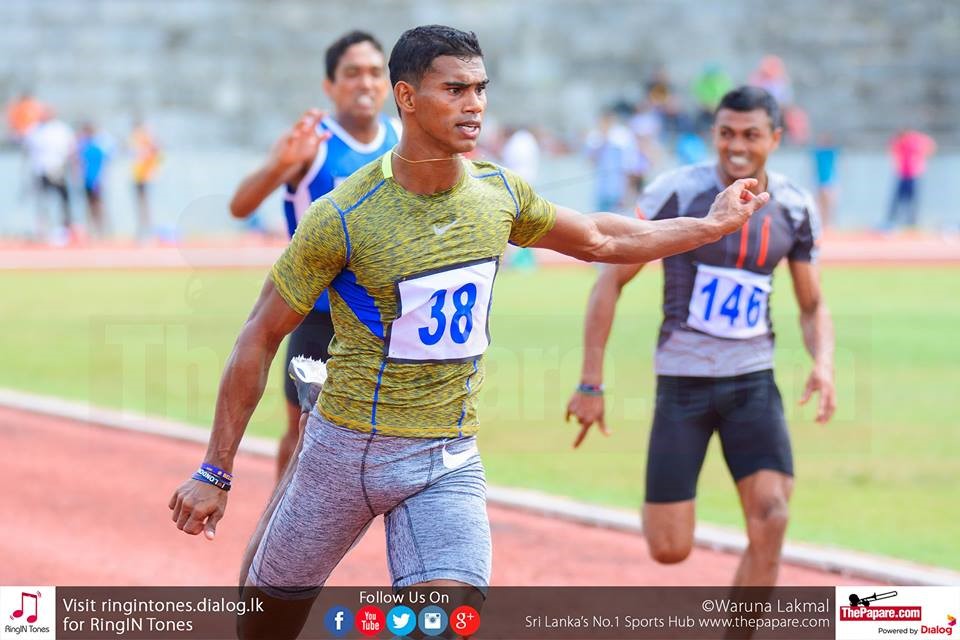 National record holder Ajith Karunathilaka renewed his own record in the Decathalon by 180 points and with it became the first Sri Lankan to accumulate 7000 in the Decathlon. Strong man Karunathilake started of yesterday with a victory in the 100m-decathlon and continued his good form to the second day. Before the commencement of  final event of the Decathlon – 1500m
Karunathilaka needed to finish the final event, the 1500m of the Decathlon under 5 minutes, which would get him 520points in order to surpass 7000 points. He managed to finish the final race in 4 mins and 49 seconds and accumulated 625 points and finished the event with a grand total of 7096.
READ – Impressive Decathlon Record by Ajith Karunathilaka
---
New meet record by Gayanthika 
Gayanthika Abeyrathne,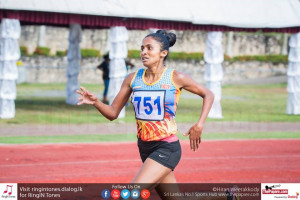 the current National record holder in the Women's 800m, won the women's 1500m with a new meet record time of 4:20.64. M.C Dilrukshi who came in second also bettered the previous record with a time of 4:20.92. Nilani Ratnayake who won first place in the Women's 10,000m was placed third with a time of 4:21.14. Gayanthika looked in good rhythm and will be interesting to see what she will bring to the table tomorrow's 800m final
---
Rumeshika re asserts while Yupun upsets Vinoj in the 100m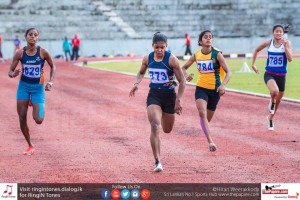 Rumeshika Rathnayake stamped her authority again as the premier sprinter of the country as she won the Women's 100m title0 with a time of 11.82. though far from her personal best of 11.60 Rumeshika will be focusing on securing the sprint double with the 200m final scheduled for tomorrow. L Vidanaduruge of Airforce was placed second with a time of 12.15 while youngster Amasha De Silva representing the Sri Lanka Schools Athletic Association impressed with a bronze finish clocking 12.16 secs.
Uploaded by ThePapare.com on 2017-09-01.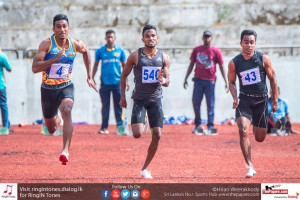 Yupun Priyadarshana who trains in Italy clinched Gold in the Men's 100m with a time of 10.52secs.  Vinoj Suranjaya who laid claimed to the fastest time to be run in SL ever at the national trials lead the race until the last few meters but pulled out with a injury. A L M Ashroff of Sri Lanka army who hails from Pottuvil was placed second with a time of 10.71 Shehan Ambepitiya of south Asian fame had to be satisfied with a third-place finish.
Proceedings of the second day started off with the Men's 10,000m final. Sri Lankan Long distance legend Lucien Rosa holds the 42year old national record in the event with a time of 29:18.0. An Event dominated by Sri Lanka Army, 9 out of 10 contestants in the final were soldiers.  D L Samarajeewa showcased his experience in the final lap and steered clear from the bunch and finished ahead of the rest at 31:37.7 while G N A Bandara also from Army was placed second with a time of 31:38.2. P A P Maduranga of Airforce the only non-army contestant of the event was placed third with a time of 31:43.8.
In the Men's Shot put AJD Perera of Sri Lanka Navy clinched the top honors while Samitha Jayawardane & SM Fernando from Sri Lanka Army clinched the second and third place respectively.
Women's Javelin throw like the Men's event lacked color as Sri Lanka's ace female javelin thrower Dilhani Lekamge did not participate at the championship. K A MP Silva of SL Navy was placed first with a throw of 48.44m while P H Maduwanthi was placed second (45.41m) and P D Clarance placed third (37.43m). yrathne
In the Men's 1500m R A D Hemantha Kumara who represented Government services clocked a time of 3:49.99 to win the gold medal while G.R Chathuranga & K T Fonseka of Sri Lanka Army came in second and third places respectively.
P.D Gurusinghe of Sri Lanka Army was placed first in the Men's Discus throw with a throw of 34.90. Fellow soldier A. K Karunathilaka was placed second while Airmen D S Perera won the third place.
---
400m Men's & Women's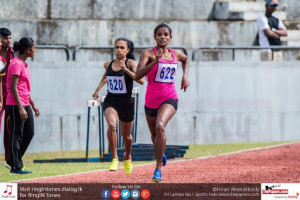 In the Women's 400m W U Rathnakumari was placed first with a time of 53.63 while R Nadeesha won second place with a time of 54.69. Nimali Liyanarachi, one of Sri Lanka's leading athletes in the Women's 800m event was reported to be foregoing the meet due to an injured leg but took part in the 400m final and managed to clinch the 3rd place with a time of 55.14. Nimali who is a 800m specialist is known for her acceleration in the final 400m and did not find her rhythm in the shorter version.
Men's 400m was a hotly contested affair with the participation of many contestants boasting of international experience and having represented the national team in different occasions. Dilip Ruwan clocked 46.66 and managed to edge out G.A Premakumara who recorded a time of 46.85. Kalinga Kumara secured third place in the hotly contested event with a time of 47.40.
Full Event results of Day 02
E: No
201
10000M
Men
Final
Place
BIB
Name
Affiliate
Performance
Remarks
1
48
DL Samarajeewa
SL Army
31:37.7
2
174
RMYGNA Bandara
SL Army
31:38.2
3
370
PAP Maduranga
SL Air Force
31:43.8
4
206
GPAJ Kumara Bandara
SL Army
31:47.8
5
214
TME Thennakon
SL Army
31:56.5
6
56
BU Wijithakumara
SL Army
32:11.3
7
227
YPM Gunathilaka
SL Army
32:23.4
8
334
KHA Asanka Premalal
SL Army
32:27.4
9
325
WV Maduranga Upul Kumara
SL Army
32:31.4
10
62
K Shanmugeswaram
SL Army
32:35.8
E: No
202
Shot Put
Men
Final
Place
BIB
Name
Affiliate
Performance
Remarks
1
471
AJD Perera
SL Navy
15.35
2
33
R Samitha Jayawardana
SL Army
15.19
3
84
WSM Fernando
SL Army
14.36
4
52
S Jayakody
SL Army
14.31
5
19
Boditha Danushka Delvita
SL Army
13.64
6
15
BMH Chamila Ferdinadas
SL Army
13.49
7
384
RMSC Ranasinghe
SL Air Force
13.35
8
2
Malinda Madusanka Meththsinga
SL Army
13.00
E: No
203
Javelin Throw
Women
Final
Place
BIB
Name
Affiliate
Performance
Remarks
1
750
KAMP Silva
SL Navy
48.44
2
667
HPPH Maduwanth i
SL Air Force
45.41
3
666
PD Clarance
SL Air Force
37.43
4
705
HN Lakmali
SL Air Force
34.19
E: No
204
Pole Vault
Women
Final
Place
BIB
Name
Affiliate
Performance
Remarks
1
776
J Anitha
Jaffna DAA
3.47
*NSLR
2
658
SP Ranasinghe
SL Air Force
3.20
3
777
C Herina
Jaffna DAA
3.00
4
691
WNR Fernando
SL Air Force
2.80
4
733

WI Udani  Silva

Sri Lanka Schools AA
2.80
4
736

BDIN Dharmakeerthi

Sri Lanka Schools AA
2.80
E: No
205
110 M Hurdles – No 1
Men
Decathlon
6
Place
BIB
Name
Affiliate
Performance
Remarks
1
38
RAK Karunathilaka
SL Army
15.10
2
390
WKDS Perera
SL Air Force
15.63
3
3
MMR Lakmal
SL Army
15.74
4
76
GPCR Gunathilaka
SL Army
16.22
5
411
KDP Kumara
Government services
17.26
6
506

PD Gurusinghe

SL Army
18.02
E: No
205
110 M Hurdles – No 2
Men
Decathlon
6
Place
BIB
Name
Affiliate
Performance
Remarks
1
193
AVDH Chathuranga
SL Army
15.76
2
146
TPD Fernado
SL Army
16.32
3
507
DPAHN Perera
Unattached
17.18
4
219
HSE Janith
SL Army
17.71
5
113
DN Bolsin
SL Army
22.59
E: No
206
110M Hurdles
Men
No Semi Finals – St. Final
E: No
207
1500 M
Women
Final
Place
BIB
Name
Affiliate
Performance
Remarks
1
751
GTA Aberathne
SL Navy
4:20.64
*NMR
2
610
NMC Dilrukshi
SL Army
4:20.92
*BPR
3
651
UKN Ratnayake
SL Army
4:21.14
4
697
MUMAN Priyadarshani
SL Air Force
4:32.20
5
633
HMN Nandasena
SL Army
4:41.23
6
696
KGNMA Kumari
SL Air Force
4:46.87
7
713
AMDR Amarasinghe
SL Air Force
4:55.05
8
710
KHDKN Kularathne
SL Air Force
5:03.08
9
714
KDP Kumarage
SL Air Force
5:03.60
10
657
WMPRM Nadeeshani
SL Air Force
5:06.25
11
695
AHMP Abeyasinghe
SL Air Force
5:15.14
12
771
MD Achini Sewandi
Unattached
5:19.83
E: No
208
1500 M
Men
Final
Place
BIB
Name
Affiliate
Performance
Remarks
1
431
RAD Hemantha Kumara
Government services
3:49.99
2
246
GR Chathuranga
SL Army
3:51.23
3
165
HKT Fonseka
SL Army
3:52.40
4
377
PWG Sanjeewa
SL Air Force
3:55.12
5
244
TUGI Darshana Lanka
SL Army
3:55.56
6
42
RA Sajeewa Lakmal
SL Army
3:56.79
7
69
KDNC Wijesinghe
SL Army
3:58.09
8
247
HKD Kumara
SL Army
4:00.73
9
351
ADL Prathapa
SL Air Force
4:01.64
E: No
209
100M
Women
Final
Place
BIB
Name
Affiliate
Performance
Remarks
1
773
RMR Kumari Ratnayake
Kagalle DAA
11.82
2
686
SL Vidanaduruge
SL Air Force
12.15
3
784
DT Amasha De Silva
Sri Lanka Schools AA
12.16
4
629
WVl Sugandi
SL Army
12.24
5
626
MGRS Ferdinadas
SL Army
12.33
6
787
WG Ewanthi Emeshika
Matara DAA
12.48
7
731

Shaleena Elisabath

Sri Lanka Schools AA
12.76
8
785
Shermila Jan
Sri Lanka Schools AA
12.79
E: No
210
100 M
Men
Final
Place
BIB
Name
Affiliate
Performance
Remarks
1
4
AM Yupun Priyadarshana Abyekoon
SL Army
10.52
2
43
ALM Asroff
SL Army
10.71
3
35
Shehan Sandaruwan Ambepitiya
SL Army
10.77
4
183
KHACV Gunasena
SL Army
10.79
5
20
Mohammad Fazil Udayar
SL Army
10.81
6
51
HSS Kumara
SL Army
10.84
7
500

Asiri Wijesekara

Track Master SC
10.84
8
546
M Vinoj Suranjaya De Silva
Unattached
10.98
E: No
211
Discus Throw
Men
Decathlon
7
Place
BIB
Name
Affiliate
Performance
Remarks
1
506

PD Gurusinghe

SL Army
34.90
2
38
RAK Karunathilaka
SL Army
31.01
3
390
WKDS Perera
SL Air Force
29.58
4
113
DN Bolsin
SL Army
28.88
5
76
GPCR Gunathilaka
SL Army
28.45
6
219
HSE Janith
SL Army
27.19
7
507
DPAHN Perera
Unattached
26.73
8
411
KDP Kumara
Government services
25.43
9
3
MMR Lakmal
SL Army
24.69
10
77
KMSW Bandara
SL Army
24.47
11
193
AVDH Chathuranga
SL Army
24.01
12
78
UPC Pathirana
SL Army
22.77
13
146
TPD Fernado
SL Army
21.90
E: No
212
Long Jump
Women
Heptathlon
5
Place
BIB
Name
Affiliate
Performance
Remarks
1
629
WVl Sugandi
SL Army
5.68
2
729
BG Sachiththra Harshani  Jayakantha
Government services
5.63
3
640
PSN Fernando
SL Army
5.38
4
682
HAN Nawodani
SL Air Force
5.30
5
641
HMD Herath
SL Army
4.95
6
744
WW Dilki Yashodha
Unattached
4.54
E: No
213
400M
Women
Final
Place
BIB
Name
Affiliate
Performance
Remarks
1
622
EWU Ratnakumari
SL Army
53.63
2
620
R Nadeesha
SL Army
54.69
3
678
WKLA Nimali
SL Air Force
55.14
4
704
PGN Madushika
SL Air Force
55.29
5
745
MO Udayangani
Unattached
55.30
6
613
SHI Gamage
SL Army
57.83
7
631
KAN Hansani
SL Army
57.88
8
738

UKSC Padmasiri

Sri Lanka Schools AA
57.99
E: No
214
400 M
Men
Final
Place
BIB
Name
Affiliate
Performance
Remarks
1
254
HM Dilip Ruwan
SL Army
46.66
2
252
MGA Premakumara
SL Army
46.85
3
44
HK Kalinga Kumarage
SL Army
47.40
4
450
PMWG Tharusha Dananjaya
Schools AA
47.55
5
444
RGDN Karunarathne
Track Master SC
47.77
6
398
SADKI Samarasinghe
SL Air Force
47.88
7
90
ASD Kumara
SL Army
48.36
E: No
215
Pole Vault
Men
Decathlon
8
Place
BIB
Name
Affiliate
Performance
Remarks
1
38
RAK Karunathilaka
SL Army
4.60
2
390
WKDS Perera
SL Air Force
4.20
3
78
UPC Pathirana
SL Army
3.60
4
3
MMR Lakmal
SL Army
3.30
5
411
KDP Kumara
Government services
3.20
6
146
TPD Fernado
SL Army
3.10
7
507
DPAHN Perera
Unattached
3.10
8
77
KMSW Bandara
SL Army
2.70
9
193
AVDH Chathuranga
SL Army
2.60
E: No
216
Javelin Throw
Women
Heptathlon
6
Place
BIB
Name
Affiliate
Performance
Remarks
1
629
WVl Sugandi
SL Army
29.40
2
682
HAN Nawodani
SL Air Force
26.35
3
640
PSN Fernando
SL Army
26.17
4
729
BG Sachiththra Harshani  Jayakantha
Government services
21.47
5
641
HMD Herath
SL Army
17.51
E: No
217
Hammer Throw
Men
Final
Place
BIB
Name
Affiliate
Performance
Remarks
1
226
WGSR Kumarasiri
SL Army
49.21
2
59
LADEP Alansan
SL Army
48.73
3
240
Sisira Kumara
SL Army
48.01
4
87
K Nilantha
SL Army
45.25
5
158
PKL Pbashana
SL Army
43.34
6
26
TG Tuder
SL Army
43.14
7
86
HMAS Bandara
SL Army
42.72
8
350
SSD Perera
SL Air Force
40.35
E: No
218
Triple Jump
Men
Final
Place
BIB
Name
Affiliate
Performance
Remarks
1
58
IDSS Jayasinghe
SL Army
16.36
2
37
UP Atheetha Karunasinghe
SL Army
15.98
3
31
MNS Ahamed
SL Army
15.96
4
172
TADN Thilakarathne
SL Army
15.62
5
361
CGST Senavirathne
SL Air Force
15.62
6
17
L Sreshan Dananjaya
SL Army
15.53
7
49
DME Dinesh Kumara Fernando
SL Army
15.43
8
120
AGJM Ariyarathne
SL Army
14.38
E: No
219
Javelin Throw
Men
Decathlon
9
Place
BIB
Name
Affiliate
Performance
Remarks
1
411
KDP Kumara
Government services
56.03
2
38
RAK Karunathilaka
SL Army
56.02
3
390
WKDS Perera
SL Air Force
55.31
4
3
MMR Lakmal
SL Army
50.42
5
113
DN Bolsin
SL Army
49.55
6
193
AVDH Chathuranga
SL Army
45.09
7
146
TPD Fernado
SL Army
40.81
8
507
DPAHN Perera
Unattached
37.40
E: No
220
High Jump
Men
Final
Place
BIB
Name
Affiliate
Performance
Remarks
1
383
WP Manjula Kumara
SL Air Force
2.21
2
560
Ushan Thiwanka Perera
Unattached
2.15
3
391
WPAK Pathirana
SL Air Force
2.05
4
515
PM Dineth Chathuranga
Kurunegala DAA
2.00
5
216
KSC Ekanayake
SL Army
2.00
6
519

APGDKK Guruge

SL Army
1.95
E: No
221
Shot Put
Women
Final
Place
BIB
Name
Affiliate
Performance
Remarks
1
659
WKT Fernando
SL Air Force
14.52
*NMR
2
760
MND Muthunayake
SL Navy
12.62
3
666
PD Clarance
SL Air Force
11.81
4
726
PA Priyangika Kumari
Government services
11.67
5
774
Faathima Shameemah Rishard
Unattached
11.21
E: No
223
200M
Women
Heat
No 1
Place
BIB
Name
Affiliate
Performance
Remarks
1
773
RMR Kumari Ratnayake
Kagalle DAA
24.3
2
686
SL Vidanaduruge
SL Air Force
24.8
3
626
MGRS Ferdinadas
SL Army
25.0
4
785
Shermila Jan
Sri Lanka Schools AA
25.7
5
757
WSH Fernando
SL Navy
25.9
6
756
MHN Herath
SL Navy
27.8
7
723
IPRSD Dharmasiri
Government services
28.0
E: No
223
200M
Women
Heat
No 2
Place
BIB
Name
Affiliate
Performance
Remarks
1
627
MASS Jayathilaka
SL Army
24.94
2
745
MO Udayangani
Unattached
25.01
3
704
PGN Madushika
SL Air Force
25.12
4
611
DGKS Jayasinghe
SL Army
25.63
5
758
WHM Fernando
SL Navy
26.07
6
739

TM Madara Piumini Weerasooriya

Sri Lanka Schools AA
26.77
7
725
KM Dilrukhsi
Government services
28.54
E: No
224
200M
Men
Heat
No 1
Place
BIB
Name
Affiliate
Performance
Remarks
1
44
HK Kalinga Kumarage
SL Army
21.55
2
51
HSS Kumara
SL Army
21.55
3
444
RGDN Karunarathne
Track Master SC
22.13
4
445
L Padma Neththikumara
Unattached
22.37
5
381
MPWA Milinda
SL Air Force
22.92
6
553
MHA Hafeez
Kegalla DAA
23.29
7
282
WGRS Senavirathne
SL Army
23.57
E: No
224
200M
Men
Heat
No  2
Place
BIB
Name
Affiliate
Performance
Remarks
1
252
MGA Premakumara
SL Army
21.82
2
450
PMWG Tharusha Dananjaya
Schools AA
21.96
3
13
HHKN Sandamal De Silva
SL Army
22.16
4
313
WA Kumara
SL Army
22.75
5
540
MD Geethika Kavinda
Lanka Lions SC
22.85
6
441
YM Dhanushka De Silva
Galle DAA
23.38
7
475
HPR De Silva
SL Navy
23.75
E: No
224
200M
Men
Heat
No  3
Place
BIB
Name
Affiliate
Performance
Remarks
1
45
ARM Rajaskan
SL Army
21.72
2
20
Mohammad Fazil Udayar
SL Army
21.85
3
340
DMAP Disanayake
SL Army
22.34
4
94
HAS Sampath Kumara
SL Army
22.39
5
160
RJMKGM Jayasekara
SL Army
22.75
6
417
MMBB Mudannayake
Government services
23.37
7
452
Shenal Amarasekara
Puttlam DAA
23.92
E: No
224
200M
Men
Heat
No  4
Place
BIB
Name
Affiliate
Performance
Remarks
1
254
HM Dilip Ruwan
SL Army
21.56
2
175
KSL Wickramasinghe
SL Army
22.10
3
251
WPDK Wijerathna
SL Army
22.38
4
319
WTM Gayanath
SL Army
22.65
5
436
MPDAS Pathirana
Government services
22.79
6
420
CR Karunarathne
Government services
23.14
7
E: No
225
800M
Women
Heptathlon
7
Place
BIB
Name
Affiliate
Performance
Remarks
1
629
WVl Sugandi
SL Army
2:25.7
2
682
HAN Nawodani
SL Air Force
2:28.2
3
640
PSN Fernando
SL Army
2:31.3
4
641
HMD Herath
SL Army
2:33.2
5
729
BG Sachiththra Harshani  Jayakantha
Government services
2:35.5
6
744
WW Dilki Yashodha
Unattached
3:05.1
7
E: No
226
800M
Men
Qualification
Round
Place
BIB
Name
Affiliate
Performance
Remarks
1
237
AAW Amarasinghe
SL Army
8:52.2
2
262
SDYS Wijethunga
SL Army
3
162
LSD Maduranga
SL Army
4
145
WNSK De Mel
SL Army
5
168
GKS Gamlath
SL Army
389
WMHM Weerasinghe
SL Air Force
521

DMS Bandara

SL Army
337
YGRS Kumara
SL Army
E: No
228
3000 M St. Ch.
Men
Final
Place
BIB
Name
Affiliate
Performance
Remarks
1
54
RMS Pushpakumara
SL Army
8:52.19
NMR
2
335
HMIUB Herath
SL Army
9:07.36
3
396
WGC Fernando
SL Air Force
9:16.56
4
166
MAR Chamara Kumara
SL Army
9:23.31
5
65
TMLC Gunarathne
SL Army
9:26.48
6
498

HMS Karunarathna Banda

SL Army
9:32.48
7
373
WRBA Pushpakumara
SL Air Force
9:34.32
8
11
MD Saman Kumara
SL Army
9:36.02
9
137
AB Nilanka Alvis
SL Army
9:41.68