Sri Lanka's most prominent squash player Mihiliya Methsarani retained her Under 19 Girls' Junior National title while Shameel Wakeel took home the under 19 Boys' title at the Junior Squash nationals held from the 26th of November to the 3rd of December.
The Sri Lanka Junior Squash championship that was worked off at the Tamil Union Squash courts, spanned for over a week with the under 11 to under 19 national titles being contested for.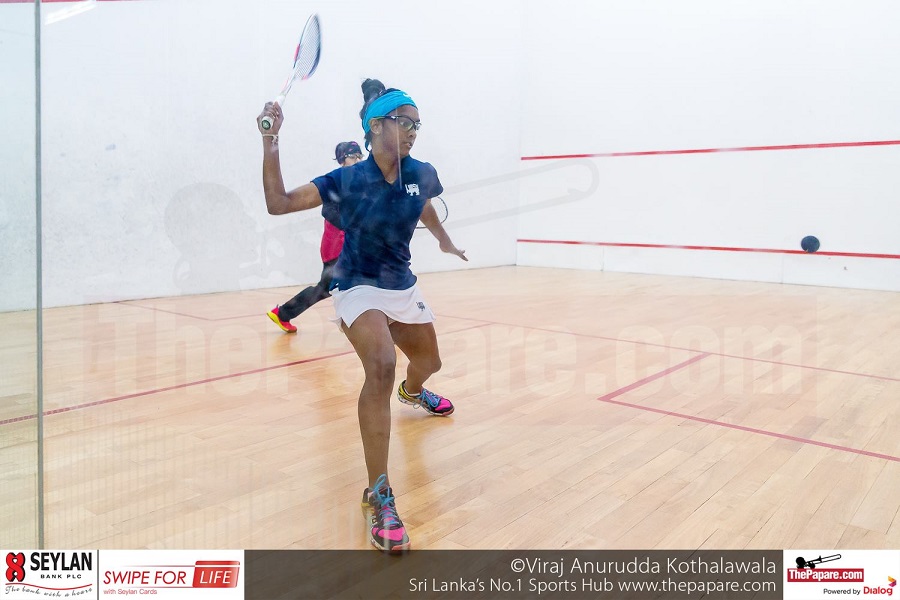 It was the eighteen year old Mihiliya Methasarani who retained the most coveted silverware for the girls by winning the under 19 championship this year while Fathoum Issadeen of Holy Family Convent, who went down after a closely contested final, finished as the runner up. In third place was Wasundara Suwaris who defeated Sanduni Gunawardena in the 3rd/4th play-off.
Photo Album: Junior and Senior Squash Championship – Finals 2016
This was Mihiliya's fifth successive victory in the junior under 19 division and it will also be her final one since she will soon be graduating to the national stage.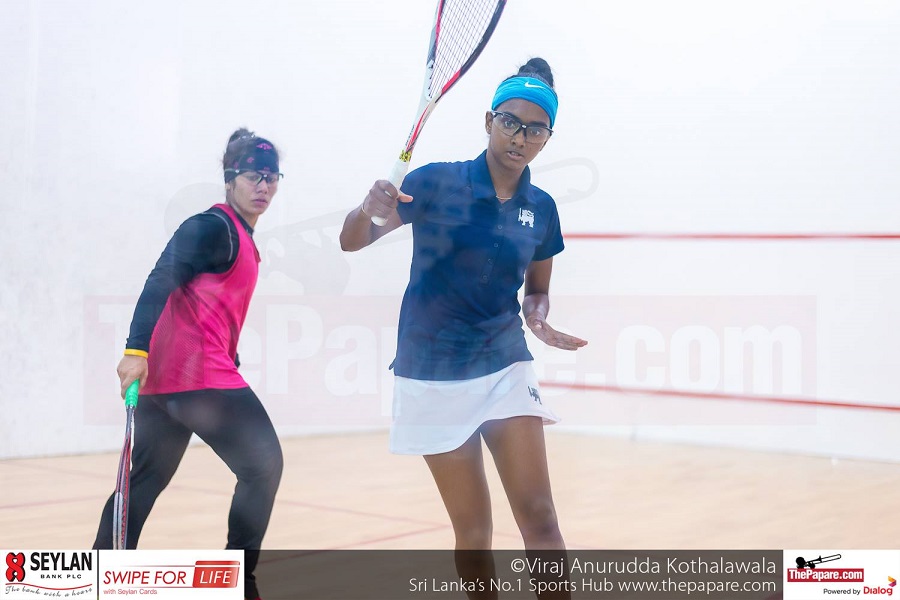 Shameel Wakeel was victorious in the under 19 boys' division defeating Druvinka Perera in the final encounter. Top seeded player Shameel Wakeel had it easy against his opponent and this victory in the 2016 championship helped him to claim his second successive title.
Mohammed Hakeem took third place honours in the under 19 division and then went on to win the under 17 boys' title.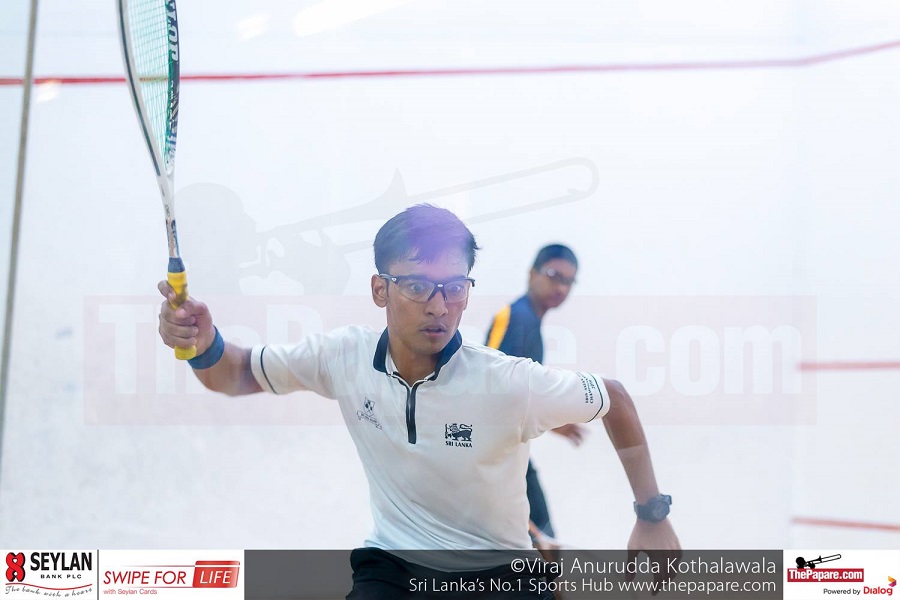 After an exciting seven days of action with the participation of 278 players, the 2016 championship came to a close on Saturday the 3rd with the presentation of awards.
Full list of winners:
GIRLS' UNDER 11 (NOVICES): Sanuki V.W Abesekara – Winner, Kavithma Senomi Silva – Runner Up
GIRLS' UNDER 15 (NOVICES): Shanalle Kularatne – Winner, Sharika Kamaya Seneviratne – Runner Up
GIRLS' UNDER 9: Tolisha Warnakulasooriya – Winner, Dihini Sachika Dahanayake – Runner Up, Adhithi Gunasekera -3rd Place, Dilara Sesadee Balasooriya -4th Place, Sayumi Witharana -5th Place, Minuli Liyara Rajapakse -6th Place, K.Risandi Malinsa Fernando -7th Place, Lavanya Wijetunga -8th Place
GIRLS' UNDER 11: V.S Chanithma Sinaly –Winner, Ranliya Irudinithi wood -Runner Up, Shenalka Dinethri Kulatunga -3rd Place, Tolisha Warnakulasooriya -4th Place, Miyuni Misara Weerasinghe -5th Place, Ashendri Mendis -6th Place, Adhithi Gunasekera -7th Place, Hasini Kavishka Perera -8th Place
GIRLS' UNDER 13: V.S Chanithma Sinaly –Winner, Anargi Perera -Runner Up, Yeheni Kuruppu -3rd Place,Ranliya Irudinithi wood -4th Place, Tharushi.k.Maganaarachchi -5th Place, Shenaya Dinethri Siriwardena -6th Place, Sehansa Isindie Karunanayake -7th Place, Nadeesha Kusalani Fernando -8th Place
GIRLS' UNDER 15: Dewmini Gallage –Winner, Sameera Deen -Runner Up, Ananya Gamage -3rd Place, Shaveetha Kohombange -4th Place, Himandi Yehansa Abeysundera -5th Place, Archana De Silva -6th Place, Anargi Perera -7th Place, Shenaya Dinethri Siriwardena -8th Place
GIRLS' UNDER 17: Sameera Deen -Winner, Dewmini Gallage -Runner Up, Malshi Rajapaksha -3rd Place, Shaveetha Kohombange -4th Place, Himandi Yehansa Abeysundera -5th Place, Archana De Silva 6th Place
GIRLS' UNDER 19: Mehiliya Methsarani –Winner, Fathoum Issadeen -Runner Up, Wasundara Suwaris -3rd Place Sanduni Gunawardane -4th Place
BOYS' UNDER 11 (NOVICES): Januka Sewandu Prematilleke -Winner, F.A Herschel Vitalian -Runner Up
BOYS' UNDER 15 (NOVICES): Enrique de Meraal -Winner, Senuka Dinsara Fernando -Runner Up
BOYS' UNDER 19 (NOVICES): M.A.M Azoor -Winner, Dinindu Thewarathanthri -Runner Up
BOYS' UNDER 9: M.Rilwan –Winner, M.A Shehara A Dias -Runner Up, L.D.S.N Liyanage -3rd Place, Methesha wijesekara -4th Place, P.K Tharul Pinwaththa -5th Place, S.A.D.Anushka Heshan Jayathilake -6th Place, Yenula Algoda -7th Place
BOYS' UNDER 11: Senuth Dias –Winner, Mahima Goonasekara -Runner Up, Hiruna Coralage -3rd Place, Pramuditha Thalagala -4th Place Chareen Ranthil Liyanarachchi -5th Place, M.Rilwan -6th Place, M.A Shehara A.Dias -7th Place, Thenuwan Meegalla-8th Place
BOYS' UNDER 13: D.H Thinura Randina –Winner, E.A.Nevindu Lakman -Runner Up, Seniya Jayatilleke -3rd Place, Akila Athapathu -4th Place Sehath Perera -5th Place, Deshan Chirantha Hettige -6th Place, Senuth Dias -7th Place, Minuka jayawardana -8th Place
BOYS' UNDER 15: Methmal Dewmina Wood –Winner, Raveen Nanayakkara -Runner Up, I.R. Ashwin -3rd Place, M.Ilham Faheth Asmone- 4th Place, Nadun Sanjaya Karunaratne -5th Place, Dulina Perera -6th Place, D.H Thinura Randina -7th Place, K.Pasan Rochana -8th Place
BOYS' UNDER 17: Mohomad Hakeem –Winner, I.R. Ashwin -Runner Up, Raveen Nanayakkara -3rd Place, Methmal Dewmina Wood -4th Place, Nadun Sanjaya Karunaratne -5th Place, Dulina Perera -6th Place, M.Ilham faheth asmone -7th Place, Vinal Isindu Salgado-8th Place
BOYS' UNDER 19: Shameel Wakeel –Winner, Druvinka Perera -Runner Up, Mohomad Hakeem -3rd Place, Indeera Wijayapura -4th Place