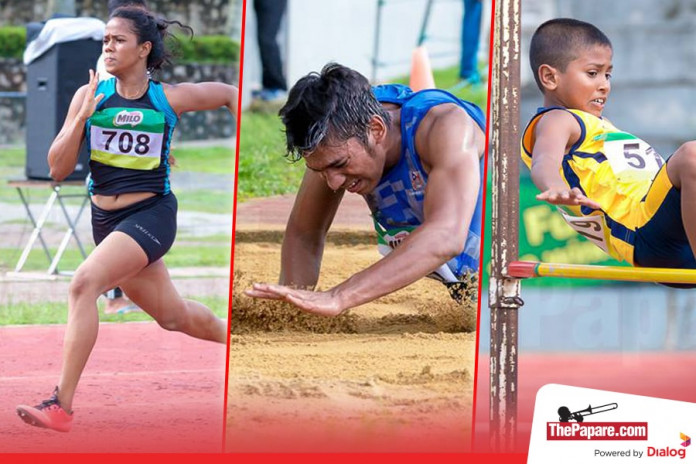 The annual athletic meet oragnised by the Ceylon Track & Field club for the 54th time was held over the weekend at the Diyagama Mahinda Rajapakse Stadium over the weekend (05th & 06th November).
Organised by the oldest functioning track and field club of the country, this annual meet is considered a stepping stone for the aspiring young athletes to step into the national fold. This year's meet was affected by the rains but the dedication and hard work by both organizers & the athletes paved way for the tournament to be completed successfully.
Events were held under 04 age groups (U-14 , U-16, U-18 & U20) and Open categories. Best athletes male/female were awarded trophies at the awards ceremony which was attended by the  Chairman of Sri Lanka Athletic Association and veteran athlete Sugath Thilakarathne.
Speaking to ThePapare.com Mr.Anil Weerasinghe – President of the Ceylon Track and field club "This is the 54th time that we organized the senior tournaments and the 43rd time the junior tournament was held.  Ceylon Track  and field club organized the first ever marathon in Sri Lanka and is the oldest functioning club in the island. Our club is open for all the athletes and despite the rain affecting the meet his year we managed to successfully conduct the meet"
Winners of the best athlete awards
 Under 14
Male – Kavin Kaushan (Long Jump)
Female – Chathuri Madushani (Long Jump)
Under 16
Male – Charu Adeepa  (400m)
Female- HImashi Fernando (100m)
Under 18
Male – Isuru Lakshan (800m)
Female – Tharaka Divyanjalee (100m)
Under 20
Male- Sachin Perera (200m)
Roshini Subadhra (Lon g jump)
Open
Male – Yasiru Samodya (100m)
Female – H.M Priayadarshani (Triple Jump)