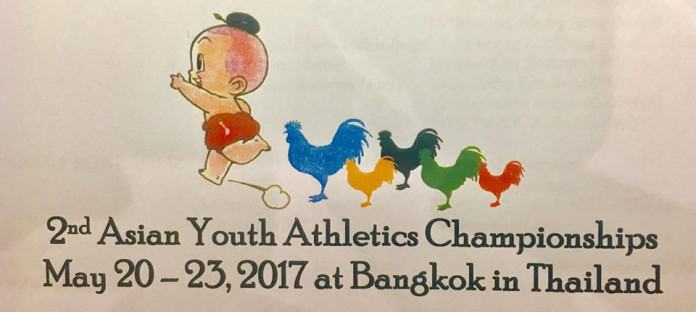 12 young Sri Lankan athletes took wing to Thailand yesterday (17th) to take part in the 2nd Asian Youth Athletic Championship that will be held at the Bangkok National Stadium in Thailand from 20th to 23rd May.

In 2015, at the initial edition of the bi annual meet held in Doha Qatar, Sri Lanka was placed 10th in the medal table securing 04 medals in total. 400m hurdler Yamani Dulanjali won the Islands solitary gold while Dharshana Rajapakse (400m Hurdles), Chaml Kumarasiri (Triple Jump) and Roshan Dhammika (High Jump) returned with silver medals. This year the young Lankan outfit will be focused on delivering a better result and elevate the country's stand in the medal tally.
Sri Lankan team consists of 9 boys and 3 girls who have impressed through their performances in the recent competitions. Hurdler Navodya Sankapala, 400m runner Ravishka Indrajith and steeple chaser young Asmika Herath, who have already achieved the required  qualification standards for the IAAF World Youth Championships that will be held in Nairobi, Kenya later this year, are also included in the contingent and will be eying podium finishes prior to the all-important meet in Nairobi later this year.  In the boys segment, the young Lankans will be taking part in 9 events while in the girls segment the three female athletes will be representing the country in 5 events with sprinter Sachini Divyanjali running both 100 & 200m while long distance runner Asmika Herath will take part in the 2000m, Steeple chase & 3000m. Sandumini Bandara will be the other female athlete and will represent the country in 400m.
Sri Lankan team for the 2nd Asian Youth Athletic Championship
Girls
Sachini Divyanjali (Lyceum Wattala) 100m & 200m, Asmika Herath (Kuliyapitiya Central) 2000m, Steeple chase & 3000m, Sandumini Bandara (St. Joseph's BV, Kegalle) 400m
Boys
Suraj Dinusha (Moraketiya Vidyala, Embilipitiya) 100M, Shalika Santhush (St. Benedicts College) 200m, Ravishka Indrjith (St. Benedicts College) 400m, Harsha Karunarathne (A.Ratnayake Central College) 800m, Shehan Kariyawasam (St. Joseph's Colombo) 110m hurdles, Navodya Sankapala (Mahinda College) 400m hurdles, Chanuka Kasthuriarachi (S. Thomas' College ) High Jump,  Pramodh Madubash (Maris Stella) Long Jump, Charuka Rukshan (St. Mary's Chilaw) Javeline.
Events participated by Sri Lankan Athletes are highlighted in Green. All times given in local time in Thailand.
Day 1: Saturday 20th May 2017
| | | | | |
| --- | --- | --- | --- | --- |
| Event No. | Time | Event | Group | Round |
| | | | | Morning Session |
|  101  |  8.30  |  100m  |  Boy  |  DEC 1  |
| 102 | 9.00 | Shot Put | Girl | Final |
| 103 | 9.30 | Long Jump | Boy | DEC 2 |
|  104  |  9.30  |  100m  |  Girl  |  Round  |
|  105  |  10.00  |  100m  |  Boy  |  Round  |
|  106  |  10.30  |  400m  |  Girl  |  Round  |
|  107  |  11.00  |  400m  |  Boy  |  Round  |
| 108 | 11.00 | Hammer Throw | Boy | Final |
| 109 | 11.00 | Shot Put | Boy | DEC 3 |
| 110 | 11.30 | 100m Hurdles | Girl | Round |
|  111  |  11.50  |  110m Hurdles  |  Boy  |  Round  |
| | | | | Afternoon Session |
| 112 | 14.30 | Pole Vault | Boy | Final |
| 113 | 14.45 | High Jump | Boy | DEC 4 |
| 114 | 15.00 | Long Jump | Girl | Final |
| 115 | 15.00 | 100m Hurdles | Girl | Final |
| 116 | 15.20 | 110m Hurdles | Boy | Final |
| 117 | 15.40 | 100m | Girl | Semi – Final |
| 118 | 16.00 | 100m | Boy | Semi – Final |
| 119 | 16.20 | 400m | Girl | Semi – Final |
| 120 | 16.40 | 400m | Boy | Semi – Final |
| 121 | 17.00 | 400m | Boy | DEC 5 |
Day 2: Sunday 21st May 2017
| | | | | |
| --- | --- | --- | --- | --- |
| Event No. | Time | Event | Group | Round |
| | | | | Morning Session |
| 201 | 7.30 | 5,000m Walk | Girl | Final |
| 202 | 8.30 | 110m Hurdles | Boy | DEC 6 |
|  203  |  8.50  |  3,000m  |  Girl  |  Final  |
| 204 | 9.10 | 3,000m | Boy | Final |
| 205 | 9.30 | Discus Throw | Boy | DEC 7 |
| 206 | 9.50 | 800m | Girl | Round |
|  207  |  10.10  |  800m  |  Boy  |  Round  |
| 208 | 10.30 | Shot Put | Boy | Final |
| 209 | 10.50 | Hammer Throw | Girl | Final |
| 210 | 11.00 | Pole Vault | Boy | DEC 8 |
| | | | | Afternoon Session |
| 211 | 14.30 | Javelin Throw | Boy | DEC 9 |
| 212 | 15.30 | Long Jump | Boy | Final |
|  213  |  15.30  |  High Jump  |  Girl  |  Final  |
| 214 | 16.00 | Discus Throw | Girl | Final |
| 215 | 16.00 | 800m | Girl | Final |
|  216  |  16.15  |  800m  |  Boy  |  Final  |
| 217 | 16.30 | 1,500m | Boy | DEC 10 |
| 218 | 16.50 | 400m | Girl | Final |
| 219 | 17.05 | 400m | Boy | Final |
| 220 | 17.20 | 100m | Girl | Final |
| 221 | 17.30 | 100m | Boy | Final |
Day 3: Monday 22nd May 2017
| | | | | |
| --- | --- | --- | --- | --- |
| Event No. | Time | Event | Group | Round |
| | | | | Morning Session |
| 301 | 8.00 | 10,000m Walk | Boy | Final |
| 302 | 9.00 | 100m Hurdles | Girl | HEP 1 |
| 303 | 9.00 | Discus Throw | Boy | Final |
|  304  |  9.20  |  200m  |  Girl  |  Round  |
|  305  |  9.50  |  200m  |  Boy  |  Round  |
| 306 | 10.00 | High Jump | Girl | HEP 2 |
| 307 | 10.20 | Triple Jump | Girl | Final |
| | | | | Afternoon Session |
| 308 | 14.30 | Shot Put | Girl | HEP 3 |
| 309 | 14.50 | Pole Vault | Girl | Final |
| 310 | 15.10 | High Jump | Boy | Final |
| 311 | 15.30 | 200m | Girl | Semi – Final |
| 312 | 15.50 | 200m | Boy | Semi – Final |
| 313 | 16.00 | Javelin Throw | Girl | Final |
| 314 | 16.30 | 200m | Girl | HEP 4 |
| 315 | 16.50 | 1,500m | Girl | Final |
| 316 | 17.05 | 1,500m | Boy | Final |
| 317 | 17.25 | Medley Relay | Girl | Round |
| 318 | 17.40 | Medley Relay | Boy | Round |
Day 4: Tuesday 23rd May 2017
Event #
Time
Event
Group
Round

Morning Session

401

9.30

400m Hurdles

Girl

Round

 402 

 9.50 

 400m Hurdles 

 Boy 

 Round 

 403 

 9.40 

 Long Jump 

 Girl 

 HEP 5 

Afternoon Session

404

14.00

Javelin Throw

Girl

HEP 6

405

14.20

Triple Jump

Boy

Final

406

14.20

400m Hurdles

Girl

Final

407

14.35

400m Hurdles

Boy

Final

408

14.50

200m

Girl

Final

409

15.05

200m

Boy

Final

 410 

 15.20 

 Javelin Throw 

 Boy 

 Final 

 411 

 15.20 

 2,000m SC. 

 Girl 

 Final 

412

15.40

2,000m SC.

Boy

Final

413

16.00

800m

Girl

HEP 7

414

16.15

Medley Relay

Girl

Final

415

16.30

Medley Relay

Boy

Final

This schedule is subject to change depending on the number of participating teams