55th Junior National championship organized by the Athletic Association of Sri Lanka held over 04 days  concluded yesterday (26th) at the Diyagama Mahinda Rajapakse stadium.

21 new records were established during the span of 04 days with the young and upcoming talent of the Island displaying that they are capable of ushering Sri Lankan athletics back to the golden era where it was considered a force to be reckoned with in the Asian arena.  Three young athletes,   Steeple chaser Asmika Herath of Kuliyapitiya central college, boys 400m Ravishka Indrajith of St. Benedict's and 400m hurdler Navodya Sankapala of Mahinda College, Galle qualified for the World Youth Championships during the meet.
Triple jumper Hashini Balasooriya from Holy Family Convent, Wennapuwa was adjudged the best athlete of the meet for her record breaking leap of 13.20m in the triple jump. Hashini shattered the record of Vidusha Lakshani the current national record holder of the event.

Asmika Herath of Kuliyapitiya Central College had a wonderful four days as she finished off the championship in style with three gold medals to her name. Herath secured her third gold in the under 18 1500m with a time of 45.73s. Earlier she shattered two records in the 2000m and 3000m Steeple chase event and secured a place in the World youth championship.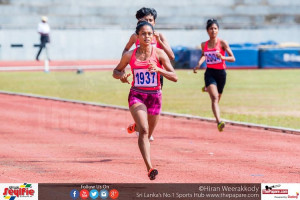 Nirmali Madhushika of Sri Lanka Air force laid claim to two meet record of her own as she ran an impressive 24.78s in the girls U23 200m while her record breaking 55.10 in the girls 400m earned her the best athlete award in the girls U23 category.  
Yamini Dulanji of Ambagamuwa Central College had a successful tournament with three gold medals to her name as she won the 400m title in the girls Under 20 category.  Earlier she clinched gold in the Under 20 200m while her time of 1:01.68 in the 400m hurdles event secured gold while establishing a new meet record.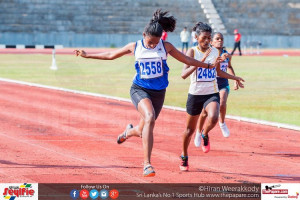 Rising sprint star Sadeepa Henderson of Gateway College Colombo completed a sprint double winning gold in both 100m and 200m under 16 girls event. Henderson established a new meet record in the 200m meters event with a time of 25.88secs and was unfortunate to miss out on the record In the 100m as she took 0.03 longer than the existing record.  
In the boys 400m, two contestants stood out with their performance.   Benedictine Ravishka Indrajith clocked a time of 48.87 to set a new meet record in the boys 400m event. Having already qualified for world youth championship qualification mark of 49.25 in the heats of the event, Indrajith  kept on improving his timing through the races to clinch the record in the final.  In the boys U20 400m Tharusha Danajaya clocked 47.44 and turned many heads for his superb effort.

Championship results
Girls
Under 16: Sadini Kaveesha (Vijitha CC Dickwella) Long Jump 5.48m
Under 18: Bimashi Asmika Herath (Kuliyapitiya CC) 2000m St.Ch 6:59.96 sec
Under 20: Hashini Prabodha Balasooriya (Holy Family Convent Wennappuwa) Triple Jump 13.20m
Under 23: Nirmali Madushika (Air Force) 400m 55.10 sec
Boys
Under 16: Shehan Milinda Perera (St. Mary's College Chilaw) 22.68 sec
Under 18: Shehan Kariyawasam (St.Joseph's College Colombo) 110m hurdle 14.41 sec
Under 20: Nipun Kavinda Kaldera (Loyola College Kochchikade) Long Jump 7.52m
Under 23: Greshan Dhananjaya (Army) Long Jump 7.83m
Best Athlete of the meet – Hashini Prabodha Balasooriya (Holy Family Convent Wennappuwa) Triple Jump 13.20m