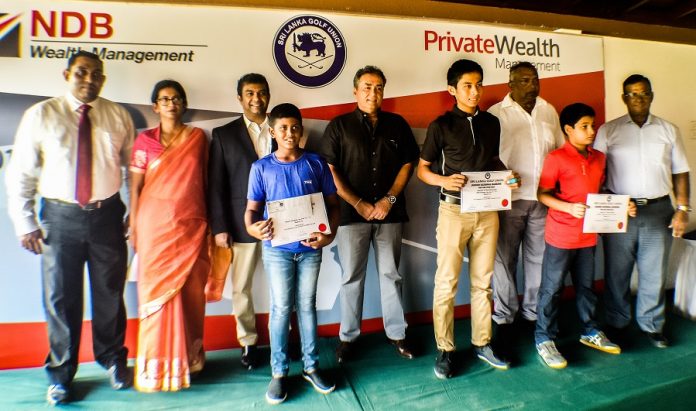 The rankings of the 2017  junior nationals were awarded today at the Royal Colombo Golf Club with Vinod Weerasinghe, Taniya Balasuriya, S Dhuwarshan, Shanal Binuksha and Reshan Algama securing the top spots in their relevant categories.
These Golfers were categorized on total points across the performance of three main stream tournaments namely the Rukmini Kodagoda Match Play Championship, The Prima Regional Junior Opens in Kandy and Nuwara Eliya and the Sri Lankan Junior Open in Colombo organized with the aim of encouraging the youngsters to join and emerge to the wider arena of Golf.
Present at the occasion the Chief Executive Officer of NDB Wealth Mr.Prabodha Samarasekara stated 'NDB Wealth is firmly committed to developing and promoting Junior Golf in Sri Lanka and most of all we are encouraged by the dedication of the Sri Lanka Golf Union officials.' Other guests present at the occasion were Mrs. Niloo Jayathilake, Chairperson-Junior Subcommittee, Sri Lanka Golf Union and Priyath Fernando, President SLGU.
The golfers competed in 4 age group categories, the below 9 or the copper division where Reshan Algama of Royal Golf Club Colombo won the top spot with 2025 points under his belt followed up by Kvahn Tejwani and C.Dharaniyan. In the age group 10-11 years of age or the Bronze category Shanal Binushka won the category with 1800 points with Nirekh Tejwani in second spot and S.Sanjay in third.
The much older 12-14 age group saw S.Dhuwarshan clinching the top spot with Haroon Aslam and T. Vikash emerging the runner up and the second runner up respectively. The highest level of the Junior levels saw Vinod Weerasinghe of Royal Colombo Golf Club victorious with 2100 points under his belt and Armand Flamer Caldera and S.Dilshan followed up in 2nd and 3rd with 1725 and 1025 points respectively.
Girls category was won by Taniya Minel Balasuriya with 2125 points which was a clear lead as the second seed Kayla Perera had only 1675 points to her name. Sherin Mithra Balasuriya followed Kayla in the third spot.
Final Rankings for 2017 is given below:
Top ranked juniors for 2017: Vinod Weerasinghe (Boys – Gold Division)

Taniya Balasuriya (Girls – Gold/Silver Division)

S Dhuwarshan (Boys – Silver Division)

Shanal Binuksha (Boys – Bronze Division)

Reshan Algama (Boys – Copper Division)
Gold Division 15 – 18+
 
 
 
 
 
 
 
NAME
Final Points
Rank
Club
Vinod Weerasinghe
2100
1
RCGC
Armand Flamer Caldera
1725
2
RCGC
S.D.S.Dilshan
1025
3
RCGC
Vihan De Alwis
975
4
RCGC
D. Himal Randima
933
5
RCGC
(GIRLS )Gold Division & Silver Division
 
 
NAME
Final Points
Rank
Club
Taniya Minel Balasuriya
2125
1
RCGC
Kayla Perera
1675
2
RCGC
Sherin Mithara Balasuriya
1533
3
RCGC
H.M.Dalhiya Hepshiba
1125
4
VGCR
Iman Sangani
975
5
RCGC
 
 
Silver Division 12 – 14+
 
 
 
NAME
Final Points
Rank
Club
S. Dhuwarshan
2200
1
NEGC
Haroon Aslam
1675
2
VGCR
T. Vikash
1325
3
RCGC
K.Danushan
1175
4
RCGC
Levon Niyarapola
1175
4
RCGC
 
 
Bronze Division 10 – 11+
 
 
 
NAME
Final Points
Rank
Club
N. W. G. Shanal Binuksha
1800
1
RCGC
Nirekh Tejwani
1400
2
RCGC
M. S. Sanjay
1350
3
NEGC
L. Lidhurshan
1300
4
NEGC
Yannik Kumara
950
5
RCGC
 
 
Copper Division 09+ & Under
 
 
 
NAME
Final Points
Rank
Club
Reshan Algama
2025
1
RCGC
Kvahn Tejwani
1725
2
RCGC
C. Dharaniyan – NEGC
1525
3
NEGC
Kaya Daluwatte
1150
4
RCGC
Keshav Algama
950
5
RCGC