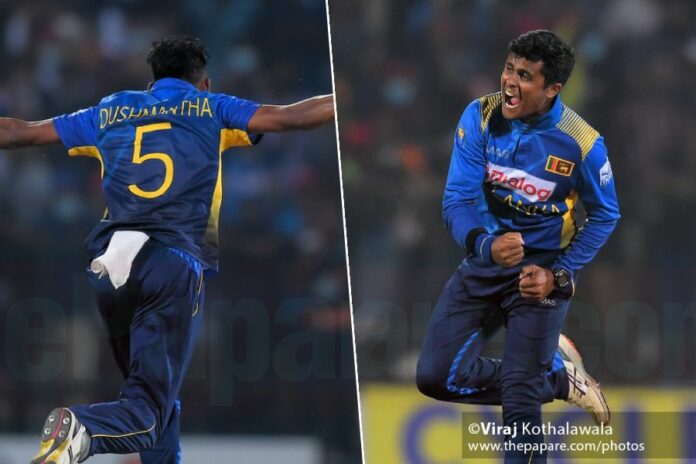 Thanks to some outstanding bowling Sri Lanka recorded a thumping 184-run win in the third one-dayer against Zimbabwe to win the series 2-1.
The Negombo Express, Dushmantha Chameera set the tone for Sri Lanka when they came out to bowl. He picked up two big wickets – Regis Chakabva and Craig Ervine – in back-to-back deliveries to leave the visitors stranded in their chase. They were never able to return to the game from that point onwards.
The entire Lankan bowling unit ran riots in the Zimbabwean batting lineup as wickets kept tumbling in clusters reducing the men in red to the lowest total at Pallekele – 70 runs.
Chameera was quick and fierce as usual which helped him bag 2 wickets for 20 runs.
Leg spinner Jeffrey Vandersay continued to impress as he bowled some absolute stunners to return figures of 4 for 10.
Ramesh Mendis also picked up 2 wickets for 26 runs.
The Lankans got a good start with the bat too with their openers posting an 80-run stand and seeing off the new ball comfortably. But there wasn't anyone to take it from there.
The boat was cruising smoothly until the 14th over for the hosts. Then, the 15th over was a tight one from Wellington Masakadza which went for just 3 singles, just 2 runs off the next Ryan Burl over, the pair gave away only 6 runs in the next couple of overs too and Voila! Kusal Mendis goes for the glory hit over extra covers, only to find the long-off fielder's pouch.
It only took 4 good overs to break the composure of the Sri Lankan batting.
Pathum Nissanka though did look amazing today. The right-hander played a few glorious drives off the seamers and managed to find the gaps off the spinners. He brought up his second ODI fifty in 59 deliveries with 6 elegant boundaries in it.
It was also a commendable effort from the young Sri Lanka leftie, Charith Asalanka, who saw through the storm to take Sri Lanka to 254 runs. He made a brilliant 52 before perishing off a Tendai Chatara delivery.
The use of Ryan Burl and Sikandar Raza in the middle overs was perfect by Craig Ervine. He realised the momentum shifted to his side very quickly when Sri Lanka lost 2 quick – Pathum Nissanka and Kamindu Mendis were undone in successive overs – and used that vital period to get a few overs in from his secondary bowlers.
The death bowling was impeccable from the visitors. Wide-yorkers was the plan and Ervine provided a superb field for his bowlers, especially, Richard Ngarava.
With 3 men guarding the off-side fence and 2 men covering the long-on and cow-corner, the Lankan batters did not have a region to target against Ngarava's angle.
Nevertheless, the Lankan bowlers were a class apart tonight as they feasted upon the Zimbabwean batters.


Batsmen
R
B
4s
6s
SR
Pathum Nissanka
run out (Wesly Madhevere)
55
66
0
0
83.33
Kusal Mendis
c Blessing Muzarabani b Wellington Masakadza
36
51
4
0
70.59
Kamindu Mendis
c & b Ryan Burl
11
20
0
0
55.00
Dinesh Chandimal
lbw b Sean Williams
17
24
1
0
70.83
Charith Asalanka
c Sikandar Raza b Richard Ngarava
52
23
0
0
226.09
Dasun Shanaka
c Sikandar Raza b Richard Ngarava
15
23
0
0
65.22
Chamika Karunaratne
run out (Ryan Burl)
30
32
0
0
93.75
Ramesh Mendis
b Blessing Muzarabani
26
21
2
0
123.81
Dushmantha Chameera
c Sean Williams b Richard Ngarava
1
3
0
0
33.33
Jeffery Vandersay
not out
3
3
0
0
100.00
Maheesh Theekshana
not out
1
2
0
0
50.00
| | |
| --- | --- |
| Extras | 7 (b 2 , lb 1 , nb 1, w 3, pen 0) |
| Total | 254/9 (50 Overs, RR: 5.08) |
| Fall of Wickets | 1-80 (17.2) Kusal Mendis, 2-101 (22.2) Pathum Nissanka, 3-107 (23.1) Kamindu Mendis, 4-149 (30.6) Dinesh Chandimal, 5-183 (38.4) Dasun Shanaka, 6-241 (47.4) Ramesh Mendis, 7-247 (48.5) Dushmantha Chameera, 8-249 (49.2) Chamika Karunaratne, |
| Bowling | O | M | R | W | Econ |
| --- | --- | --- | --- | --- | --- |
| Tendai Chatara | 7 | 0 | 35 | 1 | 5.00 |
| Blessing Muzarabani | 10 | 0 | 63 | 0 | 6.30 |
| Richard Ngarava | 9 | 1 | 46 | 2 | 5.11 |
| Wellington Masakadza | 10 | 0 | 42 | 1 | 4.20 |
| Ryan Burl | 6 | 0 | 26 | 1 | 4.33 |
| Sikandar Raza | 6 | 0 | 33 | 0 | 5.50 |
| Sean Williams | 2 | 0 | 6 | 1 | 3.00 |


Batsmen
R
B
4s
6s
SR
Takudzwanashe Kaitano
c Kusal Mendis b Jeffery Vandersay
19
22
2
0
86.36
Regis Chakabva
c Charith Asalanka b Dushmantha Chameera
1
4
0
0
25.00
Craig Ervine
c Kusal Mendis b Dushmantha Chameera
0
1
0
0
0.00
Sean Williams
b Maheesh Theekshana
6
21
0
0
28.57
Milton Shumba
c Jeffery Vandersay b Ramesh Mendis
9
22
1
0
40.91
Sikandar Raza
c Pathum Nissanka b Chamika Karunaratne
1
5
0
0
20.00
Ryan Burl
lbw b Jeffery Vandersay
15
46
1
0
32.61
Wellington Masakadza
b Ramesh Mendis
1
4
0
0
25.00
Blessing Muzarabani
lbw b Jeffery Vandersay
2
5
0
0
40.00
Tendai Chatara
not out
8
15
1
0
53.33
Richard Ngarava
c Maheesh Theekshana b Jeffery Vandersay
0
2
0
0
0.00
| | |
| --- | --- |
| Extras | 8 (b 0 , lb 0 , nb 0, w 8, pen 0) |
| Total | 70/10 (24.4 Overs, RR: 2.84) |
| Fall of Wickets | 1-3 (2.2) Regis Chakabva, 2-3 (2.3) Craig Ervine, 3-20 (7.2) Sean Williams, 4-30 (10.2) Takudzwanashe Kaitano, 5-31 (11.1) Sikandar Raza, 6-41 (15.5) Milton Shumba, 7-48 (17.1) Wellington Masakadza, 8-52 (18.3) Blessing Muzarabani, 9-70 (24.2) Ryan Burl, 10-70 (24.4) Richard Ngarava, |
| Bowling | O | M | R | W | Econ |
| --- | --- | --- | --- | --- | --- |
| Dushmantha Chameera | 5 | 1 | 20 | 2 | 4.00 |
| Maheesh Theekshana | 6 | 1 | 10 | 1 | 1.67 |
| Jeffery Vandersay | 7.4 | 2 | 10 | 4 | 1.35 |
| Chamika Karunaratne | 2 | 0 | 4 | 1 | 2.00 |
| Ramesh Mendis | 4 | 0 | 26 | 2 | 6.50 |