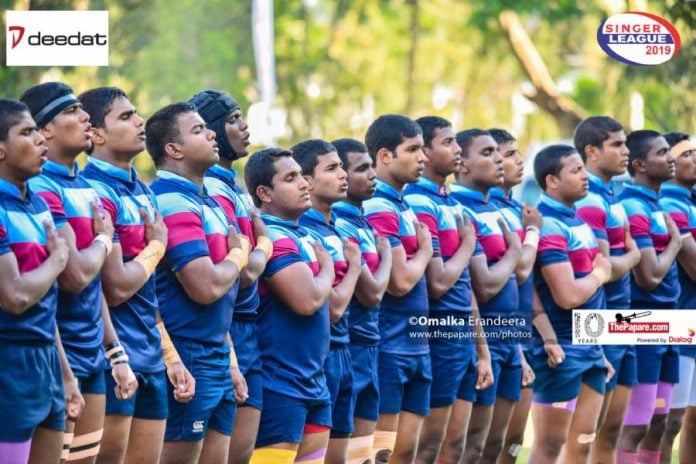 Zahira College hosted St. Anthony's College at Maradana in their Singer Schools Rugby League 2019 encounter, as both teams sought their first win in 4 games. Despite leading 9 points to 7 at half-time, Zahira College ended their run in the Cup segment, going down to the visitors, 21 – 27.
It was an intense first few minutes as both teams took turns attacking each other, resulting in no scores for the first 10 minutes. That's when the Zahirian #14 Abdul Salaam drew first blood, slotting in a three pointer to put his side in the lead. But, the lead proved to be insufficient as the Eagles made headway inside the opposition half. Zahira were struck in the 20th minute when Antonian Skipper, Mohommed Makarim, touched down under the posts after breaking through from a lineout inside the Zahira '22. Thirusha Ekanayake made no mistake as the visitors took a 4 point lead.
Photo Album  : Zahira College vs St.Anthony's College | Singer Schools Rugby League 2019
The final quarter of the 1st half saw the tables turn as Salaam converted two more penalties into points, in quick succession, which put Zahira in the lead at the lemons.
Half time: ZC 9 – 7 SACK
The second half action began immediately as the Eagles wasted no time extending their lead. Anthonian #15 Thirusha Ekanayake scored in the 36th minute after holding onto possession from a center-field scrum and ended up over the white wash – he added the extras. Following Ekanayake was Ushan Jayasuriya who added 10 points to the Antonian total, after he jotted the ball down in the 44th and 49th minutes in the far corner. His second try came in scintillating fashion as he made a dashing 60 meter run to go over. Ekanayake failed to convert both tries as St. Anthony's took control of the game.
The final quarter of the game saw the Zahirians make a comeback – Mohommed Mirshan was able to score the home team's first try after carrying the ball forward from the back of a driving maul. But, Ekanayake managed to slot in another three-pointer, just before Zahira was awarded a penalty try after the Antonians committed repeated infringements.  However, it was a little too late for Zahira as their run in the Cup segment came to an end with no wins but 5 defeats.
Full-time: ZC lost 21 (1T 3P 1 Penalty try)  – 27 SACK (4T 2C 1P)
Score Breakdown ZC
Tries: Mohomed Mirshan, 1 Penalty try
Penalties: Abdul Salaam 3

Score Breakdown SACK
Tries: Mohommed Makarim, Ushan Jayasuriya 2, Thirusha Ekanayake
Conversions: Thirusha Ekanayake 2
Penalties: Thirusha Ekanayake 1
Referee: Priya Suranga