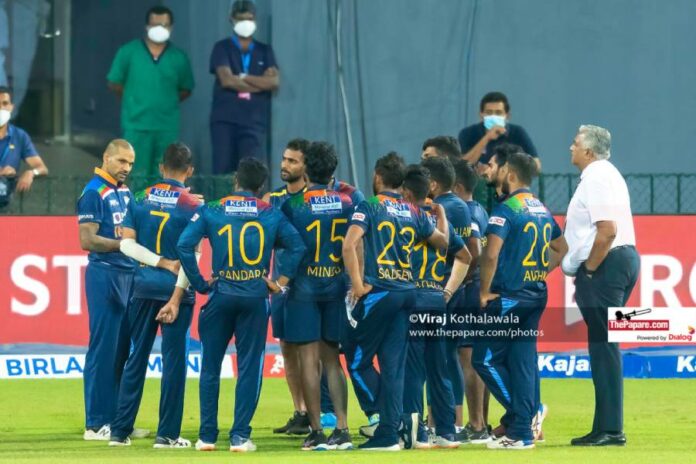 Hats off to the Indian cricket team for the sportsmanship they have exhibited this series. There were so many goodwill gestures by the Indians individually and collectively.  
The bio-secure bubble was compromised not once but twice and the Indians could have walked off from the tour leaving Sri Lanka Cricket in a soup. But they not only went out of their way but even scrapped the barrel to put out a team on the park after several of their players were forced into isolation. That was a remarkable gesture. True the input would have come from Rahul Dravid and Shikhar Dhawan, but the men who matter in Ahmedabad and Calcutta – Jay Shah and Sourav Ganguly – need our appreciation too. 
Board of Control for Cricket in India has readily come forward to bail out Sri Lanka Cricket time and again when SLC had troubles with their cash flow. The money that SLC gets through title sponsorships, team sponsorships or participation fee from ICC events is nothing compared to the windfall a tour of India brings. 
It is the television revenue generated through Indian cricket that enables SLC to make ends meet. Barring Australia and England, most cricket boards, not just Sri Lanka, would struggle to survive without the support from India. 
Despite being so powerful, demands that the Indian teams put forward aren't unreasonable at all compared to some teams. One of the simple requests they make is for the team to stay nowhere except Taj Samudra because the Indian food served at Navratna is so delicious. 
It is hard to comprehend the animosity towards Indian cricket in our backyard.  The hatred shown in social media towards Indian cricket is appalling to say the least. It is time for people to come to terms with reality and appreciate all the good deeds that Indian cricket has done to us over the years. 
In 1990s if you notice several young fast bowlers emerged and they went onto have an impact for the team and that's mainly thanks to the MRF Academy in Madras that hired fast bowling great Dennis Lillee and trained young Indian quicks and a few Sri Lankans got a couple of stints as well. 
Obviously, Jagmohan Dalmiya played a key role during the 1996 World Cup as the head of PILCOM by assembling a joint India-Pakistan team at a time when West Indies and Australia pulled out from honouring their World Cup fixtures in Colombo. 
The ICC initially were inclined to move the games out of Colombo and when Sri Lanka refused, the points were going to be awarded for Mark Taylor's and Richie Richardson's teams. It is the smart moves by Dalmiya that ensured that sanity prevailed. As a compromise, it had been even suggested for splitting points but once Dalmiya got the joint team skippered by Mohammad Azharuddin play at RPS, Australia and West Indies had no point to argue as it had been established that Colombo was safe. As a result, Sri Lanka received full points. 
India's role in pushing Sri Lanka's case for Test status was also crucial along with the support of Pakistan. These two nations constantly took up our case while Australia and England vetoed the proposal time and again. 
Times have changed now. Veto power has been abolished. Indian cricket is the new superpower of the sport. When you are depending so much on India for survival there is actually no harm in going with the flow although you may not agree with all what India is intending to do. After all, Australia and England are happy to move in that direction and what chance have you got by swimming against the current.
One thing is certain; India will not leave you high and dry like some other boards that have let you down over the years. Take the case of ECB who pinched Paul Farbrace away with mere weeks left for Sri Lanka's tour of UK.  Or for that matter Australia for we now know that certain individuals within their board were aware that Murali was going to be called for throwing on Boxing Day. 
India has proven during this tour that they are a friend indeed by being a friend in need. The perceptions among the public needs to change and it should start from players. 
There is also so much to learn from Indian cricket. Ten years ago they had a malfunctioning board with the headquarters in a tiny room at the Cricket Club of India in Bombay.  Now they have moved across the road to a spacious building at Wankhede and they have professionals running the game. India has built up the bench strength, looked after their retired cricketers and made First Class cricket professional.  Another thing that they have done is to place equal emphasis on women's cricket.  
India are thinking ahead of their times and their game has started thriving. We have only seen the beginning of Indian dominance and it's going to last for a while.