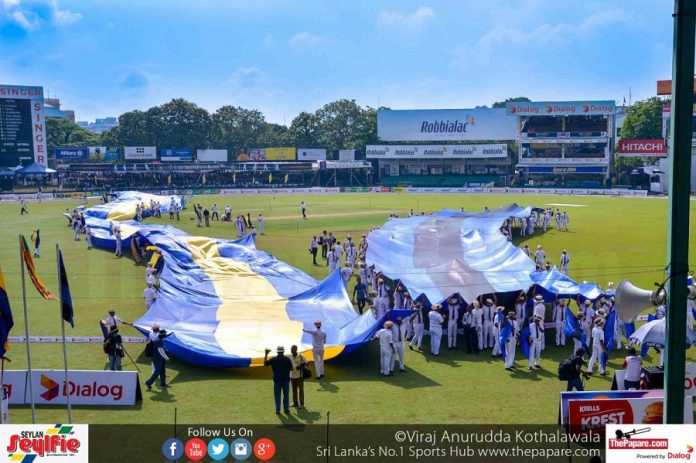 Out of the very many sports played by Thomians while at college, why did I choose Cricket (and Tennis a bit later on) as my sport? Was it because the only thing I remember doing from a very young is playing Cricket both inside and outside my house and loving every minute of it?
By R. Nirrushan (Head Prefect- 2009, Cricket Captain- 2008/2009, Tennis Captain-2008)
Or was it because Cricket was by far the most popular sport at college and in our country as a whole, with the big match being the highlight of the school calendar? In all honesty, thinking back, the reasons probably weigh around 95% in favour of the simple love for the sport and the joy I derived from playing it and being a part of a team with my incredible team mates and the residual 5% due to the privilege of representing a great (in my mind the greatest school in the world) institution like S. Thomas' at its most popular sport- Cricket.
The 13 years (from January, 1996 to September, 2009 to be precise) I spent as a student within the compounds of S.Thomas' College consists of some of the most memorable and exhilarating experiences. Who or what would I be if not for my days at S.Thomas' College as student? A question which I find quite impossible to answer and a scenario which I find even scarier to imagine. My time at college, the lessons which I have learnt in class from some of the best teachers (and even better human beings and personalities), the experiences I have had on the playing field learning from the most knowledgeable coaches and the most helpful team mates and above all, the friendships formed with fellow Thomians spanning over many years and likely to last the life time have and continue to shape up my individual qualities as is the case for every Thomian. Statistically speaking and logically thinking, my association with this great institution and my opportunity to grow up as a member of the Thomian family is, to a great extent and occurrence of luck, an event by chance which had very little probability of occurring. Being someone from a Hindu family with no one in the immediate or extended family having anything to do with S.Thomas', I view my admission into this great institution as a major of event of luck, something which I will be eternally thankful for
A journey which may have been incidentally kicked off by fortuitous luck, it comprised of some of the most pivotal learning experiences which will continue to shape up my existence. Such pivotal experiences are numerous, but the one which I consider the most crucial personally came during the 2008/2009 Cricket season, in particular during the 12th, 13th and 14th of March, 2009 at the SSC during the 130th Battle of the Blues. The drama which unfolded during those three days and the sequence of acts which took place session by session from the very first ball to the very last ball are of epic proportions and the lessons which I learnt from those three days are never to be forgotten, at least by myself until I have my last breath. What follows is a very brief (given that the season lasts for nearly 6-7 months) recollection of the drama which took place during that season, especially at the big match under my captaincy. This is not a story of super-heroes with super human powers. It consists of no Iron men, but it consists of a group of teenage Thomians, old Thomians and coaches with steely determination and undeterred will power.
At the time when I took over the captaincy of the First XI Cricket team, I was endowed with a young and very inexperienced group of Cricketers with just three coloursmen (including myself) left from the previous year's team, and I, more than anyone else, knew very well that it was going to be an uphill task to build up a formidable team with eight new faces. Regulatory changes brought about by the schools' cricket association meant that many of the senior players who could have played this year missed out.
Our team which had no "Star players" was written off by many experts saying that we wouldn't even have a chance of dragging the big match into the third day. The Royal outfit which was led by Yasith Abeykoon was considered to be one of the best, if not the best ever Cricket team produced by Royal College and rightly so, given their consistent outstanding performances during the season (three of the Royalists who played against us have won national caps in various forms of the international game). On the contrary, our season was nowhere close to being spectacular, with us having to fight really hard to wrestle back respectability with some good individual performances from time to time. What was most worrying for me as a Captain, was our inability to perform well as a team on a consistent basis for I knew that having any hope of doing well at the three day affair against a formidable team like Royal required not just an occasional moment of brilliance but the ability to concentrate continuously for long periods, with perseverance, both with ball and bat in hand. Our team's batting relied heavily on the shoulders of  Faahim Saleem and myself as we had done bulk of the scoring  (special mention must be made that Faahim Saleem surpassed the magical figure of 1000 runs for the season) and this too was a worry as I knew that the two of us had to deliver under pressure, some way or the other. Our bowling on the other hand seemed more settled (Chamal Fonseka bagging many wickets throughout the season and Vice-Captain Dinesh Walpita and seamer Chamodh Pathirana providing the firepower with the new ball, the likes of Chulaka Kumarasinghe, Saleem and Lalindra Peiris provided steady support during the season, chipping in with vital wickets), though sometimes lacking penetration.  
As a result of the outstanding performances by the Royalists and some below par performances by us, the 2009 Roy – Tho was considered as a great opportunity for the Royalist to thrash us and hand us a humiliating defeat. Many old boys and present boys from Royal who followed the 2008/2009 cricket season predicted that the Big match would definitely be a one sided affair, ending within two days with Royal coming out as winners. We were considered as a weak outfit to such an extent, that many of my class mates requested (sometimes 'begged') me to do something and drag the match until Saturday (3rd day) because their girlfriends were due to come for the match on Saturday. With so much pessimism surrounding us, many of my young teammates were at times very low on confidence. Ultimately at one point during the season, after the defeats to Ananda (narrowly) and St. Joseph's we were labeled as one of the weakest teams ever produced by S. Thomas'. All of this culminated to the 130th Battle of the Blues viewed by many as the greatest Royal side taking on the weakest Thomian side.
As a captain I honestly always believed that my team had the potential to achieve great heights. I knew every single person in the squad from the under 13 levels because most of them played with me at some point in junior levels. I also had the opportunity to captain all the junior sides from Under 13 – 17. So, all the players who were left with me that year were my former teammates and I knew their capabilities very well. I always believed that we could do well because we had done well in the past as a unit in the junior levels. Our team was very talented but what was lacking was experience (in a big way). And with so many negative thoughts surrounding the team, I felt my inexperienced teammates found it difficult to cope with the pressure and perform to their potential. So, I took it upon myself to talk to them and remind them that we had the ability to perform well and make college proud. I requested them to use the bricks thrown at them by the others as stepping stones and prove everybody wrong. There were many who were convinced and strongly felt that I would go down as a losing Thomian captain in the history books. Not a very pleasant thing to hear, but I could see where they were coming from, given our lack of victories during the season. As disheartening as it was at times, it certainly kept fueling the fire within me to work harder, day in day out, to prove to myself more than anybody else that we as a team can maximize our potential and put in a great performance when it mattered the most.
Time went by and before we knew it, we were just a week away from the big match. We were playing St. Sebastian's at Moratuwa and by God's grace everything fell into place as we managed to score a mammoth 432 for 9 on a difficult (typically dry turner with viable bounce) batting wicket with centuries coming from Saleem and myself. Now when I think back, I feel that this good batting performance was the tonic needed to give us the confidence we needed going into the big match. It also circulated some shockwaves across the Royal camp, reminding them of what we are capable of. The preparations for the Big match under the watchful eyes of our coaches helped us fine tune our game.
On the evening before the match, we as a team went to the SSC to have a look at the pitch and I can still remember how excited and nervous I felt when I saw my name right at the top of the huge SSC score board under the title 'S. Thomas' '. It is a dream for every Thomian cricketer to represent college at the big match, and I consider myself very lucky to have had the opportunity to represent my school in the big match for two consecutive years, and then top it off by captaining college in my third year. It's a moment which I will cherish for the rest of my life. And then after having a quick look at the wicket and a customary meeting between the match officials, the Royal captain and myself, we returned to the motel where we stayed. As brave as I may have sounded up to now, I have to confess that on the night before the big match I had very little sleep as so many thoughts entered my mind and kept haunting me.
The sun rose on the 12th of March and the big day which I had been eagerly anticipating had finally come. I won the toss and put the Royalists in to bat on a typical SSC track which I believed had some life, which could be advantageous to our pacies. We managed to put the Royalists under some pressure having them at 35 for 2. It turned out that celebrating the second wicket on day 1 was probably the only time I ended up smiling for the entire first day. The fall of the second wicket brought together the tremendously talented Royal batting pair of Kusal Perera and Bhanuka Rajapakse and they began to put our bowling attack to the sword in a clinical manner, exhibiting the talent and the wide range of shots they possessed. As a captain, I was under the gun and tried my best to use all my resources and attempted various permutations to dismiss or contain them.
My efforts were largely unsuccessful as they went on to build a big partnership, taking the initiative completely away from us. Though I was the opposition captain tasked with getting rid of them, as a Cricketer and a left handed batsman myself, I couldn't help admire some of the shots they played and the class they displayed .The Royalists ended up with a mammoth 313 for 9 wickets before making the declaration. We had some 20 odd overs to survive before close of play on day 1. But disaster struck in the first over itself with our batting mainstay Saleem getting out with the score still on 0. We ended the day staring down the barrel at 54 for 4 with me not out on 19.  The first session on day 2 was no better as we lost wickets at regular intervals and were all out before lunch for a paltry 99. I was absolutely devastated as we were bowled out in just over 33 overs (around two and a half hours). The Royalists were delighted and put us in for the follow on and again we were reeling with the score on 21 for 2 when I went in to join my good friend Saleem. Just as got off my chair in the SSC dressing room to walk out to bat, my teammate Chamal who sat next to me said, 'machan, this is the time for you to make your dream come true'. I had once told Chamal sometime back, that it has been a dream of mine for a very long time to notch up a century at the Big Match and he somehow managed to remember that just before I left the dressing room to bat and spoke those words to me. I guess he realized that it was going to be my last chance to score a century at a big match (given it was the second innings of the match in my last year). His words came as a real source of inspiration and gave me a sense of direction as to what I wanted to achieve personally. As a captain, my head was all muddled up thinking about the team and my team mates and he promptly gave me a reminder to go out and chase my personal dream which would ultimately give us some hope of survival. We managed to survive till lunch without losing any more wickets and were on 20 odd for 2.
During lunch time as usual all the Royal supporters gathered together in front of the Royal dressing room and started singing "Royal victory!!!!Royal victory!!!! Thora parippu!!!!" Though this is customary and takes place during every break between sessions, for some reason this act by the Royal supporters spurred me on and made me determined to fight till the very last moment. I wanted to prove to the prematurely jubilant (undermining our abilities to stage a comeback) Royalists that Thomians never die and are made of nerves of steel. In the dressing room we had a staunch Thomian Mr. Ajith Jayasekere who came to me and said "don't worry son, everything will be alright". I, together with Saleem, was determined to do something to get back into the match.
After lunch we went into bat with a simple plan and a clear mind. We told ourselves that we just had to bat as long as possible. We spoke to each other after every ball, concentrating as hard as possible to bat long. What followed after that is history. Both of us batted till close of play, putting on a partnership of more than 200 and taking our personal scores past hundred. Taking into account that we had already completed a big partnership against St. Sebastian's a week ago, it was no surprise to me that we managed to replicate a similar level of concentration and application when we were under immense pressure at the great stage of the Big Match. I couldn't have wished for anyone else other than Saleem to bat with me in that crunch situation. He was my best mate in the team and right from the junior levels we always had a knack of building big partnerships when needed. Our left and right-hand combination has always allowed us to put bowling attacks from the under-13 days to the under-19 level under pressure and our contrasting styles of batting and scoring areas allowed us to complement each other very well. We knew each other's strengths and weaknesses inside out, and we had a method of communicating which allowed us to remain focused and disciplined in our batting for long periods of time. Our dream was to build a big partnership in the Big match and it became a reality as we batted together for hours to pull the team out of trouble. From 21/2 before lunch on day 2, we ended the day on 225/2 with Saleem not out on 100 and myself not out on 103. As Saleem and I shared the room in the motel we stayed, we discussed how we could go about taking the lead further on the next day and I also had a meeting with all the players in my room to discuss our strategies for the following day.
On the morning of the third day I was dubiously given out when I was on 104. There was a 50-run partnership for the 4th wicket (between Saleem and Chamodh) and then we lost our way again, losing three quick wickets. In came young Sachin Peiris (15-year-old Wicketkeeper batsman, making his debut) who joined Saleem and built a crucial partnership. During the tea break, when the game was still in the balance, Sachin came up to me (at a time when I was really feeling the pressure and worrying whether all the hard work done during the previous day and the 3rd day will go to waste because of another hiccup) and said, 'Nirru aiya don't worry, I'll be there!'. For a fifteen year old, to have the spirit and courage to speak those words at a time when the team was under pressure, still fighting to get to safety, was absolutely astonishing and when I heard him say those words to me, I couldn't help but smile back at him and say that I have complete belief in him. It was a moment of immense pride for me as a captain to hear the youngest member of the team speak with such determination and conviction. Saleem kept batting like a rock and made an excellent 165 before being dismissed. Sachin went on to fulfill his promise and made a brilliant fighting half century before we were bowled out for a record score of 411. The same team (my team! And I am damn proud to say so) which was bowled out in just over 33 overs (151 minutes) for 99 ended up scoring 411 , batting for 165.1 overs (644 mins). We held a good Royal bowling attack at bay for almost 11 hours to bat ourselves into a position of real strength. The Royalists were set a target of 198 runs to win. In trying to chase down that score, they lost their way as they lost three important wickets and finally took bad light. We may have not won the match, but for me it was a moral victory, a moral victory worth way more than any other victory.
During the match what I felt, just cannot be expressed in words.  At the point when we were made to follow on I couldn't say much to my teammates but the only thing I wanted them to realize was that Thomians don't simply drop down like nine pins, they are fighters who fight till the very last moment. My teammates responded to this with some sterling performances in the second innings. It was even more special because as senior players, Saleem and myself were able to make centuries and make a solid contribution which laid the platform for the others to build on.
At the end of the match I went to the tents with my teammates and met many Thomians who were virtually in tears. Only then did I realize that my team had done something very special and has made every single member of the Thomian family proud. Nothing of this could have been possible without the help of our coaches namely Mr.Neil Chanmugam, Mr.K.Boralessa, Mr.A.Jayasekere, Mr.S.Samsudeen, our physio Mr.Charith Abeywickrema, and our master in charge Mr.L.De Zoysa.
Eleven of us went into this match as Boys and came out as Men. This great event has taught us that nothing in life is impossible. It showed that Thomian Grit is not something of the past but something that is still very much alive and kicking in every single Thomian.
Most of us, who were part of this epic drama which unfolded, may not end up playing Cricket professionally. What Cricket has taught us and especially the great rivalry between the two greatest academic institutions in our motherland, will transcend the confinements of the boundary rope. What one learns as a Cricketer is easily applicable to various aspects of life. What the eleven of us players and all the others who were involved at the great episode of the Battle of the Blues which took place in 2009 have learnt are the lessons which are directly applicable to life in the greater sense: the ability to persevere and never give up, turn adversity into a favourable situation, draw inspiration from challenges and most importantly work hard in a disciplined manner individually and collectively to achieve the most optimal outcome are some of the prime lessons which this beautiful game of Cricket and especially Cricket at S. Thomas' has taught me.
Esto Perpetua.