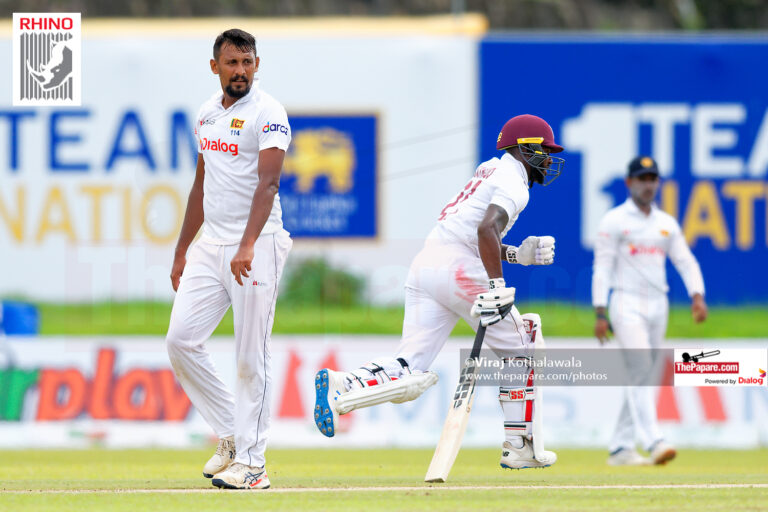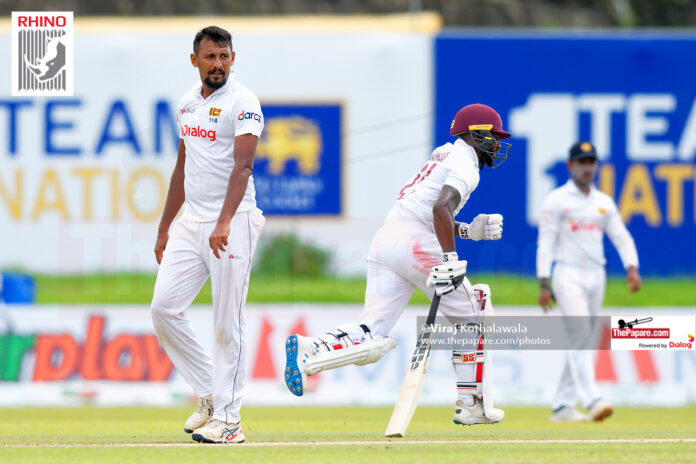 West Indies opening batters Kraigg Brathwaite and Jermaine Blackwood put on 62 runs for the 1st wicket as the visitors closed out day 2 just 135 runs behind Sri Lanka's 1st innings score of 204.

A dramatic 1st session saw Sri Lanka lose their last 9 wickets for just 65 runs as the Windies spinners ran riot on day 2. The short period of play last evening had shown that this track had plenty of spin on offer and it continued to offer the bowlers plenty throughout the 1st session.
Jomel Warrican and Veerasamy Permaul beat the bat regularly early on, unlucky not to pick up some early wickets. The breakthrough finally came when Oshada Fernando played a loose shot to a short and wide delivery, nicking behind to Joshua da Silva.
It was an all too familiar sight for those who have followed Angelo Mathews career midway through the session, as the veteran pulled up in pain after completing a quick single, clutching his thigh. He left the field with the score on 162 but returned at the fall of the 8th wicket. Unable to run, he went for the boundaries and managed to get 18 runs off 15 deliveries before being dismissed by Jomel Warrican.
Charith Asalanka looked fairly comfortable in the middle, perhaps the ball spinning in to him making things slightly easier. He took on the spinners, notably getting his 1st Test runs with a reverse sweep to the boundary, but he didn't last long enough for Sri Lanka, inside-edging to the fielder close in.
None of the batters were able to settle from that point, losing wickets in clusters as the puffs of dust from the Galle track appeared more frequently. The hosts went from 152/3 to 169/6 and eventually 204 all out.
The Sri Lankan spinners struggled to find the same amount of bite from the wicket as the Winds opening pair frustrated them with some solid defence.
253/10 (104.2) & 132/10 (56.1)
204/10 (61.3) & 345/9 (121.4)


Batsmen
R
B
4s
6s
SR
Pathum Nissanka
lbw b Veerasammy Permaul
73
148
0
0
49.32
Dimuth Karunaratne
c & b Roston Chase
42
90
0
0
46.67
Oshada Fernando
c Joshua Da Silva b Jomel Warrican
18
27
0
0
66.67
Angelo Mathews
b Jomel Warrican
29
45
0
0
64.44
Dhananjaya de Silva
c Joshua Da Silva b Veerasammy Permaul
2
2
0
0
100.00
Charith Asalanka
c Nkrumah Bonner b Veerasammy Permaul
10
15
0
0
66.67
Dinesh Chandimal
lbw b Jomel Warrican
2
8
0
0
25.00
Ramesh Mendis
c Shai Hope b Jomel Warrican
5
9
0
0
55.56
Suranga Lakmal
c Jomel Warrican b Veerasammy Permaul
12
20
0
0
60.00
Lasith Embuldeniya
b Veerasammy Permaul
1
7
0
0
14.29
Praveen Jayawickrama
not out
0
1
0
0
0.00
| | |
| --- | --- |
| Extras | 10 (b 0 , lb 7 , nb 3, w 0, pen 0) |
| Total | 204/10 (61.3 Overs, RR: 3.32) |
| Bowling | O | M | R | W | Econ |
| --- | --- | --- | --- | --- | --- |
| Kemar Roach | 6 | 2 | 12 | 0 | 2.00 |
| Jason Holder | 8 | 2 | 23 | 0 | 2.88 |
| Kyle Mayers | 2 | 0 | 13 | 0 | 6.50 |
| Veerasammy Permaul | 13 | 3 | 35 | 5 | 2.69 |
| Roston Chase | 14 | 0 | 64 | 1 | 4.57 |
| Jomel Warrican | 18.3 | 5 | 50 | 4 | 2.73 |


Batsmen
R
B
4s
6s
SR
Kraig Brathwaite
b Lasith Embuldeniya
72
185
0
0
38.92
Jermaine Blackwood
lbw b Praveen Jayawickrama
44
99
0
0
44.44
Nkrumah Bonner
lbw b Ramesh Mendis
35
95
0
0
36.84
Shai Hope
lbw b Ramesh Mendis
22
89
0
0
24.72
Roston Chase
c Pathum Nissanka b Ramesh Mendis
10
33
0
0
30.30
Kyle Mayers
not out
36
58
0
0
62.07
Jason Holder
lbw b Ramesh Mendis
4
10
0
0
40.00
Joshua Da Silva
b Ramesh Mendis
0
1
0
0
0.00
Kemar Roach
c Dhananjaya de Silva b Praveen Jayawickrama
8
9
0
0
88.89
Veerasammy Permaul
b Lasith Embuldeniya
15
38
0
0
39.47
Jomel Warrican
c Chamika Karunaratne b Ramesh Mendis
1
7
0
0
14.29
| | |
| --- | --- |
| Extras | 6 (b 0 , lb 0 , nb 6, w 0, pen 0) |
| Total | 253/10 (104.2 Overs, RR: 2.42) |
| Bowling | O | M | R | W | Econ |
| --- | --- | --- | --- | --- | --- |
| Suranga Lakmal | 9 | 3 | 22 | 0 | 2.44 |
| Lasith Embuldeniya | 35 | 13 | 94 | 2 | 2.69 |
| Ramesh Mendis | 34.2 | 8 | 70 | 6 | 2.05 |
| Praveen Jayawickrama | 25 | 4 | 59 | 2 | 2.36 |
| Dhananjaya de Silva | 1 | 0 | 8 | 0 | 8.00 |


Batsmen
R
B
4s
6s
SR
Dimuth Karunaratne
run out ()
6
10
0
0
60.00
Pathum Nissanka
lbw b Roston Chase
66
154
0
0
42.86
Oshada Fernando
run out ()
14
41
0
0
34.15
Charith Asalanka
c Nkrumah Bonner b Veerasammy Permaul
19
55
0
0
34.55
Dhananjaya de Silva
not out
155
262
0
0
59.16
Dinesh Chandimal
c & b Roston Chase
2
12
0
0
16.67
Ramesh Mendis
c Kemar Roach b Kraig Brathwaite
25
58
0
0
43.10
Suranga Lakmal
lbw b Veerasammy Permaul
7
11
0
0
63.64
Angelo Mathews
c Jermaine Blackwood b Veerasammy Permaul
1
5
0
0
20.00
Lasith Embuldeniya
b Jason Holder
39
124
0
0
31.45
| | |
| --- | --- |
| Extras | 11 (b 4 , lb 4 , nb 2, w 1, pen 0) |
| Total | 345/9 (121.4 Overs, RR: 2.84) |
| Bowling | O | M | R | W | Econ |
| --- | --- | --- | --- | --- | --- |
| Veerasammy Permaul | 40 | 4 | 106 | 3 | 2.65 |
| Roston Chase | 27 | 2 | 82 | 2 | 3.04 |
| Jomel Warrican | 29 | 5 | 76 | 0 | 2.62 |
| Kemar Roach | 8 | 0 | 27 | 0 | 3.38 |
| Jason Holder | 9.4 | 1 | 26 | 0 | 2.77 |
| Kraig Brathwaite | 5 | 0 | 11 | 1 | 2.20 |
| Nkrumah Bonner | 3 | 1 | 9 | 0 | 3.00 |


Batsmen
R
B
4s
6s
SR
Kraig Brathwaite
lbw b Ramesh Mendis
6
21
0
0
28.57
Jermaine Blackwood
c Dhananjaya de Silva b Lasith Embuldeniya
36
92
0
0
39.13
Nkrumah Bonner
b Lasith Embuldeniya
44
143
0
0
30.77
Shai Hope
c Suranga Lakmal b Ramesh Mendis
16
24
0
0
66.67
Roston Chase
c Avishka Fernando b Ramesh Mendis
0
1
0
0
0.00
Kyle Mayers
c Dhananjaya de Silva b Ramesh Mendis
0
4
0
0
0.00
Jason Holder
c Dhananjaya de Silva b Lasith Embuldeniya
3
12
0
0
25.00
Joshua Da Silva
not out
4
15
0
0
26.67
Kemar Roach
lbw b Lasith Embuldeniya
13
17
0
0
76.47
Veerasammy Permaul
lbw b Ramesh Mendis
1
5
0
0
20.00
Jomel Warrican
c Dhananjaya de Silva b Lasith Embuldeniya
3
3
0
0
100.00
| | |
| --- | --- |
| Extras | 6 (b 4 , lb 2 , nb 0, w 0, pen 0) |
| Total | 132/10 (56.1 Overs, RR: 2.35) |
| Bowling | O | M | R | W | Econ |
| --- | --- | --- | --- | --- | --- |
| Lasith Embuldeniya | 20.1 | 6 | 35 | 5 | 1.74 |
| Ramesh Mendis | 25 | 6 | 66 | 5 | 2.64 |
| Praveen Jayawickrama | 10 | 3 | 23 | 0 | 2.30 |
| Charith Asalanka | 1 | 0 | 2 | 0 | 2.00 |