Here's a story of a man who strives for nothing but greatness. A boy who takes pride in being confident in himself and who has dedicated his life to his one and only love in life.
Unlike many other top sportsmen, this man values his training much more than the showcase, that is, the actual competition day. A boy who swims 365 days a year, over 240km a month with more than 20 hours a week of pool time just to cut down his timing by a few milliseconds; This is Cherantha De Silva.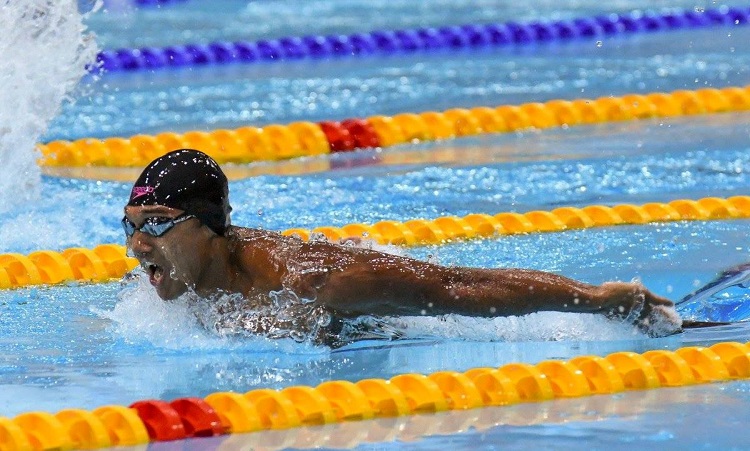 Cherantha, more fondly known as Cheran, was a jolly soul prancing around the pool at Ananda College at his older brother's swim lessons. At the age of 5 he knew nothing of the sport and was a mere bystander along with his mom and dad. Then one day, he wanted a taste of the water and decided to join his brother for a lap or two. His parents Chula and Kapila De Silva along with Cherantha's elder brothers' coach Roshan Wijesinghe, immediately spotted potential in young Cheran. Coach Roshan started training the novice and showered him with magnificent grassroots training. Thus, began the journey of the young champion, who has managed to break international barriers and swim through some of the toughest of obstacles.
Cheran grew in the sport initially at his alma mater, Ananda College under the guidance of coach Roshan. His parents' encouragement and teachings to multi-task and balance both studies and sport brilliantly has been the biggest blessing in Cheran's life, leading him to claim captaincy in the Ananda College Swim Team in 2014 as well as pursue his higher studies in business administration. 5 consecutive years of colours in Swimming meant that Cheran was one of the best athletes Ananda College ever produced.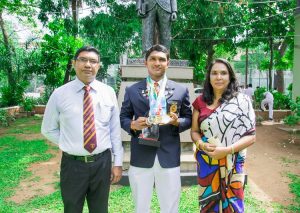 "If I did not have them (parents) I wouldn't be where I am today. Not even close! I am extremely grateful to my parents in a million ways for always believing in me"
Cheran's father was a largely successful businessman as well as his son's biggest fan. The most wonderful memory Cheran would forever hold would be his dad cheering him on from the stands.
" I really loved that. Even though I should feel bad and a bit guilty knowing that after the cheers he will not be able to speak for a couple days I loved that my father was there for me every time I raced"
De Silva was rewarded with the "Best Sportsman of the Year" award at school, provincial and national level.
With his strong and supportive crew, Cheran went on to conquer the world – one country at a time. After training in the U.S, his biggest opportunity came via a sports scholarship from the renowned Thanyapur Swimming and Training Facility in Phuket, Thailand. The scholarship is awarded to athletes with the most number of points in their respective nation's swimming rankings. The selectors of Thanyapur picked Cherantha as one of the 36 global athletes to receive the scholarship and with his impressive performances through the years, renewed the scholarship earlier this year. Cheran is among their expert pickings as a strong candidate headed to the Olympics in 2020 which happens to be his ultimate dream.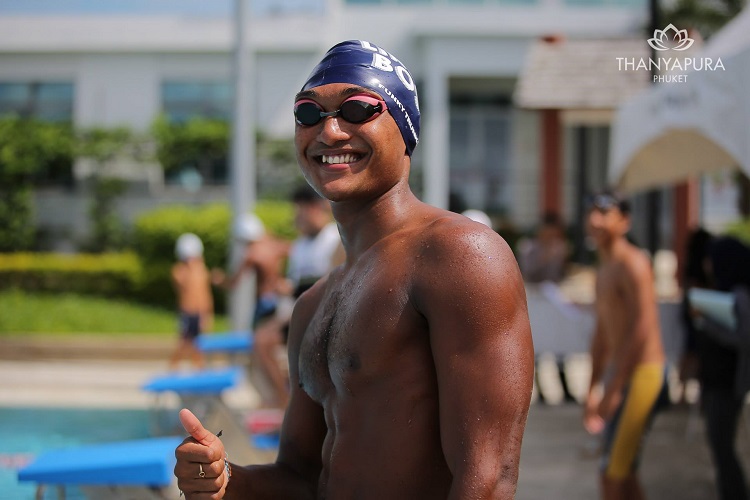 However, hitting your peak so early on in life can take its toll on a teenage boy.
"While my friends were having a fun day out or were enjoying their vacations, I was in the pool at 5 in the morning killing myself, training"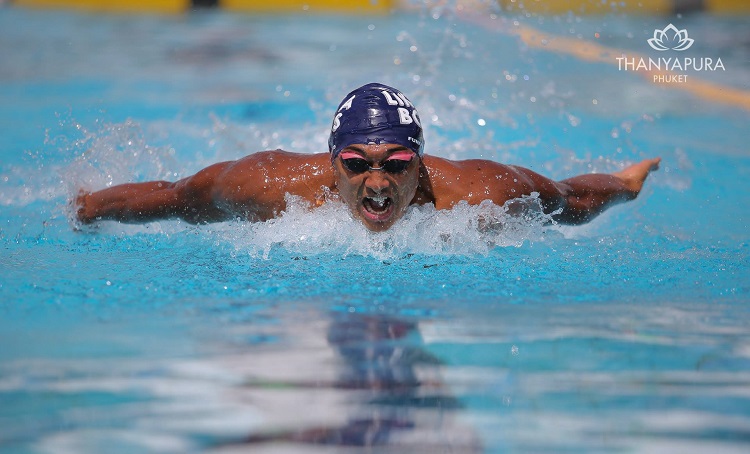 Be it Poya, Christmas, New year, Cheran was in the pool, swimming laps just to be a few milliseconds faster. This level of dedication has brought him to where he is now and he is determined to outdo himself in the years to come.
What sets Cheran apart from the rest?
"One thing that makes me different from the others is that I don't want to BE like my role models, I want to BEAT them. Other people might think of this as overconfidence, but for me, it is where I get my inspiration from. I don't want to be the next Michael Phelps; I want to leave a legacy for the younger generation."
In 2016 De Silva participated at the South Asian Games in Guwahati, India where he won one Gold, four Silver and two Bronze medals finishing with an overall ranking of 2nd.
Cheran hit the jackpot in November at the Singapore Open 2017; Not only did he make mother Lanka proud, he shook the boards of Singapore as he went on to race past the Singapore national records as well. The event was the 50m SC Butterfly with a NR of 23.48 seconds – this record was previously clocked by Singapore Olympian Quah Wen Zeng.
This year, De Silva also participated in the 2017 World Aquatics Championships, where he was timed ar 25.15 in the men's 50m butterfly and 55.09 in the men's 100m butterfly. He went on to surpass fellow Sri Lankan Mathew Abeysinghe in both these events. He created three other Sri Lankan records at the meet in the 200m Butterfly, 50m Freestyle and 100m Freestyle, setting a meet record in the 50m.
After an impressive performance in 2017, Cheran's hopes of reaching the Olympics were given new meaning. He has already been selected for the Sri Lankan National Squad for the 2018 Commonwealth Youth Games and will be quite the asset to the team.
At the end, it all comes down to whether one has given back to the sport. This is the nature of respect and discipline the sport builds in you as an athlete.  
"Swimming has added so many values in my life in numerous ways. Not giving back to something that has given me so much will make me look selfish, and that for sure is not what I am. I know the struggle of being an athlete and I would do all that is in my will and help to develop the future of swimming in my country.''