Visakha Vidyalaya, are more motivated than ever to extend their reign of the M.N.Edissuriya Trophy against Ladies' College.
Ladies' last had their hands on the trophy back in 2010 under the captaincy of Enakshi Wickramanayake, and with Visakha possessing a vastly experienced squad provides ominous signs for the Flower Road girls.
Visakha held off a determined comeback from the Ladies' to win last year's encounter 9-7 and are leading the overall tally 7-3 with the very first encounter ending in a draw.
Counting on experience with youth
Visakha Vidyalaya is blessed, with experience littered among the squad including Maneka Dedigama, Tusari Ekanayake – who captained the side to victory in 2013, Nuwanthi Mannapperuma, Samaakhya Gajanayake and this year's captain Shaleena Peiris.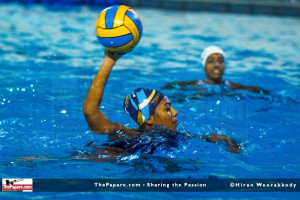 The departures of two former captains; Limashi Kosgodage (2012) and Aneka Abeywickrama (2014) has not deterred them and the inclusion of young blood will add a different dimension and they will be hoping to carry on the legacy of their predecessors led by captain Shaleena Peiris
"It was a big challenge this season. We have a young team compared to the last two seasons. The team now is 17 and under. Less experienced than last two seasons so we had to do a lot of early preparations," Visakha Coach Dakshitha Thamanegama discussed about the composition of the side.
Contagious habit of winning
Not only have the Visakhians dominated the LC-VV encounter for the past four years, they won the encounter against Bishop's College 7-4 last year, became Champions at Sri Lanka Schools tournament and runners-up in National Age Group Championships. They were also the champions in the Novices waterpolo tournament.
In 2012 and 2013 under the captaincies of Limashi Kosgodage and Tusari Ekanayake they completed undefeated seasons en route to becoming National Champions.
"The team has had a good track record. Last two seasons lost just 1 or 2 matches. That is what we look forward to," Dakshitha spoke about Visakha's dominance in Waterpolo.
"Teams have to be fit and skillful with shot clocks in place. We exposed them to more matches and stuck to our basics. Definitely want to win all the matches. Young team, yes but it is not an excuse not to perform well," Dakshitha firmly laid down his intentions this season.
Squad
Shaleena Peiris © (Bar) – Nadishka Senanayake (vc) (Bar) – Nuravi Assalarachchi (Wing) – Damithri Munasinghe (Wing) – Binari Perera (Wing) – Bulani Perera (Bar) – Sanuri Trikawalagoda (Wing) – Chamathi Perera (Wing) – Avishka Dedigama (Bar) – Maneka Dedigama (Goalkeeper)  – Nuwanthi Mannapperuma (Wing) – Tusari Ekanayake (Center) – Samaakhya Gajanayake (Goalkeeper)
Head Coach – Dakshitha Thamanegama, Assistant Coach – Thanura Abeywardena