ThePapare.com has chosen the best XI from the recently concluded Kotmale Chox U19 Schools Football Championship in the Team of the Tournament.
The team will form in a 3-4-3 formation.
Starting XI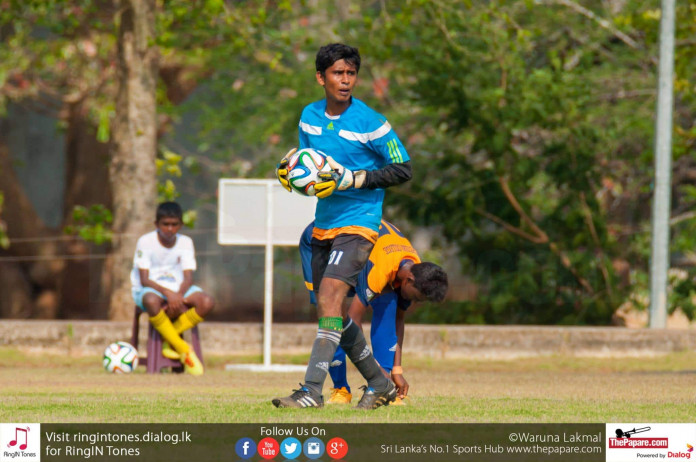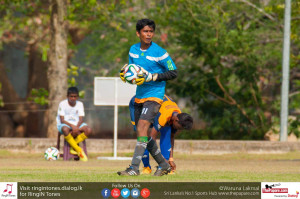 Goalkeeper – M.C.M.Silva (St.Sebastian's College, Katuneriya)
He was one of the key figures of St. Sebastian's dream campaign in the tournament where the relatively unknown Katuneriya side finished 4th in the tournament.
Silva was brilliant in front of goal in the quarter final match against St.Peter's College pulling off wonderful saves in the first half but he was unlucky to concede a goal before halftime due to a wicked deflection. His performance helped the Katuneriya school upset last year's runners-up, the star studded Peterites consisting of a few Sri Lanka U19 players.
Once again in the semifinal against Zahira College he was up to the mark with his goalkeeping though he was helpless for Zahira's first goal the Sebastianites kept the pressure until the defending champions found their 2nd goal in the dying stages.
Even in the 3rd place match it was Silva's goalkeeping that kept the loss to 1-0. That goal too came late in the match. In the 4 group stage matches where they won three matches, Silva let in only three goals with one clean sheet.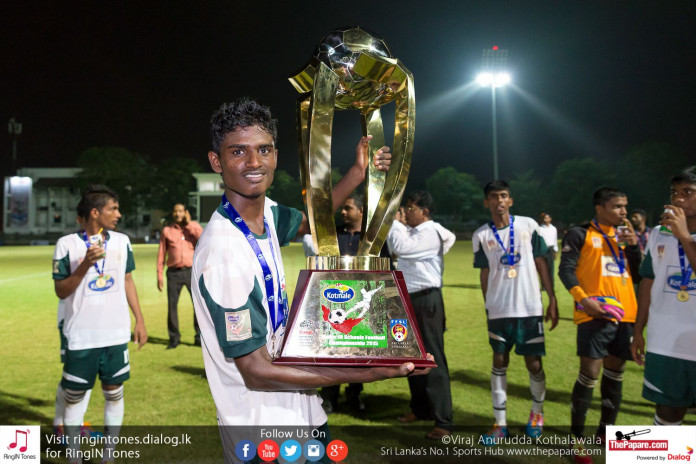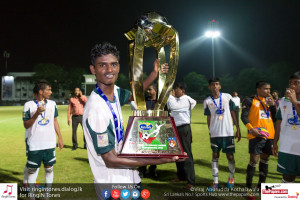 Defender – Sivakumaran Krishanth (St.Henry's College, Ilavalai) ©
Captain of the Champions; as well as the Team of the Tournament.
He may not have had to do more defensive work since the opponents were pre-occupied with the strike force of the Jaffna lads but he was solid in the final against Zahira and led his team by example.
It is never easy to lead a defense of three in international matches let alone schools matches, but he managed to do it with ease and composure.
In the quarter final and final against Dharmaraja College and Zahira College respectively, the lads from Jaffna conceded one goal while keeping a clean sheet in the semifinal against Holy Cross College.
In the 4 group stage matches they won 3 while drawing 1. The defense kept three clean sheets and only gave away two goals in the 2-2 drawn match against De Mazenod College.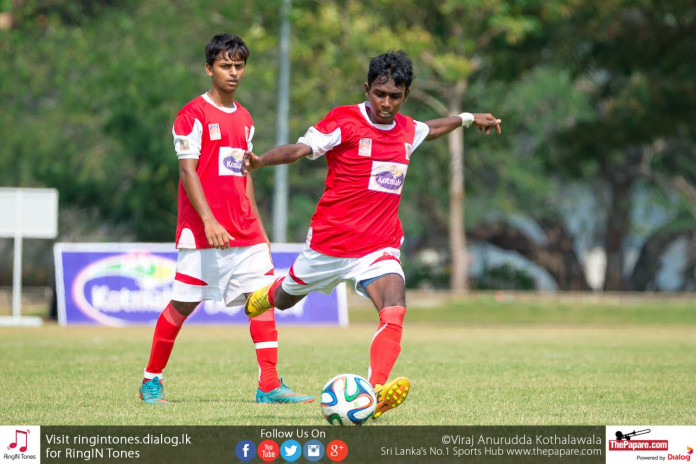 Defender – S.N.Dharmarathne (St.Sebastian's College, Katuneriya)
Dharmarathne wasone of the most consistent players in front of M.C.M.Silva in defense for the 4th place finishers.
Dharmarathne was tested numerous times in the knockout stages and even though he made a few mistakes amongst the defensive duties his overall performance took prominence.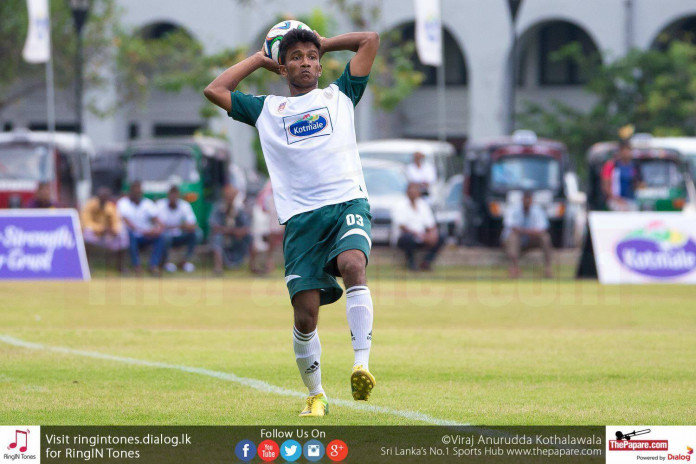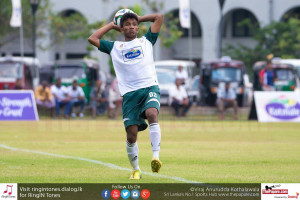 Defender – John Patrick (St.Henry's College, Ilavalai)
Partnering Krishanth at the back forming a solid defensive partnership was John Patrick. In a three man defense line, he complemented his other two defenders while the communication was almost perfect.
Has a knack of scoring goals which he showed in the quarter final.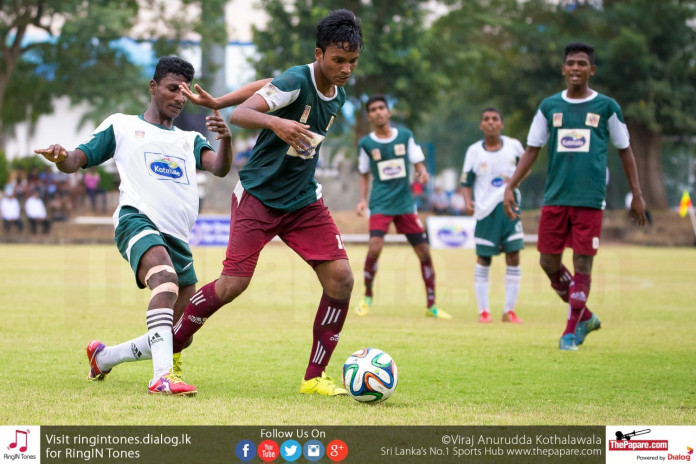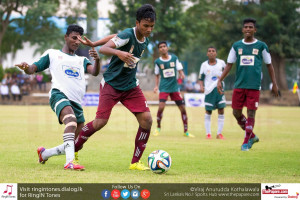 Midfielder – Farood Faiz (Zahira College, Colombo)
Calm, composed and reliable; The Sri Lanka U19 vice-captain is everything you could ask for from a midfielder. He controls the game for schools football giants, while also moving up the field in creating and scoring goals. He has scored two goals in the tournament while assisting in a few.
His vision and passing range gives him an added advantage in the field.
His match against Maris Stella College was exceptional but he was unable to provide that same spark against a much more ruthless St.Henry's side in the final.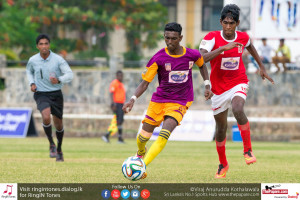 Midfielder – Nilesh Kavinda Kumara (Holy Cross College, Kalutara)
Nilesh Kumara was the heartbeat of 3rd place finishers Holy Cross College.
He was there in attack and defense and was involved in almost every attack his side put together. Kumara has scored thrice in the tournament with two goals them coming in the knockout stages.
His good and consistent performances have landed him a place in the Kalutara Football League's junior side for the Inter League tournament.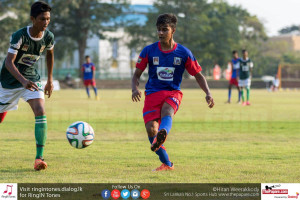 Midfielder – Sandeepa Fernando (Maris Stella College, Negombo)
Sandeepa was unfortunate not to have been included in the Sri Lanka U19 schools side for the Asian Schools Championship but proved his worth in this tournament.
Much like Farood Faiz, he controls the midfield and his partnership and understanding between his teammate Dilip Peiris has resulted in Peiris being the highest goal scorer this season.
Sandeepa too has been among the goals with five.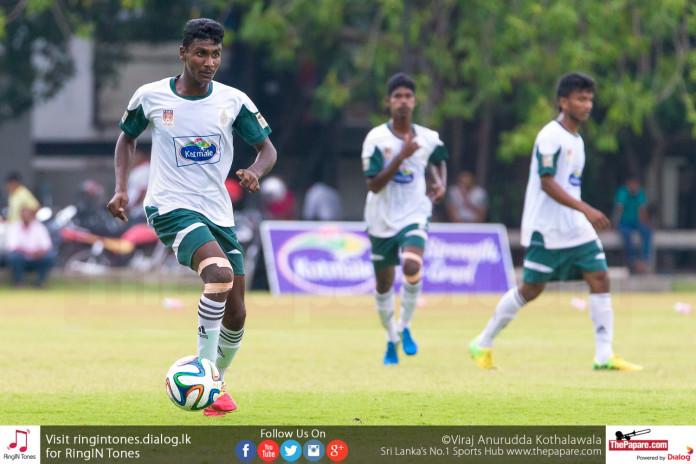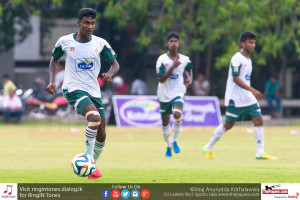 Midfielder – Benedict Anojan (St.Henry's College,Ilavalai)
Benedict Anojan is one half of the attacking duo for St.Henry's. Though he plays as a striker for his school we have used him as a midfielder as he has shown the ability to do so in the knockout stages.
In the knockout stages he has dropped back into midfield to retrieve the ball and was constantly involved in attacks while scoring five times in the tournament.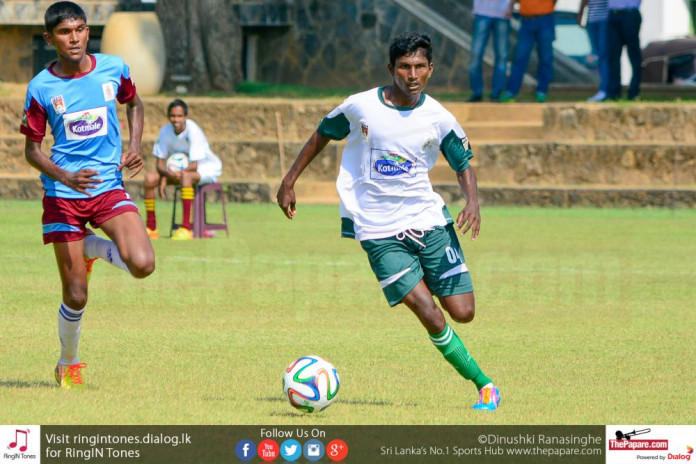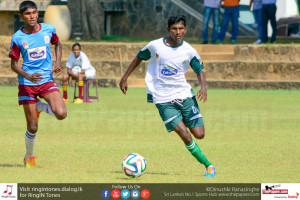 Left Wing– Alfred Thanesh (St.Henry's College, Ilavalai)
Unstoppable is the word you can use to describe Alfred Thanesh. His raw pace and dribbling skills created havoc in defenses and opened up opportunities for his teammates.
Though he has only scored twice in the tournament Thanesh has provided with many an assist. Thanesh's industry is his signature and in the semi-final Sandeep Govinda was forced to turn two balls into his own net, such was the effect of Thanesh.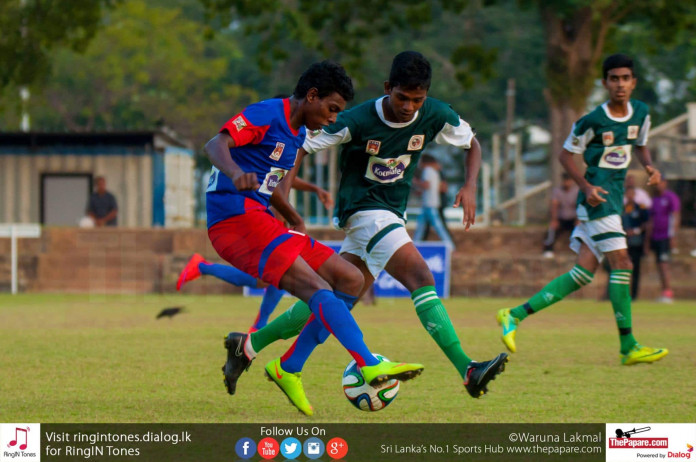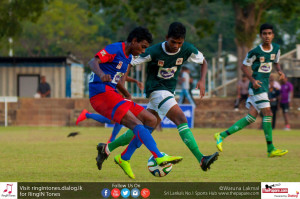 Striker – Dilip Peiris (Maris Stella College, Negombo)
Dilip Peiris is the highest goal scorer in the tournament with 14 goals. The Sri Lanka U19 player is lethal when he gets going, as he showed against Ananda College in the group stage scoring ten goals in a 14-0 hammering.
Much like Thanesh he too possesses the pace and dribbling skills and what set Peiris apart is his lethal finishes.
Was heavily marked against Zahira College in a thrilling quarter final encounter but though he managed to score was unable to inspire his team to victory.
Substitutes
Goalkeeper – Ukantheeswaran Amalraj (St.Henry's College, Ilavalai)

Defender – Mohamed Musharaff (Zahira College, Colombo)

Defender – Anjana Wickramasinghe (Kingswood College, Kandy)

Midfielder – Akhil Fernando (S.Thomas' College, Mount Lavinia)

Midfielder – Gnaneswaran Antonraj (St.Henry's College, Ilavalai)

Midfielder – Suntharaj Niresh (St.Peter's College, Colombo)

Striker – Afam Akram(St.Peter's College, Colombo)

Striker – Ahamed Shakeer (Zahira College, Colombo)
Awards
Best Goalkeeper of the Final (FFSL Award) – Ukantheeswaran Amalraj (St.Henry's College, Ilavalai)

Best Player of the Final (FFSL Award) – Benedict Anojan (St.Henry's College, Ilavalai)
ThePapare.com Player of the Tournament – Benedict Anojan (St.Henry's College, Ilavalai)

ThePapare.com Goalkeeper of the Tournament – M.C.M.Silva (St.Sebastian's College, Katuneriya)

ThePapare.com Golden Boot – Dilip Peiris (Maris Stella College, Negombo)

ThePapare.com Coach of the Tournament – Philip Fernando (St.Sebastian's College, Katuneriya)