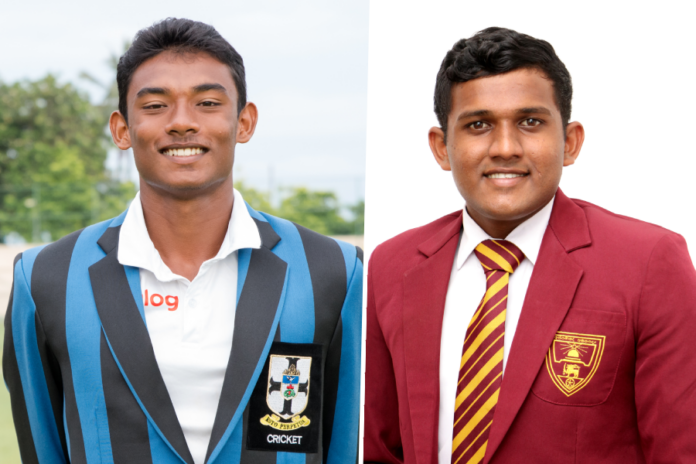 Two traditional encounters of the U19 Schools Cricket Tournament worked off today (04th June) at Mount Lavinia and Moratuwa.    
Ananda College registered a comprehensive 7-wicket win over St. Sebastian's College in their traditional encounter, which worked off today at Moratuwa.
Having been asked to follow on, St. Sebastian's College showed a better batting display in the second innings after a poor show in the first essay, but it wasn't enough to prevent Ananda College recording a convincing win over them.
Shakthi Udara was the star performer with the ball for Ananda College as he bagged a match bag of 10 wickets for 82 runs, demolishing Sebastians' batting lineup.
The other traditional encounter which was played between S. Thomas College and Thurstan College ended in a draw today at Mount Lavinia. S. Thomas College managed to take honors in the drawn encounter as Gunaratnam Caniston's brilliant bowling spell (5/33) helped them to restrict the Thurstan batting lineup to just 90 runs in the first innings.
Brief Scores
Ananda College, Colombo – 202 (54.3) Nethma Karunarathne 77, Mineth Premarathne 31, Hansaja Jayasinghe 27, Iruth Gimshan 23, Tyrel Baskaran 3/54, Yashan Avishka 2/21, Manuja Chanthuka 2/39, Sandeesh Fernando 2/45 & 80/3 (16.1) Nushal Dharmarathna 35, Sandeesh Fernando 2/36

St. Sebastian's College, Moratuwa – 82 (27.1) Manuja Chanthuka 24, Yashan Avishka 21, Tehaan Perera 4/16, Shakthi Udara 3/13 & 198 (48) Sandeesh Fernando 40*, Sanesh Fernando 31, Bihanga Mendis 29, Savindu Rodrigo 26, Shenith Fernando 24, Shakthi Udara 7/69, Yehan Gunasinghe 2/26

Result – Ananda College won by 7 wickets

Thomas College, Mount Lavinia – 182/9d (73.3) Shenadhi Bulankulama 38, Rayan Fernando 27, Janindu Abeygunawardhane 27, Vihas Thewmika 2/32, Thenuka Devapriya 2/36, Nipun Premarathna 2/39, Thanuga Palihawadana 2/40 & 96/8d (42.2) Shenadhi Bulankulama 34, Senesh Hettiarachchi 21, Nipun Premarathna 5/24

Thurstan College, Colombo – 90 (37.5) Shanikya Deshapriya 25, Gunaratnam Caniston 5/33, Rayan Fernando 2/20, Kavindu Dais 2/26 & 96/5 (19) Bawantha Jayasinghe 50, Tharindu Harshana 37, Gunaratnam Caniston 3/23

Result – Match Drawn