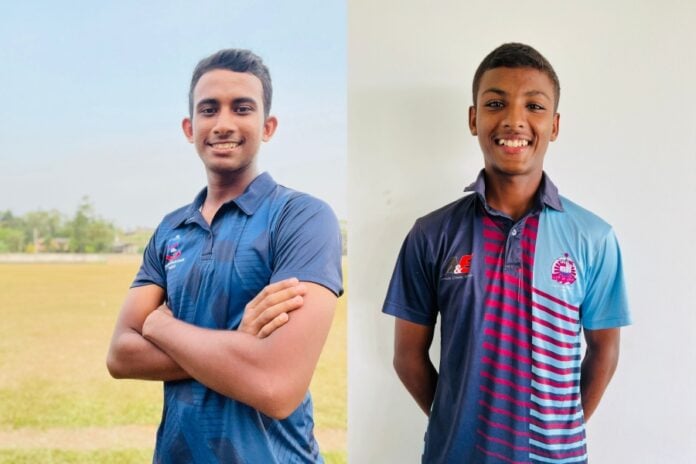 Two 2-day matches of the U19 Inter Schools Cricket Tournament were played today (31st January), at Colombo and Matara. 
St. Anthony's College registered an innings win over Ananda College in their traditional encounter which was worked off today at Ananda College Grounds in Colombo.
After being 56/8 at stumps on day one, the hosts were bowled out for 106 for their first innings. Kaveesha Piyumal starred with the ball for the visitors, taking a 5-wicket haul.
Ananda College were asked to follow on, but they had a terrible time with the bat once again, being bowled out for 83 runs and handing an innings victory for the visitors. Piyumal stood out with the ball once more, taking another 5-fer and taking his match tally into 10 wickets for 62 runs.
Meanwhile, the traditional encounter between Maris Stella College and St. Servatius' College ended in a draw today at Uyanwatta Stadium in Matara.
Maris Stella College were in a strong position at the close of play on day one with a score of 121/2, but a major batting collapse saw them bundled out for 218, losing 8 wickets for 97 runs in quick time.
Shane Adithya was Maris Stella's chief scorer with a knock of 63 runs, whereas Chiran Neththaru and Viran Chamuditha impressed with the ball for the Matara boys, sharing 7 wickets between them.
St. Servatius' College began their 2nd innings 47 runs behind, but they showcased another disappointing batting effort being bowled out for 164 runs. Nethum Basnayaka and Hasthika De Silva had excellent outings with the ball as they managed to take 3 wickets apiece.
Chasing an easy target of 118 runs to win, Maris Stella College could only post 34/2 as umpires called stumps on day two.
Brief Scores
St. Anthony's College, Kandy 268 (54) Mohomed Aaqil 73, Lahiru Abeysinghe 47, Kavindu Shehan 46, Janith Rathnasiri 36, Rayan Anthonyzs 27, Charuka Ekanayake 21, Ayesh Shashimal 5/40, Kithma Sithmal 3/86, Ashinsa Nainayake 2/57

Ananda College, Colombo 106 (47) Isuru Ayesh 35*, Kaveesha Piyumal 5/38, Induwara Galapitage 2/18 & F/O 83 (24) Vilash Karunarathne 45, Kaveesha Piyumal 5/24, Charuka Ekanayake 3/05

Result – St. Anthony's College won by an innings and 79 runs 

St. Servatius College, Matara 171 (65.5) Chiran Neththaru 86, Vishwa Supun 25, Hasthika De Silva 3/29, D A D Fernando 3/36 & 164 (41.1) Diniru Abeywickramasinghe 36, Thisan Dewmith 23, Chamarindu Nethsara 21*, Vishwa Supun 21, Tharush Damindu 21, Nethum Basnayaka 3/46, Hasthika De Silva 3/53, Shane Adithya 2/23

Maris Stella College, Negombo 218 (81.5) Shane Adithya 63, Sadew Rathnayaka 35, Anshen De Silva 34, Nethum Basnayaka 34, Chiran Neththaru 4/27, Viran Chamuditha 3/30, Chathum Bimsara 2/30 & 34/2 (10) Tharush Damindu 2/11

Result – Match Drawn